Repetition adds impact to displays
by reinforcing attractive details
This article originally appeared in the July-August 2015 edition of INVISION.
---
You've probably heard how repetition is the key to success in advertising. The same principle can work in your windows and on your sales floor: By using similar elements and repeating them over and over again, you create powerful, memorable impressions.
This simple idea can have a lot of punch, but be sure to choose a group of frames that are related visually in some way. Elements in visual harmony are beautiful, and the repetition of product and display elements creates a sense of unity, too.
For example, line up a series of frames that are all the same style, but different colors. Or create another kind of color story by grouping three or more frames from different brands that are the same color, like red or blue. Just make certain they're all positioned in exactly the same way, or the display will lose impact.
Try peaked acrylic risers in clear, frosted or black for an easy way to assemble a repetition display. You might angle eyewear to show off temple design details, for example.
For windows, you can take a group of related frames and show each one on identical risers or blocks, as Advance Vision Optometric Center of Monterey Park, CA, did on pedestals in its windows. Place the risers equally spaced in a straight or curved line and the visual rhythm of repetition will draw in passers-by. And don't forget to have fun like Visual Effects of Brea, CA, did by showing off eyewear with pastel-tinted lenses in its windows.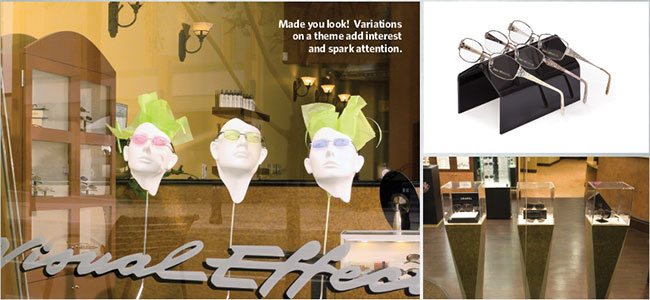 ---
Barbara L. Wright heads one of North America's most award-winning and successful optical design firms, Barbara Wright Design. Barbara's lively personality and humorous style backed with 30 years of "in the trenches" optical design experience make her a popular speaker and author. Get her free educational articles and videos on visual merchandising at tinyurl.com/BWDdisplay.