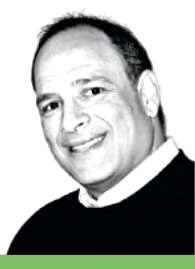 You have the power to make a difference in your community.
This article originally appeared in the November 2015 edition of INVISION.
---
"Never doubt that a small group of thoughtful, committed citizens can change the world; indeed, it's the only thing that ever has." — Margaret Mead
I have seen the gentle touch of an optician's fingertips, caressing someone's ears, adjusting temple tips, transform an angry, street-dwelling young man into a smiling, appreciative soul who hugged and held on to this optician.
I have seen an optometrist pull out a chair, warmly welcome and listen to an older, disheveled woman who said with a tear in her eye, "I am so grateful. No one ever looks at me, let alone listens to me."
I have seen an optical industry veteran put a behemoth of a man, with a scowl on his face, into a +3.00 over-the-counter reader and witness this massive entity start to hysterically cry. When he was able to catch his breath, he exclaimed, "Now, I can fill out a job application!"
I have seen a retired optician burst into tears when she dispensed a petite, red luxury eyewear frame to a diminutive, very myopic, homeless woman (who had been wearing a windshield of an old, plastic men's double bar frame for years). She looked at herself in the mirror, slowly smiled and said, "Maybe people won't think I'm homeless anymore."
That melted the entire room.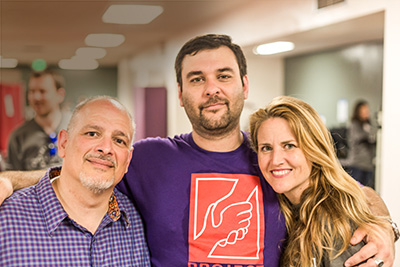 Robert Bell, Scott Balestreri and Karen Flynn are volunteer leaders for Project Homeless Connect Vision Services in San Francisco.
Photo by Jamey Thomas
Stories of transformation. For people in need and — here's the surprising part — for those eyecare professionals who give of themselves!
About eight years ago, an optician "suckered" me into volunteering my time, just for one event, for a San Francisco charity called Project Homeless Connect. I say "suckered" because, until that point, I didn't think I was the volunteer type. But I was the one who put that large gentleman into a +3.00 reader, and I was absoultely blown away by his reaction and response. I haven't missed a PHC event since. I was, in a word, transformed!
I went on a recruiting spree. I wanted other local ECPs and industry people to join us ... yes, of course to help our neighbors in need, but for another reason as well. How selfish would I be if I didn't offer this extraordinary feeling of fulfillment to others? The hardest part of recruiting was getting someone to volunteer for the first time. After that? They beg to know when the next event is because they can't wait to do it again! You should see the smile on my face right now.
I am honored to be part of this extraordinary group of eye doctors, professors of optometry, opticians, optometry students, pre-optometry students, industry executives and sales representatives who volunteer in providing vision services through Project Homeless Connect.
So in concert with INVISION'S Big Story this November, I wanted to share my experience with you and ask you directly: What can you do in your community?
For those of you (and I know there are a lot of you) out there who already volunteer your services, you make this world a better place. As a human being, I am personally grateful. For those of you who haven't yet volunteered your talents as an ECP in your community, please do. Try it. Just once.
It doesn't have to be with a homeless organization. It could be at nearby school or at an assisted living home. You can contact your local clergy or an organization like United Way and say, "I want to raise my hand. I want to help give the gift of sight. How can we go about doing this?"
Yes, if you get involved, your gift of vision will most likely change someone's life. My gift to you? It will change yours! Much love. Happy holidays!
---
Robert Bell has trained salespeople throughout North America over 30 years in the optical business and created The EyeCoach Selling System specifically for ECPs. He oversees the Vision Program at Project Homeless Connect and dedicates this column to Karen Flynn of The Optician in Berkeley, CA, who "suckered" Bell into volunteering for the very first time. Email Bell at This email address is being protected from spambots. You need JavaScript enabled to view it. with questions about how to start volunteering in your community.
SPONSORED VIDEO: VISION SOURCE
Optometric Practice in a Small Town
Practicing in a small town gives you the diversity and opportunities to practice full-scope optometry. See how one OD found professional and personal fulfillment in a small town.