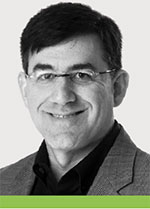 Do you want to advertise on TV or radio in 2016? Think now about shifting your marketing tactics.
This article originally appeared in the January 2016 edition of INVISION.
---
An improving economy,
a major election year and the Olympics. All in the same year. It's the perfect storm. And not in a good way for the nation's advertisers.
What does this mean for your advertising plans? Trouble. It means higher rates and tight inventory. It means seeing your ads bumped for endless campaign commercials. Who can you thank for this mess? The politicians, of course! They passed a law that guarantees all broadcast TV and radio commercials sold to candidates must be at the station's "lowest unit rate" during the 45 days before a primary and 60 days before a general election. But the "lowest unit rate" will not be that low, and you'll pay a lot more ... if you can even get on the air.
Even conservative estimates predict that spending by all candidates in the 2016 presidential election will surpass $5 billion, double the 2012 total. Add in all state and local races, plus issue-based advertising and the tally will be $10 billion.
Who wins? The media. Who loses? Just about anyone who uses TV and radio advertising to drive traffic to their business. So here are five things to do today to maximize your ad buys in 2016.
1 Love your customers like never before. Make sure you have their email addresses. Remember their birthdays and anniversaries. I'm not a huge lover of direct mail (it has the highest cost-per-thousand of any medium), but I'll be using it this year. Plan more special events and market them directly to your existing customers via direct mail, email, social media, personal contact, etc.
2 Shift some money from broadcast to online. Social media advertising is cheap. Review your SEM (search engine marketing) program and make sure it's performing. If not, get a second opinion. Buy online ads but not directly with specific sites. (It's best to target your buyers wherever they are on the Web.) Update your website frequently and be sure the mobile version looks good, since more than half of all Internet searches now start on a portable device.
3 Completely avoid the 45- and 60-day windows prior to the elections. In most states, there will be nothing but political ads running during this time. People will vote for on-demand and online programming. "Cord-cutting" is a reality. Total households with cable fell 10 percent in the last year while Netflix subscriptions jumped 35 percent. People of all ages are watching less TV than just five years ago.
4 Leverage volume and relationships. The TV and radio stations know this party will end (for this year) on Nov. 8. If you've been a regular advertiser, they'll say they'll try to look out for you. Don't kid yourself. The stations are gorging on this money and they love it. If you don't already use an ad agency or media buying firm, consider it this year. Stations will give them preferential treatment since they represent lots of advertisers — and any good agency will know the daily inventory situation and be able to get the most for the least.
5 "Trust but verify." But if you do use an agency, ask how they monitor your buys. Many agencies use systems that track commercials as they air, in real time. If your spot is bumped, they can immediately ask the station to make good. You don't want to wait until the invoice arrives at month's end to learn that half your spots were missed — which explains the sales slump.
Is there a silver lining in this? Yes. Save as much as you can for the final weeks of 2016, when you can promote eyecare gift certificates and encourage the use of expiring flex dollars. Ad time will still be expensive due to pent-up demand, but if you plan well, you can own the vision care category for TV and radio ads in your market next December. Good luck!
---
Andy Malis is CEO of MGH (mghus.com), an integrated marketing agency based in Owings Mills, MD. He can be reached at This email address is being protected from spambots. You need JavaScript enabled to view it..