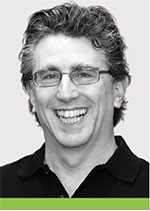 3-D printing is on the rise. What might it mean for your vision-care business?
This article originally appeared in the January 2016 edition of INVISION.
---
There's no question that the 3-D printing movement
is expanding in the optical industry. The question is: Will you be ready to take full advantage of it when it becomes truly widespread over the next 10, 15 or 20 years? It's not too soon to think about how 3-D technology might help you grow your business.
Lenses are one frontier. Just like some of you are edging lenses in-office today, you could one day be printing lenses. We'll be able to 3-D print all types of lenses, for all prescriptions, in various base curves and sizes. Best of all? Each lens will be completely custom made and fit for the individual.
LUXeXcel, a 3-D printing optics specialist in the Netherlands, is the first company to print fully functioning lenses. Using a process called Printoptical Technology, the company 3-D prints crystal-clear optics that do not require post-processing — something that would be impossible with traditional 3-D printing technology because of the effects of layering. The Economist has reported that Printoptical Technology could one day be used to make on-demand prescription lenses from a computerized eye scan.
Frames offer more opportunity. Today, a handful of companies use 3-D printing to offer a selection of highly customized, original designs. The fact that they are 3-D printed adds to the novelty. For example, Protos Eyewear uses advanced software to fit consumers' unique features, providing recommendations based on facial structure.
One-offs are coming, too, and the idea that anyone can customize their own unique eyewear will be a reality. In fact, 3-D printing will advance eyewear personalization, which is already becoming very popular. Patients will be able to custom design their own eyewear based on their own inspiration. Get on board this trend, and you'll be able to emphasize that your patients can be involved in creating their glasses from start to finish. And rather than ordering online, they can work in person with optical professionals and see the process for themselves. It'll be an experience!
3-D printing is truly an opportunity for eyecare professionals to add value. Optical artisans will be able to create and print custom-fit eyewear for different facial features, print spare parts for on-the-spot repairs, craft a hypoallergenic frame and much more.
You'll also have the ability to print favorite styles from the past. Have you ever had a patient (perhaps yourself!) wish to reorder a frame that was once popular but has been discontinued? With 3-D printing, you'll be able to recreate that style, in your choice of colors.
You've learned plenty of new technology in your lifetime. The 3-D printer will be no different. Think of the savings in both time and costs, for you and your patients. In-house production will mean faster turnaround times with minimal outsourcing, no backorders and new dimensions in optical creativity and customer satisfaction.
---
David Friedfeld is CEO of ClearVision Optical, a family-run business that has been serving independent optical professionals since 1949. He's also once of the industry's top futurists. Contact him at This email address is being protected from spambots. You need JavaScript enabled to view it. and follow him on Twitter and Instagram @OpticalBuddy.