An optical pro opens up about living real with bipolar disorder
This article originally appeared in the January 2016 edition of INVISION.
---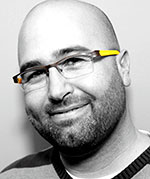 I've navigated life with depression for the past 20 years,
so I'm not a newbie to mental illness. It's getting easier to be more open about my struggles since there's less stigma associated with doing so.
Still, my Bipolar 2 disorder diagnosis carried an unexpected sting. I'm writing this to help make it safer to chat with people in your life about mental health. Maybe someone reading this won't feel as alone or embarrassed. I've been there. I also want to share how the wonderfully creative people in the optical industry have given me added hope as I tackle this chronic disorder.
Mental illness is not a cookie-cutter disease, which makes it a challenge to find the right treatment for each person. This is me: My depressive days are much more frequent, which sucks. I feel foggy, and it actually feels like I am carrying a huge weight on my shoulders, walking around under a gloomy, dark cloud. Metaphoric weight? Check! Physical weight? I gain lots as I eat for comfort, and the thought of taking short walks for exercise feels like I'm climbing a steep mountain covered in slippery oil. I experience bouts of spontaneous crying and struggle with self-image/confidence. My inner world is laced with negative thoughts. I feel paralyzed and have no idea where "Tim" went. You may not see me or hear from me since I'm sleeping, crying or staring emotionless at a wall.
---
" I'm writing this to help make it safer to chat with people in your life about mental health."
---
Now, enter the up days. Sure, I'm not depressed, but it's hard to focus. My mind races as I try to make up for lost time. I have plenty of energy and my creative juices begin to flow again. I'm chatty, positive, enthusiastic and (obviously) hilarious. My mind doesn't want to turn off to sleep, but I'll just catch a few extra ZZZs on a down day.
OMG! I almost forgot (because I'm scattered like a bag of Skittles spilled on the floor) to introduce you to my homey, Anxiety. Here's what Anxiety feels like: There are about 800 ants crawling all over you, your heart beats rapidly, sweat beads on the forehead and, oh yes, try to breathe or make eye contact.
Now, here is the really challenging part. I'm not sure which "Tim" will show up on any given day. Will it be sad and depressed Tim or will it be "Tim-May," the unfocused and energetic guy? Either way, will Anxiety be riding along, too? This is what Bipolar 2 disorder has been like for me, bouncing between the extreme lows and highs. I struggle finding my in-between happy place.
As tough as it was to hear my diagnosis, it was a relief to know what has been going on with me. I am thankful for my treatment plan, which will help me to stabilize my moods while I become a more consistent and predictable Tim. I am thankful to be able to talk with professionals who will give me tools to work through this. I am especially thankful for the amazing and creative contributors on DailyOptician. You have helped me more than you will ever know!
I know my journey is far from over. It will take time and grace for me to heal, grow and learn from my disease. Optical friends, let's work at finding solutions instead of dwelling in negativity. Life can be hard. DailyOptician was created to influence and inspire one another. Outside of our profession, that may be a decent solution as well.
---
Tim Slapnicher is a writer, speaker, consultant and the co-founder of DailyOptician.com, where passionate opticians blog daily. Contact him at . This email address is being protected from spambots. You need JavaScript enabled to view it..