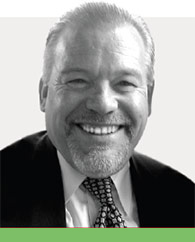 Success starts with good decisions made and remade over and over again.
This article originally appeared in the February 2016 edition of INVISION.
---
Since it's February,
a month we often associate with Valentines and love, I thought I would write about passion — and more important, how to rekindle your passion for what you do for a living. I've learned that just as romantic relationships require attention and effort, so does maintaining a love for our work. Otherwise, it's easy to become complacent and lose the love that fueled our professional passion in the beginning. Ralph Waldo Emerson said, "When you do a thing, do it with all your might. Put your whole soul into it. Stamp it with your own personality. Be active, be energetic and faithful, and you will accomplish your object." Here are four steps you can take to rekindle your passion for your practice of optometry, or for anything (or anyone) else, for that matter!
Remember the reason
Remember the drive you had when you when you were working hard to get into a college of optometry. Remember the excitement of receiving the letter announcing your acceptance. Remember the determination you had staying up all hours studying for an important exam and your feeling of accomplishment during your White Coat Ceremony. Remember your enthusiasm for performing your very first eye examination and learning how you could improve someone's quality of life. Close your eyes and remember those feelings. They are still there; they just need awakening.
Think differently
Anytime you do the same thing day after day, week after week and month after month, it is easy to lose perspective of what it is you do. Just like the speaker who delivers the same speech or the singer who sings the same song night after night, you can lose sight of the impact you have on your "audience." For you, the 223rd patient this month may seem like just another routine eye examination, but for the patient, it's the only eye exam they may get this year, or even next. They are relying on you to provide them with the passion and attention of the most important eye exam you have given. They are depending on you to help them drive safely, see tomorrow's sunrise and read the Valentine they got from someone special.
Set a goal
Rekindle the enthusiasm and passion you have for vision care by setting a goal for yourself. Maybe you seek to achieve national board certification, develop a new medical specialty or become active to help improve the profession for your colleagues. Everybody needs new and fresh goals; they're what give you purpose and create passion. Challenge yourself with a new goal and get excited about the journey of accomplishment.
Start your day the night before
Begin a habit of setting aside time to plan your next day before you leave work. Review the charts of the patients that are scheduled the next day. Think about their last visit and what you might want to ask about: maybe you'll want to inquire about their family or follow up on something they said at a previous exam. Pay special attention to new patients. Think about how you can get to know them, questions you can ask, and how you can convey genuine interest in them. By preparing yourself mentally the night before, you'll start the next day with more energy and excitement. Passion is like fire. It creates energy, but it requires new fuel. Rekindle your professional passion this month (and be sure to remember to do the same for your Valentine, too).
---
With more than 25 years of experience in the ophthalmic and optometric practice industry, John D. Marvin writes about marketing, management and education at the practiceprinciples.net blog. He is president of Texas State Optical, a member-owned cooperative of 120 independent, professional optometry practices. Contact him at This email address is being protected from spambots. You need JavaScript enabled to view it..