Optician creates reading eyewear to honor a mother-daughter dream
This article originally appeared in the March 2016 edition of INVISION.
---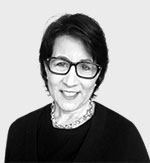 When I was a girl, my mother and I spent hours designing and sewing clothes, dreaming of having our own fashion collection. I graduated college with a degree in marketing and began my career in New York's Garment Center, leaving many years later to become an optician.
The creative spirit never left me, but before I knew it, I was part of the sandwich generation: people who have kids at home and elderly parents to take care of.
The sandwich generation is also part of the presbyopic population. For many people, the onset of presbyopia around age 40 is the first time they put a pair of glasses on their face. In the optical profession, it is an opportunity to further our business. Whether through progressives, bifocals, prescription reading glasses or ready-made readers, we are happy to help people meet their new needs.
But we can't deny there are intense emotions. When a person first needs reading glasses, it may also be the first time they truly acknowledge their own aging. They may be in denial; they may be feeling awkward and lost, or have questions or need help.
I know firsthand that this is especially true for the sandwich generation. As the owner of a small optical shop, I would hear stories from my customers similar to my own. At the time, I had just lost my father and was caring for my mother, who had Alzheimer's. I couldn't help but think about all the things I wanted to do with my life, but I was exhausted from running a business, having a busy home with teenagers and looking after my mother.
---
"I knew I didn't want to look back on my life and say 'I wish I did this' or 'I wish I'd tried that.'"
---
It was only a few years ago, but at that time, there wasn't a lot of information about Alzheimer's. My mother had always been sharp and stylish; she never left the house without her lipstick and silk scarf tied around her neck. She had an innate sense of style. She loved to sew, garden, read the Wall Street Journal and create her own healthy recipes. Alzheimer's took all this away. It was devastating.
Caring for the elderly really puts a clear picture of your own mortality right in front of you. Despite the demands, I knew I didn't want to look back on my life and say "I wish I did this" or "I wish I'd tried that." So, inspired by the ageless attitude of my customers in spite of life's demands, I decided to launch a line of reading glasses and donate a portion of profits to Alzheimer's research and support services.
Renee's Readers turned out to be a good diversion. I put everything into these glasses: my design background, my college studies in English and business and my years of optical knowledge. And I've done most everything myself, from product design and branding to photography and PR. More than anything else, I drew on inspiring stories from stylishly unpretentious people who still make taking care of others a priority in their lives.
While it's always tempting to look at our lives and lament the missed chances and twists of fate, I've learned it's better to look for and take advantage of the opportunities we have at every new stage of our lives. In other words, my mother and I never saw our fashion design dreams come true, but those fading memories turned into a new dream — a quest, really, to honor the people who live with Alzheimer's and the people who care for them.
---
Renee Bachner
is a licensed optician and creator of Renee's Readers, which donates a portion of each sale to Alzheimer's research and support services. Learn more at
reneesreaders.com
.