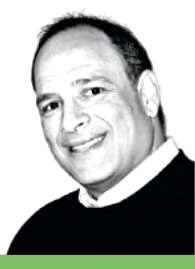 Can the rants of angry customers increase sales?
This article originally appeared in the April 2016 edition of INVISION.
---
Ah, angry customers. If a nasty remark they throw at you can roll off your shoulders like water off a duck's back, no need to read any further. But, for the rest of you, who've been moaning and groaning for years all over social media about your "pain in the butt" customers, it's time to grow some ducking feathers!
Me? I absolutely love when customers come in angry. No, I'm not insane (well, not proven anyway). But I know that selling is based on the law of motion and I always have the illustration of a pendulum swinging back and forth in my head (See my article in INVISION's March 2015 issue: invmag.us/i).
I also know the following:
➤ That a series of events (or one big event) has set them off. I just happen to be standing in front of them when they decided to blow. It's not personal (even when they're saying things about my mother), so why invest in it? There's absolutely no upside to getting involved in the drama.
➤ That if I don't interrupt them, they'll run out of steam or, in regard to the pendulum, their velocity will start to slow, then stop. When that happens, they're exhausted. They're spent. I own them. They're mine! Know why? Look at the pendulum, there is only one way for them to go!
➤ That when I take those who walk in so angry and listen while nodding my head in an understanding manner and meet their needs? Are ya kidding? Not only are they customers for life, but they will be singing my praises at the top of their lungs to their family, friends and colleagues.
How can we get you there?
Well, we need to dispel a myth: The Golden Rule. "Treat others the way you want to be treated."
Fairly straightforward and simple. And, I love the sentiment but, it doesn't work.
The Golden Rule has been with us for thousands of years in every society, culture, religion, etc.. Yet, most of us continue to treat others not like we would like to be treated. In fact, we don't treat them. We react to them!
We recognize the unbelievable logic to the Golden Rule but we don't take it to heart. You and I both know that logic plays no part in emotions. Think about the last time someone pushed your buttons, was the logic of the Golden Rule anywhere to be found in your thoughts?
---
"Beginning today, treat everyone you meet as if they were going to be dead by midnight. Your life will never be the same."
---
So, let's see if we can't get you to take something to HEART. Let me share one of my favorite quotes from one of my favorite sales trainers, Og Mandino:
"Beginning today, treat everyone you meet as if they were going to be dead by midnight. Extend to them all the care, kindness and understanding you can muster. Your life will never be the same."
This literally turned my world upside down. The POWER of what he said not only made logical sense to me but also overwhelmed me emotionally.
I immediately incorporated it into my daily life. Then, the first time someone tried to push my buttons, an unbelievable confident power rose within me. As this person was making an aggressive stand (yelling), I actually thought to myself that he could really be dead tonight. I had a choice to make. I could react or I could rise above and offer understanding. Simply put, I didn't want to be yelling back at a person that just may be dead by the end of the day. Would you? I found I became more fulfilled if I could ease a customer's pain. Think about it. Wouldn't you?
---
Robert Bell has trained optical salespeople for over 30 years throughout North America and has created The EyeCoach Selling System specifically for ECPs. In addition, he is head of Vision Services at Project Homeless Connect. To ask a question or make a comment, email him at This email address is being protected from spambots. You need JavaScript enabled to view it..
SPONSORED VIDEO: VISION SOURCE
Optometric Practice in a Small Town
Practicing in a small town gives you the diversity and opportunities to practice full-scope optometry. See how one OD found professional and personal fulfillment in a small town.