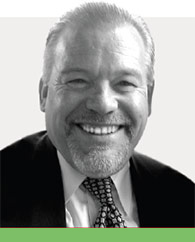 If you're not adapting to change, you're going backward.
This article originally appeared in the June 2016 edition of INVISION.
---
We are designed for continual growth in all areas of our lives and all areas of our personality — body, mind and spirit.
If we are not growing in a particular area of life, if we are not getting better, then we are getting worse! Nothing stands still. Nothing stays the same. Everything is moving in one direction or the other. It is either going forward, or it is going backward. I know of doctors who work hard. They work smart, they work long hours to build a large successful practice, and then they say, "Now, if I can just maintain, I'll be happy."
That's not the way it works, everything is perpetually changing. Our world around us today is changing at a faster rate than ever before. The only way we can be comfortable in such a world is to learn. We need to be able to constantly adapt and grow. We need to constantly be able to learn, unlearn and relearn.
Consider that, with in any practice purchase, you're buying just three things:
➤
Where are you stuck in your practice?
This questions will take a bit of reflection but it's well worth the effort. If we are not able to identify where we can improve forward motion won't occur.
➤ Which particular fears are holding you back? That's what it is — Fear. We are comfortable when we know what to expect. If we are to change something, especially something substantial, it can cause us fear.
➤ Are there things that you've always wanted for your practice but aren't going after? Whether it is to develop your clinic, expand your optical or hire an ophthalmic tech, list the things that you want and what you are currently doing that won't make it happen.
➤
When was the last time you did something you've never done before?
Whether it is a new restaurant, water-skiing, running a marathon or simply cooking a brand new recipe.
Whether it is a new restaurant, water-skiing, running a marathon or simply cooking a brand new recipe.
Being able to change is a habit that is cultivated. Trying new things builds confidence. Even if it is wearing a frame that you'd never imagined wearing before. New begins to feel good, different begins to feel comfortable.
I remember hearing a story of a professional speaker opening his presentation by walking on stage with a 6-foot tall dinosaur. He set it down on stage and then wrote R-T-C in big letters on a flip chart. He then took a live white mouse out of his briefcase and let it run from hand to hand for about 30 seconds. Looking up at the audience he asked, "Who would have put money on this little guy outlasting this big guy 65 million years ago? Then he turned to the flip chart and said, "Resistant to Change!"
We are adaptive beings. We can assess and learn from our environments and change to fit them more optimally. In fact, adapting like this is more than just change. I recently read that change is a different way of doing, whereas transformation is a different way of being.
Evolution is perpetual transformation. To thrive for sustained periods of time we need to be in a state of continual evolution.
This is difficult to do though. We don't like change, do we? As Tom Feltenstein said, "Change is good ... You go first!"
---
John D. Marvin - With 25 years of experience in the ophthalmic and optometric practice industry, JOHN D. MARVIN writes about marketing, management and education at practiceprinciples. net. He is president of Texas State Optical. Contact him at jdmarvin@tso. com.
SPONSORED VIDEO: VISION SOURCE
Optometric Practice in a Small Town
Practicing in a small town gives you the diversity and opportunities to practice full-scope optometry. See how one OD found professional and personal fulfillment in a small town.