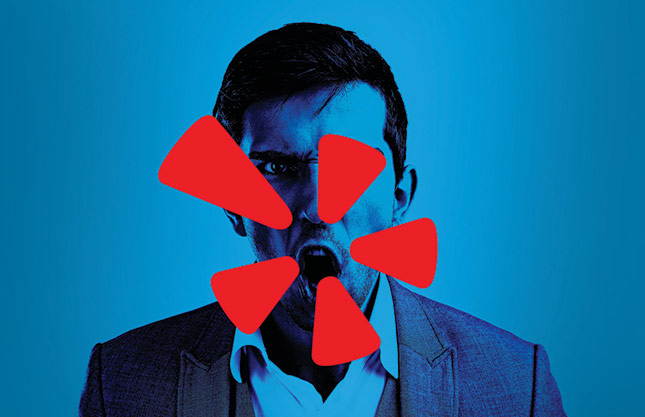 Sometimes it's just better to apologize to unhappy clients on online review sites
BY Zach Zavoral
Published in the July/August 2014 issue
Last issue, we looked at the fact your business could have a Facebook page without even knowing it. Let's talk now about other ways customers talk behind your back — and what you can do about it.
Owning your online reputation takes guts. Honestly, you might not be able to handle it. But the reality is, you're the only one who can.
To improve your online reputation, you must actually confront angry patients. Why? On Yelp, Angie's List, Healthgrades and Google, only the patient can remove a negative review. You can't do it. Yelp won't do it (not even if you pay them). And legal precedent favors the patient: Wong v. Jing — a 2009 case involving a pediatric dentist suing an upset patient for a negative review on Yelp — cost the practitioner $81,000 in fines and the negative review stayed online. Ouch.
Your staff can't resolve the issue, either. An apology is most effective coming from you. So when you see a negative review, decipher it to learn the precise issue that upset the patient. (You or your staff will likely know which patient posted the review based on the experience described.)
Then the gutsy part: call the patient directly, in private, without advance notice. Don't e-mail. Just take a deep breath and call the patient.
When you connect on the phone:
Say that the patient's satisfaction is your top priority.

Apologize for whatever issue caused the negative review.

Offer some sort of restitution for the "error," anything from discounted eyewear to a restaurant gift certificate.

Explain that your practice's reputation is important to you because it reflects who you are as a person.

By this point, you have softened up the disgruntled patient, presenting yourself as a caring, humble practitioner of honorable character. The patient now knows you see them as a person, not a cash cow.

You can now directly and politely request that the patient remove their negative review from Yelp (or whichever website they used).
How about when you're not genuinely sorry for the patient's experience? Say a patient is upset because they misunderstood their bill and had to pay $60 more than anticipated. An apology and free lunch won't resolve the issue; the patient still feels "robbed" of $60. To you, though, the patient is only complaining because they want cheap eyecare!
Should you still apologize? Ask yourself how much that negative review is worth. To the patient, the review is worth exactly how much money they feel you've "stolen." But the impact on your practice is far greater: iPhone's Siri uses Yelp reviews to determine which eyecare practice is "the best" in any given area. One negative review could bump your practice off the list.
If a patient refuses to remove the review, you can try the less-effective route of "burying" it. Ask your satisfied patients to post positive reviews of their experiences. Bear in mind, though, that readers "score" reviews based on their helpfulness. If the negative review is deemed "helpful" to readers, you may never be able to bury it — but at least you'll have positive notices alongside the negative.
One more caveat: don't bother signing up for one of those "online reputation" businesses, which do little more than set up Google alerts for your name and your practice and tell you anytime your practice's name is published online. These online reputation services can't remove a negative review of your practice from the Internet — and you can set up your own Google alerts.
Finally, though you may not want to admit it, your online reputation on sites like Yelp might just be an accurate portrayal of your offline reputation as well. If you receive several bad reviews online, you're likely getting as many offline. Try looking within your practice to see where problems exist. The best way to maintain a golden reputation is to offer golden patient care, plain and simple.