Asymmetry in displays attracts
and keeps a person's attention
This article originally appeared in the June 2015 edition of INVISION.
---
Odds are better than even that you'd like to have more eye-catching displays. That's rarely a problem for Modern Eye in Philadelphia, PA, where displays with the business' signature "eyeball people" created by store art director (that's right) Mitch Gillette net plenty of double takes.
But Gillette also knows that an odd number of elements is always more attractive to the eye than an even number. That's because an asymmetrical arrangement is slightly off balance. In eyewear display, asymmetry keeps the eye moving around to look at each frame, providing a built-in visual dynamic. A symmetrical, perfectly balanced arrangement stops the eye in its tracks. That's dull.
Modern Eye, Philadelphia, PA.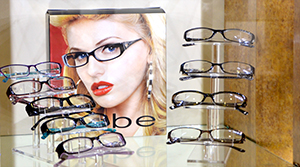 Drake Eye Center, Hartselle, AL
Look at the three eyeball figures in Modern Eye's University City shop spring window display, which Gillette created with Brooke L. Morris. The design is deliberate, artful and attention-grabbing! Now try covering up any one of them with a finger. The display loses impact.
Suppose you have a group of nine related frames. You could show them on three tiered risers with three frames each, and that's good: sets of three equal added interest.
But you can go one step further and show them on one five-tiered riser and one four-tiered riser, as shown here. The asymmetrical arrangement creates an even more eye-appealing group of frames. Keeping things off balance makes shoppers stop and look.
---
Barbara L. Wright heads one of North America's most award-winning and successful optical design firms, Barbara Wright Design. Barbara's lively personality and humorous style backed with 30 years of "in the trenches" optical design experience make her a popular speaker and author. Get her free educational articles and videos on visual merchandising at tinyurl.com/BWDdisplay.