Sanity Files
Courtney Dryer, OD Eyes Optometry, Charlotte, NC Dr. Courtney Dryer is something of a rarity in Charlotte: a native. A glasses wearer since the age of 7, it is of little surprise she returned...
Julie Kubsch Specs Around Town, Bloomington, IL Julie Kubsch finds lots to love about running a business, but there are downsides. "Paying bills, chasing credits/returns. It always seems like...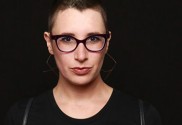 Julia GogoshaGogosha Optique, Los Angeles, CA If you haven't heard of Julia Gogosha you probably need to get out more. An indie eyewear darling, she established Gogosha Optique in 2008...
Blake Hutto, ODFamily Vision Care, Alma, GA Dr. Blake Hutto, co-owner of Family Vision Care in Alma, GA, originally founded in 1955, moved back to his hometown after graduating from Nova...
Leanne Liddicoat, ODClearVue EyeCare, Roseville, CA Six years at ClearVue and Dr. Leanne Liddicoat credits a happy working environment for some of her sanity. "We work as a team, striving...
PHOTO BY DENISE GUERIN IMAGES Sherry BerryPascarella Eye Care and Contact Lenses, Newtown, PA Sherry Berry has had a 17-year career in the optical field. She joined Pascarella a year ago when...
Dr. Tanya GillOakland Vision Center Optometry, Oakland, CA This article originally appeared in the July 2016 edition of INVISION. Dr. Tanya Gill is an INVISION regular and the winner of our...
Drs. Theodore and Carrie Sees with Penelope and Oliver Rockford Family Eyecare, Rockford, MI This article originally appeared in the May 2016 edition of INVISION. For the Sees...
SANDY BROWN Visionworks, Lexington, KY This article originally appeared in the March 2016 edition of INVISION. The new president of the Opticians Association of America, Sandy Brown is eager...
Paul Wilcox and Starr Hagenbring Art & Eyes, New Orleans, LA This article originally appeared in the January 2016 edition of INVISION. Stylish eyeglasses and wearable art blend...
Hear What the Industry Thinks About the Ultimate Lens Package by Essilor
Eye care professionals, patients, and Essilor sales consultants shared their feedback on the Ultimate Lens Package. Watch to see why they believe the innovation behind the lens can make the difference for your practice and for your patients. For more information on the Ultimate Lens Package, contact an Essilor Sales Consultant or click here.
---