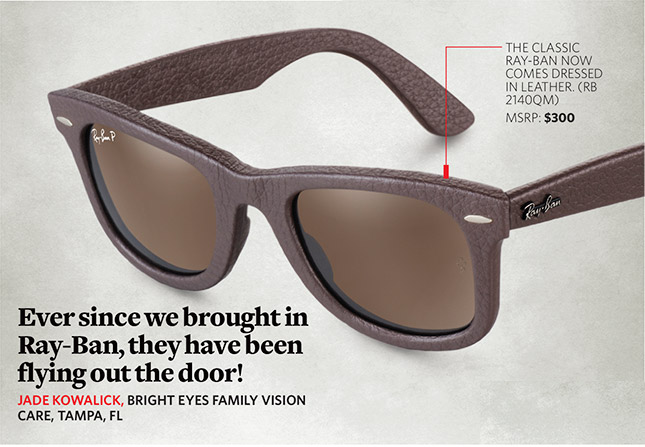 EACH ISSUE, INVISION surveys ECPs around the country about which vision products are selling best in their stores/practices. Then we calculate the results and share them with you to give you a gauge of front-line sales activity across the United States.
To participate in our surveys, email: This email address is being protected from spambots. You need JavaScript enabled to view it.

Maui Jim. Thanks to record snows, ha ha! cassandra brackmann, Eye Tech Services, Indianapolis, INPatients are excited about eco-friendly frames. We've added the biodegradable ProDesign Zense 7622-28 series and have had a great response to the concept and the look. The biobased Eco line from Modo made from castor seeds has done great. Dr. Sarah Jerome, Look + See Eye Care, Minneapolis, MN
Zero G, ic! berlin, Modo, ECO, Lafont, SALT, Kate Spade, Maui Jim, Rudy Project. cindy harmon, Sonoma Eyeworks, Santa Rosa, CA
Plastic retro men's and women's. dr. gerald w koss ii, Vision Source Partners, Fernandina Beach, FL
Seraphin and Maui Jim have been doing the best lately. kira connally, Spectacles West, Weatherford, TX
We have done well with our independent lines, Masunaga and Zero G. We continue to decrease our inventory of branded eyewear and bring in new lines that are more focused on quality of product and materials rather than the brand name. addie bogart, Boys Smith Vision Center, Ellensburg, WA
Colorful metals — titanium and stainless steel.
Customized, made-forthe-customer frames — e.g. Tom Davies, classic acetate styles, Lindberg rimless. amy schye, Ulla Eyewear, Madison WI
Ciba Dailies Total One have been a breakthrough in comfort for patients experiencing dryness or contact lens intolerance. These lenses have done well, especially in the dry, dry — did I mention dry? — Minnesota winters. dr. sarah jerome, Look + See Eye Care, Minneapolis, MN
We try not to let anyone purchase glasses without a high-end anti-reflective. Besides its great features, we love the unlimited twoyear warranty. It comes in handy! jade kowalick, Bright Eyes Family Vision Care, Tampa, FL
Jonathan Cate eyewear was my best seller. X-IDE frames were also popular. I am seeing a resurgence of interest for clip-on sunglasses with our Chemistrie Clips. nikki griffin, EyeStyles Optical and Boutique, Oakdale, MN
Hear What the Industry Thinks About the Ultimate Lens Package by Essilor
Eye care professionals, patients, and Essilor sales consultants shared their feedback on the Ultimate Lens Package. Watch to see why they believe the innovation behind the lens can make the difference for your practice and for your patients. For more information on the Ultimate Lens Package, contact an Essilor Sales Consultant or click here.
---