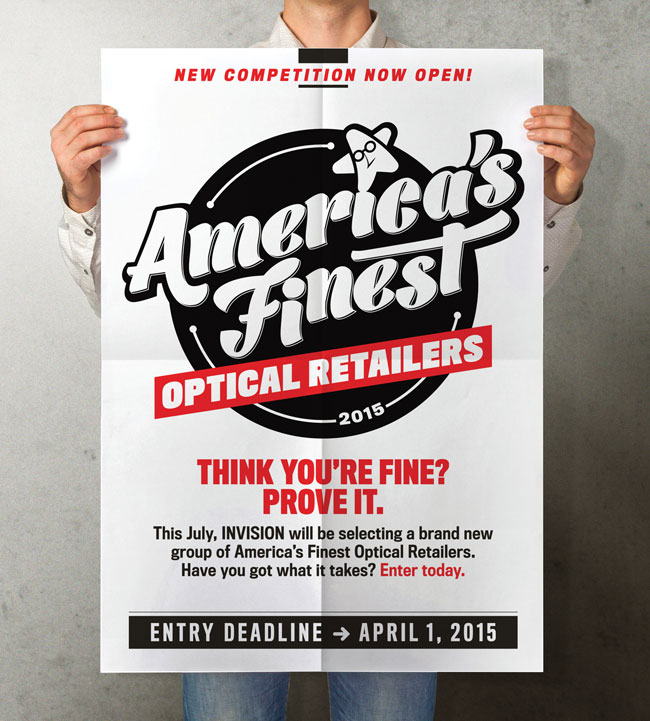 What is America's Finest?
America's Finest Optical Retailers is INVISION's effort to highlight the country's best, most creative optical businesses. In this annual contest, INVISION staff and a panel of expert judges select ten winners, whose stories will be featured in the July-August edition of INVISION. Criteria include not only the look of your business (exterior and interior), but also its marketing and website, plus the creativity of your business approach.
This year's contest is underway, with entries open through April 1, 2015.

See our coverage of 2014's America's Finest at: invmag.us/2014finest
CONTEST RULES
1. Your business must be located in the United States.
2. Entries must be from independent eyecare businesses with 6 or fewer locations. Each entry must focus on one specific location. If you want to enter more than one of your locations, create a separate entry for each.
3. Your store must not have previously won an America's Finest award or been featured in INVISION's monthly "America's Finest" feature. The only exceptions are if you're entering a different location of your business, or if the winning location has undergone significant renovation since winning/being featured.
4. Your business must have been open at least one year before the date you enter the contest. As long as your business has been open a year, it's OK if the location you enter is newer.
Now: Are all four of the above things true of your business? If so, you're good to go!
ABOUT YOUR ENTRY
Your entry will consist of at least six sample images, plus a short essay on your business and how you run it. We suggest you prepare all material before starting to fill in your entry form. Since you will not be able to go back later and edit your entry, don't start the form until you are ready to complete it. (If you do need to make a change or add additional material later, you can email content directly to us at This email address is being protected from spambots. You need JavaScript enabled to view it..)
Preview our entry form at: invmag.us/finest
Hear What the Industry Thinks About the Ultimate Lens Package by Essilor
Eye care professionals, patients, and Essilor sales consultants shared their feedback on the Ultimate Lens Package. Watch to see why they believe the innovation behind the lens can make the difference for your practice and for your patients. For more information on the Ultimate Lens Package, contact an Essilor Sales Consultant or click here.
---