RETURN TO AMERICA'S FINEST MAIN PAGE
FIFTH PLACE
Art of Optiks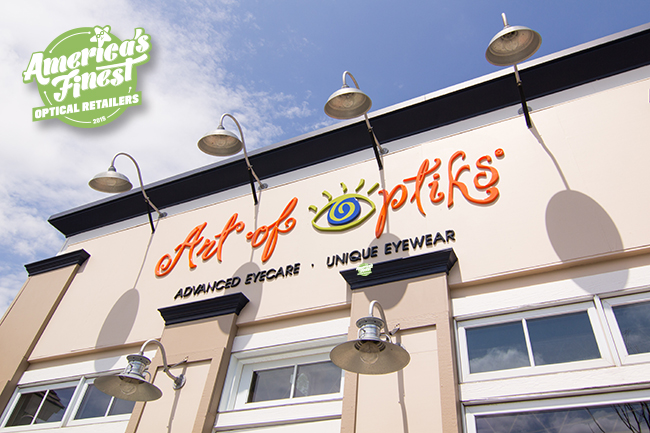 With its flowing script and and spiral eyeball flourish, the logo of Art of Optiks is a winner.
FINEST FACTS
Art of Optiks
Wayzata, MN
---
Owners: Dr. Timothy Haupert and Stephanie Haenes

Website: artofoptiks.com
Opened: 2001
Renovated: 2013
Area: 2,200 square feet
Employees: 8 full-time, 2 part-time

Top brands: Barton Perreira, Bevel, Blake Kuwahara, Chrome Hearts, Lindberg
Facebook URL: facebook.com/artofoptiks
Instagram: instagram.com/artofoptiks
Art of Optiks' very name
gives customers the best clue what shopping for eyewear here is like: creative, fun and curated. The business's own brand is the star here, but owners Stephanie Haenes (an ABO-certified optician) and her husband, Dr. Timothy Haupert, enhance Art of Optiks' glow with carefully selected eyewear lines that put the shop ahead of the curve in a competitive Twin Cities marketplace.
Haenes says the staff has "a passion for luxury eyewear and the ability to adapt to changing technologies and ideas," plus a combined 70 years of optical experience. This concept impresses judge Nate Ogura, owner of last year's winning shop, Eyes on Fremont, who notes, "Having the right combination of personalities and styles is so important when trying to make a shop hit on all cylinders." Good vision is a science, too, of course, and Art of Optiks regularly updates its medical technology to detect eye problems as early as possible.
---
5 COOL THINGS ABOUT
Art of Optiks
1.
Like family:
Haenes and Haupert seek to treat clients like family, and they receive "hundreds of graduation invitations, birth and marriage announcements and Christmas cards" each year. They build business mainly by referral.
2. Name your title: Staff members are encouraged to come up with job titles that fit their own style and personality. A few examples: optical ninja, star pupil and optical virtuoso.
3. Master the Web: Art of Optiks's website is "spectacular to look at," says judge Robert Bell. It's functional, too; current clients can see their medical records, pay their bill, order contacts and make appointments.
A careful selection puts the shop ahead of the curve in a competitive Twin Cities marketplace.
4.
Star appeal:
Events can be truly special at Art of Optiks. The shop is getting set to host Blake Kuwahara in August to celebrate (and sell) the latest releases in the designer's eponymous new line.
5. Logo mojo: With its flowing script and and spiral eyeball flourish, the business's logo is a winner. We also like how Art of Optiks customized its favicon: the little icon that appears next to the the URL on a Web browser. Details, details!
---
WHAT THE JUDGES SAID ABOUT
Art of Optiks
INTERIOR

74%

EXTERIOR

85%
INDIVIDUALITY

86%

ONLINE

85%
---
It's extremely satisfying to see a small business nail strategy in such a way that it comes through in all its elements. The store interior appears to be high-end without being snobbish. I like that they were able to incorporate a children's play area while maintaining the upscale feel. — Andrea Hill
---
I like the name, love the color of the name on the building (it pops) and am crazy for the font and logo! — Robert Bell
---
Unique and open feel, easy to browse, beautiful displays. — Howard Purcell
---
---
PHOTO GALLERY /
Art of Optiks
RETURN TO AMERICA'S FINEST MAIN PAGE
Hear What the Industry Thinks About the Ultimate Lens Package by Essilor
Eye care professionals, patients, and Essilor sales consultants shared their feedback on the Ultimate Lens Package. Watch to see why they believe the innovation behind the lens can make the difference for your practice and for your patients. For more information on the Ultimate Lens Package, contact an Essilor Sales Consultant or click here.
---