RETURN TO AMERICA'S FINEST MAIN PAGE
FINE-ALIST
Paris Optical
Judge Andrea Hill applauds Paris Optical for preserving history and creating a cohesive look.
FINEST FACTS
Paris Optical
Paris, TX
---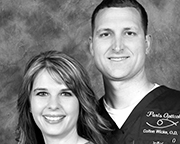 Owners: Drs. Colton and Katie Wicks

Website: parisoptical.net
Opened: 2011
Renovated: 2014
Area: 2,500 square feet
Employees: 8 full-time, 1 part-time

Top brands: Coach, Michael Kors, Polo Ralph Lauren, Ray-Ban, Vera Bradley
Facebook URL: facebook.com/pages/Paris-Optical/186570401104
Three years after opening their practice
in an old bank building, Drs. Colton and Katie Wicks had the opportunity to expand into the building next door. Tin ceilings and exposed brick and plaster blend beautifully with industrial-style finishes and comfortable furniture to make a truly modern space. "We try to provide an atmosphere that we would appreciate if we were buying glasses," Colton says. "People in rural areas shouldn't be condemned to cramped, outdated opticals!"
---
5 COOL THINGS ABOUT
Paris Optical
1.
Preserving history:
Downtown Paris, TX, burned in 1916. A new archway between Paris Optical's existing space and the new one includes some burned bricks unearthed during the renovation. "We left the soot and natural character on the bricks and sealed it to showcase the history," Katie says.
2. Partner up: In addition to working with a local craftsman on the custom stainless steel frame rods, Paris Optical hired Eye Designs to source the updated furniture and to Lum Retail Lighting Group to help bring out frames' true colors and details.
3. Welcome mat: Paris Optical took advantage of their town's monthly after-hours First Thursday to hold a grand opening for the expanded space. The event included giveaways, appetizers and a wine tasting by Carriage House, another classy local business that sells everything from jewelry and antiques to craft beer.
4. On the square: Paris Optical is a striking presence on the historic town square. Everything used to be in the old American National Bank Building (with an eye-catching eagle on its facade), where the doctors now do exams. The new space has windows that let in a lot of natural light.
5. Smart choices: "The exposed brick walls evoke a sense of history and serves as a decor, while the white stucco partial covering ultimately modernizes the space. It's so chic," says judge Onega Astaltsova, who also likes the "extremely smart choice of lighting styles like yarn balls, canisters and tracks."
---
PHOTO GALLERY /
Paris Optical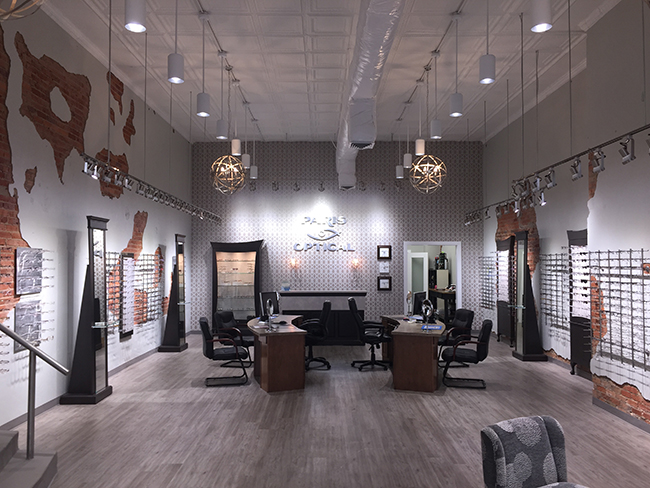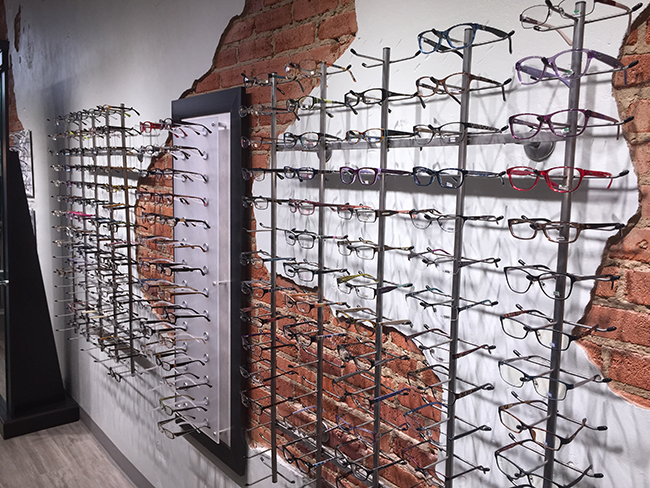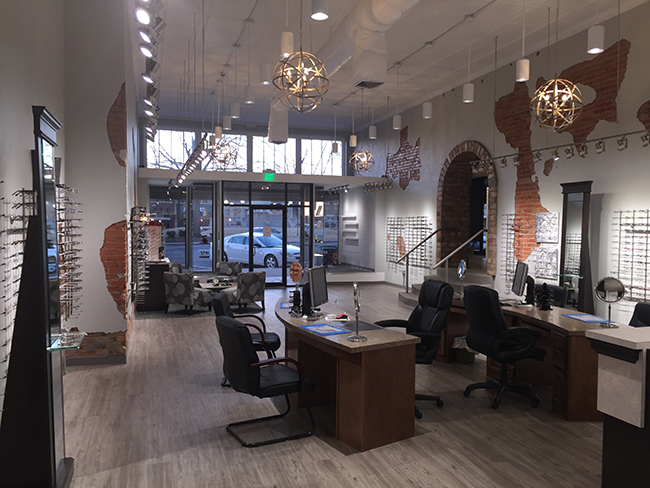 RETURN TO AMERICA'S FINEST MAIN PAGE
Hear What the Industry Thinks About the Ultimate Lens Package by Essilor
Eye care professionals, patients, and Essilor sales consultants shared their feedback on the Ultimate Lens Package. Watch to see why they believe the innovation behind the lens can make the difference for your practice and for your patients. For more information on the Ultimate Lens Package, contact an Essilor Sales Consultant or click here.
---