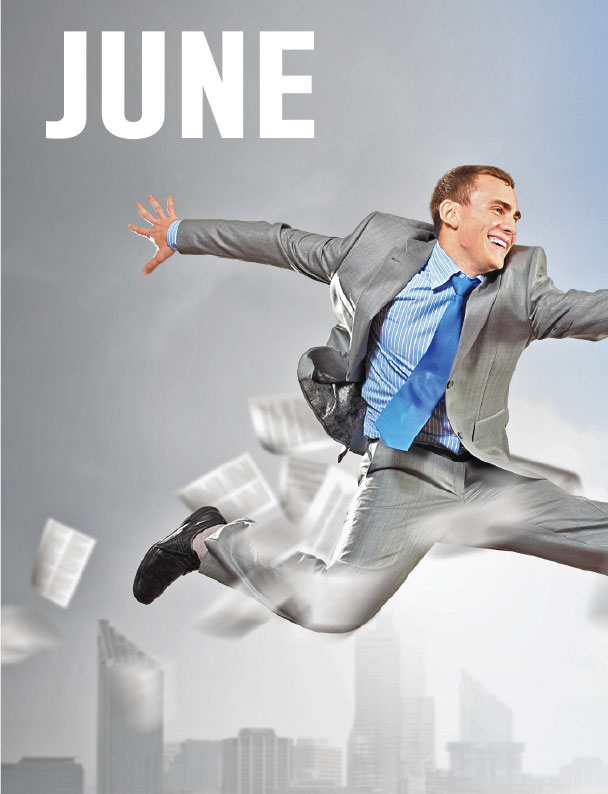 It's almost summer, guys. And we at INVISION think it would be great if you could get out of the office before 7 p.m. every now and then to enjoy these gorgeous summer nights. On
National Leave the Office Earlier Day
, don't be sloppy; just work more efficiently and with higher focus. For instance, instead of checking your Facebook page and Yelp reviews 27 times today (or any day), visit those time-sucking sites only once. There you go: We just got you home 45 minutes earlier.
On
the 55th anniversary of the premiere of PSYCHO
, gather your staff and lay out scissors, a shower curtain and a screechy violin. Tell them you're going to practice techniques for dealing with "psycho" customers. (And now that you've got their attention, you can put the scissors away — and suggest everyone read "8 Keys for Dealing With Problem People" from
Psychology Today
at
invmag.us/5155
.)
Ladle some chum toward any dedicated anglers in your clientele on
Go Fishing Day
. Promote special offers on fishing-specific eyewear from Maui Jim, Costa, Oakley and others. As the saying goes, "Good things come to those who bait."
Today is
Let It Go Day
. Whatever's bugging you ... that yappy dog next door, the person who pinched your parking spot, or even the song
Let It Go
, which you've probably heard 4,000 times too many ... roll the idea up in your fist and then
releeeeease
it.
It's
Global Beatles Day
. Pump yourself up for a day full of refractions by listening to Tell Me What You See from the Fab Four's classic Help! album. It's as though, for a single moment in their careers, the Beatles eerily teleported their way their way into the soul of an optometrist. (Who knows? This might even become your theme song.)
Resolution: This year, you should make a really big deal about
sunglasses day
and turn it into a special day for your most avid customers. Pick a celebrity to honor with a "best choice in sunwear" award, have a fashion show, introduce your new sunwear lines, and offer the year's best deals on sunglasses. Karaoke could be fun, too, whether you sing Corey Hart's great ode to going incognito ALL the time,
Sunglasses at Night
, or mock the Cheap Sunglasses favored by ZZ Top.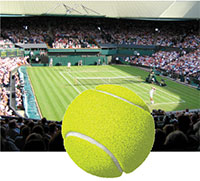 Wimbledon
is more than green grass, strawberries and cream, and Rafa tugging at his white pirate pants. The world's premier tennis tournament begins today, and it's one of summer's best sunwear-spotting events — as long as it doesn't rain. Look for familiar styles on celebs and players' boyfriends/girlfriends in the paparazzi shots from the scene. Highlight these in a "Seen at Wimbledon" section on your website and social media feeds.
---
B U S I N E S S A N N I V E R S A R I E S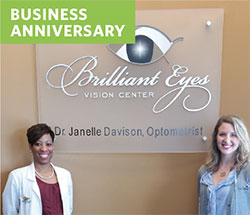 Happy 5th Anniversary to Brilliant Eyes Vision Center
MARIETTA, GA
Dr. Janelle Davison (above at left, with assistant manager Tara Morgan) plans a designer trunk show to celebrate, with 15 percent of profits pegged for charity and plenty of patient giveaways, too. Davison, a Pennsylvania College of Optometry grad, opened Brilliant Eyes in June 2010. Her secret to launching in trying times? "Be willing to be the CEO and make tough decisions. A tough economy requires adaptability to the new financial climate."
Does your business have an upcoming milestone? Email us at This email address is being protected from spambots. You need JavaScript enabled to view it..
M O R E E V E N T S
June 1 marks the start of Cataract Awareness Month and Fireworks Eye Safety Month. Find tips on both topics at preventblindness.org. Use them in your email newsletter and website.
June 14 is Blood Donor Day. Please donate and encourage your staff and customers to do so, too. (How about a bloodmobile at your business?)
June 20 is World Productivity Day. So get cracking!
June 23 is World Columnists Day. Thank a columnist whose work inspires you. (Hey, INVISION's got a couple you might want to contact!)
June 26 is Take Your Dog to Work Day. Unless he's a growler. Or a nipper. In which case, consider it Leave Your Dog At Home Day.
This article originally appeared in the May 2015 edition of INVISION.
Hear What the Industry Thinks About the Ultimate Lens Package by Essilor
Eye care professionals, patients, and Essilor sales consultants shared their feedback on the Ultimate Lens Package. Watch to see why they believe the innovation behind the lens can make the difference for your practice and for your patients. For more information on the Ultimate Lens Package, contact an Essilor Sales Consultant or click here.
---