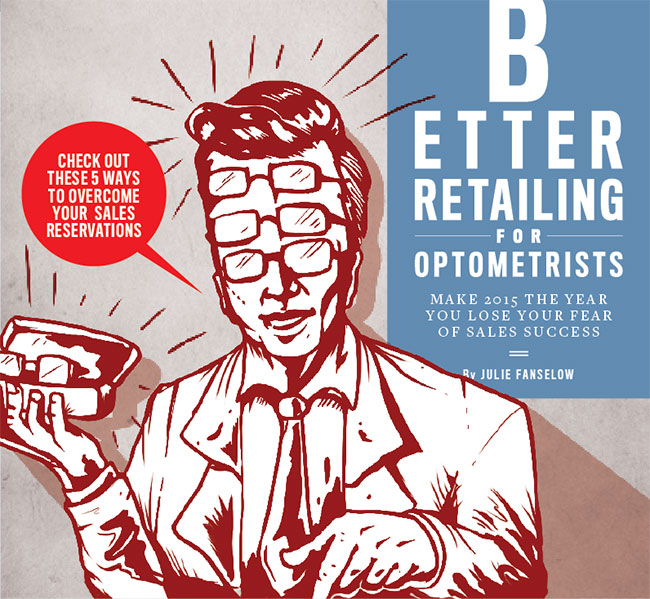 This article originally appeared in the January 2015 edition of INVISION.
You aced anatomy, biochemistry and your clinical rotations. You passed the National Board without a sweat. You even did a residency, you overachiever.
---
Those diplomas look wonderful on your wall. But fancy pieces of paper won't pay your bills — and don't get us started on those $1.42 reimbursement checks.
It's 2015 and the hard fact is this: If you don't want to make money selling eyewear and contacts to your patients, someone else does. Big-box discounters and e-commerce players aren't content with selling glasses and contacts out from underneath you. Some entrepreneurs want people to go online for their eye exams, too.
Lines are blurring fast. It's up to you to help people see clearly that you not only offer the best vision care — you can fulfill their desire for an easy, affordable and even entertaining experience when they need new glasses or contacts.
Maybe you think selling is beneath you — that retail means getting down in the muck. Whatever is holding you back, read on to see how to overcome your fear of selling success.
---
Anti-Retail Objection #1
"Retailing conflicts with our medical mission."
"I used to really struggle with this," says Dr. Nathan Bonilla-Warford of Bright Eyes Family Vision Care and Bright Eyes Kids in Tampa, FL. "Over time, I have realized that retailing eyewear allows optometrists and ophthalmologists to provide the very best care possible for their patients. This is not a conflict. It is at the core of our professions and is truly our responsibility to provide this service in the best way that we can. In my practices, we strive to empower patients with all of our services, including selling frames and lenses."
Dr. Alan Glazier of Shady Grove Eye & Vision Care in Rockville, MD, says better retailing insulates your practice from the continual change optometrists see in the medical side of the business, from laws to insurance plan reimbursements. "I started out as a pure clinician," says Glazier. "Now, running my business is more fun." And these days, "if your goal is to make a profit in optometry, arguably you can't do it with a medical-only model."
In fact, an optical dispensary should be the No. 1 moneymaker in any optometry practice, says Michael Block, president of Block Business Group. "Contact lens margins are thin and you can only examine so many patients per day. Eyewear retailing is a high-margin business with a built-in customer base."
---
Anti-Retail Objection #2
"But they didn't teach us business in optometry school."
It doesn't matter. Dr. Courtney Dryer opened 4 Eyes Optometry, in Charlotte, NC, when she was just two years out of optometry school. "I designed my practice knowing that most of my profits will come from my optical dispensary," she says, adding that she's found that optical sales make up for falling reimbursements for eye exams and ancillary testing.
Dryer created a one-of-a-kind dispensary that reflects her personality, is super-functional for staff and patients, and uses strong visual merchandising. Read more about how she did it at invmag.us/1155. OK, it's true that Dryer was a business major as an undergrad, but you can sharpen your business smarts by networking with other business-minded ODs online, by taking continuing education classes — and by keeping up with INVISION and other business media.
The key thing to remember is that the patient in your chair becomes a customer in your dispensary. You can ease that transition and lessen the chance of people leaving with their prescription by talking with patients about their individual eyewear needs before they leave the exam chair. Steve Whitaker, owner of Whitaker Eye Works, suggests lines like these to help you master the handoff:
5 "Your new Rx calls for an update with your eyewear. Would you be willing to talk to the folks in the eyewear area? They are really good at what they do and I want your glasses to represent our eye exam accurately. Let me introduce you ..."
5"I strongly recommend that you let us provide you new eyewear. What do you think? You will appreciate the increase in detail with your new Rx. The folks out front will make sure your glasses match my Rx exactly. Right this way ..."
Want to make more money? Start by selling patients they eyewear they really need.
---
Anti-Retail Objection #3
"We don't have enough space."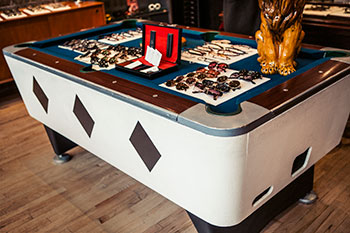 A vintage pool table makes a creative display area
at Silver Lining Opticians in New York City.
Size isn't important. It's what you do with what you have. Silver Lining Opticians, one of our 2014 America's Finest Optical Retailers, has just 700 square feet for its Manhattan showroom, but it makes the most of those tight quarters with creative displays including fine eyewear arrayed on open glass shelving and even spread out on a vintage pool table.
Of course, bigger can be better: In his column in this month's Invision, John Marvin says that picking the wrong location — or one with too little space — is a primary reason for lackluster sales. Marvin's rule of thumb for size? Think a minimum of 2,500 square feet, including at least 1,200 to 1,500 for the dispensary. (Read more from Marvin here.) But if you're committed to the space you're in, you can still sell more eyewear through doctor recommendations, clever promotions and excellent customer service.
Another idea if space is tight: Offer frames that people won't find everywhere else. Best Image Optical founder Mark Dolabany so strongly believes that eyewear should only be fitted by experienced pros that his company sells only through independent ECPs. That way, people can't "showroom" your offerings, then order them cheaper online. Other companies that focus on independents include WestGroupe and Studio Optyx.
---
Anti-Retail Objection #4
"I'd have to hire more people."
And that's a bad thing? Staff are an investment, and if you hire the right talent — people who love eyewear and know how to sell it — they'll make money for you. Add a front-line person to create a concierge-like experience, and you'll reap wide word-of-mouth and rave online reviews.
"I think many optometric offices function on a permanent skeleton crew. They barely have enough people to get the basics done, let alone go above and beyond with patients," says Bonilla-Warford of Bright Eyes. "We place a very high premium on customer service. I personally hate all medical experiences and I assume our patients do, too — especially the waiting. You'll be more effective at sales by making patients feel that they're being attended to."
Bonilla-Warford says this especially applies to premium lenses, because they're complicated. "Intentionally staffing to provide that level of service may result in some downtime, and you won't need that level of service for every patient who walks in the door. But it'll make enough difference to enough patients that a motivated, well-trained optician, one who's able to sell premium lenses, multiple pairs of eyewear and a year's supply of contact lenses, will more than carry their weight on your payroll."
---
Anti-Retail Objection #5
I can't compete with chains, so why try?"
Stay positive. Take pride in your expertise. Even when it seems like every week brings news of a frightening new competitor to your business, keep your head up.
"If you have a defeatist attitude in business, you're not going to win," says Glazier. "You may not be the cheapest," says Glazier, "but you are an expert and people pay for the advice and counsel of experts."
Your business might not be a fit for the chain-store or online buyer now, but that doesn't mean that someday they won't want something better than a $129 pair of glasses. Believe us, they will.
How can you make someday happen a little bit faster? Make sure your optical area is attractive, well organized and tells product stories. Or as Glazier puts it: "If your optical is not looking sexy, you're not going to get those sales."
Hear What the Industry Thinks About the Ultimate Lens Package by Essilor
Eye care professionals, patients, and Essilor sales consultants shared their feedback on the Ultimate Lens Package. Watch to see why they believe the innovation behind the lens can make the difference for your practice and for your patients. For more information on the Ultimate Lens Package, contact an Essilor Sales Consultant or click here.
---