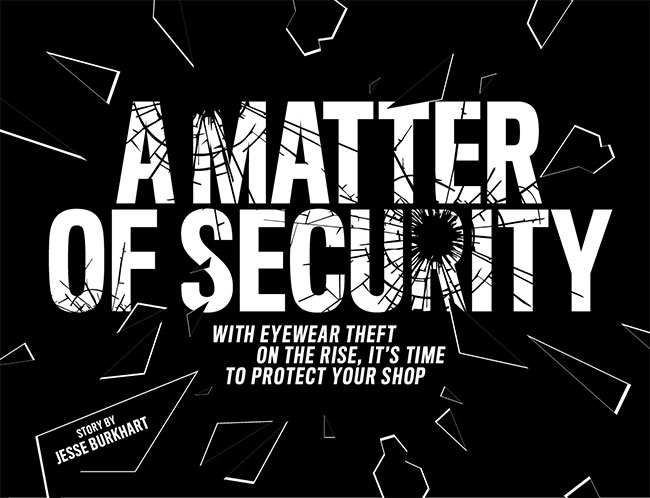 Gordon Wong spent 20 years building his optometry business — before thieves raided and ravaged it in a span of minutes last spring.
This article originally appeared in the February 2015 edition of INVISION.
---
The smash-and-grab at GW Eye Associates in La Jolla, CA, happened shortly before dawn. The thieves used either a paint gun or a slingshot to launch several marbles that shattered two glass doors, then they zoomed in on the shop's most expensive frame collections. All told, the crooks swiped about one-fourth of the inventory — a loss of up to $30,000. Wong actually slept at his practice while repairs were made over the next week. "A survival instinct" took over, he says, and he was determined to keep bandits from returning.
The thieves were never caught because — "as Murphy's Law would have it," Wong recalls — the shop's surveillance camera wasn't functioning at the time of the break-in. But his insurance company replaced all of the merchandise. Now, he can't be too careful. After the incident, he spent $10,000 to install three metal security gates resembling decorative, custom-made garage doors at various entry points. And the camera, of course, has been restored to working order.
Welcome to Fort Knox Optometry. But the moral is this: Some robberies can be foiled before they become robberies. "I've been doing what I do for 20 years, and that's the first time that has happened," Wong says. "Why spend $10,000 on security gates? [Theft] will probably happen eventually. It just depends on whether you want to be proactive or reactive."
Although Wong's proactive measure is cost-prohibitive for some, there are many other safeguards an eyewear shop owner can implement to reduce the likelihood of theft — no matter what kind.
"There's theft from customers, usually called shoplifting," explains Chris McGoey, a security and loss-prevention consultant in Los Angeles. "There's employee theft, and vendors even steal from the people that they serve. The purpose is always the same. The eyewear is of value, especially the frames, so people either steal them for their own use, but if they're stealing in bulk it's for resale."
Safeguards at Sonoma Eyeworks in Santa Rosa, CA, for example, include video surveillance that runs 24/7. Every piece of inventory is bar-coded, which allows business manager Cindy Harmon to get comprehensive stock reports and continually self-audit. The shop also keeps a "little black book" in which staff can document any strange behavior by a customer, along with a physical description.
Despite these steps, Sonoma Eyeworks couldn't predict that a man would walk up to a Chanel showcase and scurry back to his car with five frames in hand ... in about 90 seconds. Peter Kaspar, the operations manager, approached the passenger side of the shoplifter's car. Meanwhile, Harmon saw the commotion as she returned from a nearby coffee shop.
Armed with a 32-ounce green cucumber ice tea she'd just bought, she approached the open driver's side window and threw the beverage in the bandit's face. The thief struggled to shift his car into gear while Kaspar reached through the open passenger-side window and repossessed some of the frames before the car sped off. Aided by videotape evidence and eyewitness accounts, law enforement nabbed the robber and the remaining frames were recovered.
Although the suddenness of the theft made it difficult to prevent, other robbers are more deliberate.
"Intuition is so important," Harmon says. "As a business owner, we really do have the right to be on that person and shadow them — we don't have to let them just wander around."
Meline Baron, the dispensary manager for Visions Extraordinary Eyewear in Frederick, MD, could have used an extra pair of eyes in December 2013 when she encountered a suspicious-looking trio. First a woman entered the store and began asking Baron about specific high-end brands. Then two men entered the store, and one interrupted Baron with more questions while the other wandered over to an open display. "Things didn't quite feel right," she recalls.
After the trio left, she noticed gaping holes in her displays where nearly $3,000 in frames used to be. Baron left the store and followed them down the street. She chased one of the men across the street, and he dropped two frames into a pile of leaves at the curb. But the woman had made off with the more expensive merchandise.
Despite that incident, Baron says theft is a rare occurrence at her store, which has been targeted just three times in 10 years.
"We don't have a big shoplifting problem primarily because we don't carry the fashion designer names that people are going to recognize and want to steal," she says. "That's partly for security reasons and for exclusivity." And they set up the store to minimize the likelihood of theft.
Salle Opticians, a high-end boutique in Atlanta, GA, also relies on strategic merchandising as a preventative measure.
"Our system is set up to where there is a place for every frame," says owner Wendy Salle. "Our displays have a shelf that runs the length of the wall, and everything is grouped in threes. You can tell instantly if something is moved."
Keeping showcases and display shelves full, McGoey affirms, is a good rule of thumb for eyewear retailers. "Put a limited amount on display — maybe even numbers or certain colors or display them in such a manner that anytime a single item is missing you're aware of it."
Ultimately, he says, preventing loss in eyewear stores is no different than it is for any other retailer: "The solution is to have loss-prevention systems in place and have control of your inventory."
Whether that means dropping $10,000 on security gates, recording customer activity in a little black book or rearranging displays, your actions might save a whole lot more than a cup of ice tea.
FIVE TIPS FOR KEEPING YOUR STORE SECURE
Watchful eyes. Good customer service is the best method for deterring plotting thieves, says Chris McGoey. "Have someone on the floor to greet every customer when they come in, make sure you make eye contact and offer to help them." If a would-be bandit knows others are watching, he may reverse course.
Use technology. Although surveillance video cameras are one of the most basic security measures, they're also one of the most effective. McGoey suggests recording customer activity at store entrances and at points of sale (i.e. cash registers) "to make sure that friends or relatives aren't buying one pair and getting five free."
Track your inventory. Understand what you have in stock — whether it's on display or in the back — at all times. "You need to track sales and have a way of spot-checking inventory to see if you're on balance at any given time," McGoey says. "You should be able to do a quick audit or even a surprise audit just to see if your inventory levels are reducing based on the same amount of sales."
Don't be naive.In a perfect world, every small business owner would be able to trust every employee. Sadly, though, a person on your payroll may be more likely to steal from you than anyone else. "The biggest source of theft in eyewear stores is from employees," McGoey says. "About 60 percent of loss, on average, is probably the responsibility of those that work for you."
Team up with others. You can't see everything that's happening outside your storefront, so have eyes around town. That means developing relationships with your neighbors and local law enforcement who can alert you to criminal behavior in the area. "Check with other merchants in the area about whether there has been shoplifting, get to know your police force and make sure the officers know you and your shop," Baron says.
Hear What the Industry Thinks About the Ultimate Lens Package by Essilor
Eye care professionals, patients, and Essilor sales consultants shared their feedback on the Ultimate Lens Package. Watch to see why they believe the innovation behind the lens can make the difference for your practice and for your patients. For more information on the Ultimate Lens Package, contact an Essilor Sales Consultant or click here.
---