THE ART OF ADDING ON
How to boost your profits by giving your customers the vision care they really need
Want to know the big secret of selling multiple pairs, additional lens coatings or annual supplies of contact lenses? Don't add on.
Wait a second, you're thinking. Isn't this article that I just started reading titled The Art of Adding On?
It is, indeed. And you're just going to have to trust us that add-on eyecare sales is one of those weird actions — like swinging a golf club, or talking to the opposite sex in bars — where far less effort gets you far more results. And that the harder you try to make add-on sales, the less likely you are to achieve them.
I teach everyone to offer every single customer the very best products and services they offer, no matter what the price."
robert bell
Sales consultant Robert Bell explains: "Adding on or upselling is, in any industry, without a doubt, the dumbest sales technique ever. In upselling, you are adding on better products and services but you're also adding on to the price — cha-ching, cha-ching, cha-ching! Nobody likes that cha-ching sound going off in their heads."
Instead, Bell's strategy requires a perspective shift: "I teach everyone to offer every single customer or patient the very best products and services they offer, no matter what the price."
If you're offering the best solution every time, that means you never have to add on. Of course, if a client can't afford the ideal solution you present, you can work to lower the price by eliminating the coating or the premium lens or the designer frame. And the best thing about down-selling, according to Bell? "The customers usually opt for the better products, anyway. And if they don't, they walk out satisfied and within their perceived budget."
So forget about adding on and focus instead on how you can start by offering your clients the best eyewear and eyecare. You're the experts, after all, and what you do and say matters.
Read on for more ideas on how to translate your expertise and products into bigger sales tickets.
COMMUNICATE WITH PASSION WHAT YOU DO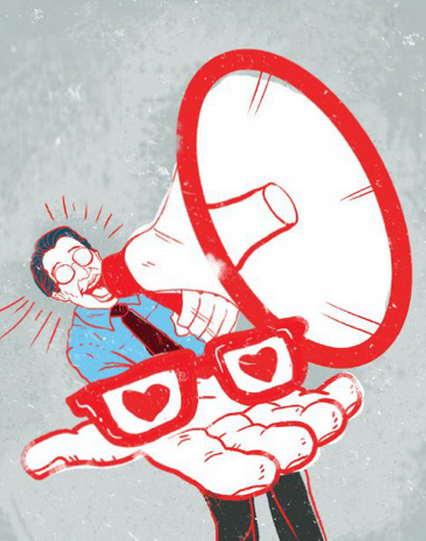 Before you can sell someone multiple pairs of eyewear, an annual supply of contact lenses or Ortho-K treatment, you need to get them through your door. How do you do that? Communicate with passion what you do so that people can become passionate about what you offer.
Brain Squad member Kevin Count of Corner Optical in Glenview, IL, recommends the ideas in Simon Sinek's Start with Why. (See Sinek's TED Talk on the book at invmag.us/3153.) Sinek says that everyone in business knows what they do ("We sell eyewear"), and some know how they do it ("We have 1,200 frames in stock and an endless aisle available to you"). "But very few people or organizations know why they do what they do."
You are not in business to make a profit. That's a result. What is your purpose? Why do you get out of bed in the morning? Truly inspired leaders start with the "why." Your "why" doesn't have to be poetry — Eyes on Chagrin in Woodmere, OH, says on its website, "We're here to help you see more clearly, and clearly look great" — but it should be heartfelt and convincing.
As Martin Lindstrom wrote in INVISION's November-December 2014 issue, nothing is as personal as a pair of glasses — which means traditional vision-care purveyors have a chance to win hearts by guiding people through this experience in a way no chain or online retailer can. Let the big-box stores traffic in the what of eyewear. You can seize the inner circles of how and why, where emotions like trust and loyalty rule the day.
"Think in terms of what you do better than anyone else and ask the patient if the other guys can match that?" Bell says. "By the way, if you can't think of at least three things you do better, close up shop and apply for a job with those other guys."

Start with Why is based on the premise that everyone in business knows what they do, and some know how they do it, but few know why they do what they do."
SIMON SINEK
Ask Questions
Eye doctors and opticians agree: This is a critical first step toward helping people get everything they need when they visit you for vision care. "The key is to ask questions!" says Kristen Holt of Clinton Family Eye Care in Clinton, NJ. What job, hobbies and tasks does the patient have? What problems do they have with their current eyewear or eyesight? Says Holt: "The more you listen and get to know your patients, the easier it is to fit them with what they need — which is usually several pairs of glasses with best lenses available."
In her presentation, "Why They Need More Than One Pair," Valerie Manso, a popular speaker at eyecare conferences, suggests building a profile of each customer that includes their answers to questions about their job, hobbies, specific daily activities and environmental concerns. "Your objective is to fully understand how your customer uses their eyes and the image they are looking for," she says. "Only then can you begin to assist them in their product selections."

Get the Doctor's Orders
Doctors are the experts in helping people understand what they truly need, so whether you're an optometrist or ophthalmologist with an in-house dispensary or an optical shop working with referred prescriptions, it really helps to have the doctor prescribe from the exam chair — and ideally put all recommendations in writing.
"The 'power of the chair' has always been our greatest asset when it comes to having guests accept the recommendations we know are best for them," says Dr. Ted McElroy of Vision Source Tifton in Tifton, GA. McElroy and his associate make recommendations throughout the eye exam — then reiterate the recommendations to the optical specialist in front of the guest and write them down at that time, too, "so there is no confusion about what I am recommending for the guest's needs."
The more a doctor gets involved in making recommendations and following through, the better your capture rate will be — and the more likely the patient will understand the value of premium products. "Traditional offices put the entire weight of the sale, including all responsibility for patient education regarding lens solutions, on the shoulders of the optician," says Dr. Renee Jacobs of Practice Management Depot. "In an evolved business model, every management area has a role toward preparing the patient for the point of sale."
After evaluating a patient's vision and talking about lifestyle, Dr. Altaz Shajani of Lynn Valley Optometry in North Vancouver, British Columbia, gives each new or returning patient a personalized vision evaluation. Printed on the back of a thank-you note that tucks neatly into a folder with other key information from the practice, the evaluation lists vision conditions; recommendations for eyewear; and information on eye health conditions and treatments. "You don't have to do everything today," he tells his patients, but they leave the office with a working plan of lifestyle-driven suggestions that can improve their vision and overall well-being.
Walk the Walk
Want to convince clients that premium lenses and coatings are worth their cost? Use them — and rave about them to customers. "We sell a lot of Crizal by telling people how much we love the product," Daniel Amyx of Hillmoor Optical says of the no-glare lenses that also resist smudges and scratching. Patients in the reception area at Buena Vista Optical in Chicago, IL, sometimes see staff arrive wearing movie-star sunwear that quickly fades to clear, which encourages patients to ask about photochromatic lenses. "They all wear the add-ons and tell patients what they wear and why they love it," says practice manager Diana Sims.Of course, it's excellent when your customers do the evangelizing for you. "Return customers and their recommendations to their friends, neighbors and relatives about our products and services means we don't have to do a lot of selling," says Mark Platter of Main Street Optical in Crete, IL. "Many come in and say they want exactly what their referrer got from us."
Your objective is to understand how your customer uses their eyes and the image they are looking for. Only then can you assist them in their product selections."
valerie manso
Show, Don't Tell
Protection against the harmful effects of sunlight, blue light and digital eyestrain give ECPs some of the best opportunities to make extra sales. High-profile advertising campaigns and word-of-mouth among friends are driving people to ask about these needs. But if people don't raise the issues, it's up to you to introduce them — and that works best when you can demonstrate the benefits rather than just talk about them.
Ask your vendors about apps or other visual aids that help you introduce concepts and explain benefits. "I always show every person how polarized lenses work to fight glare even in snowy conditions," says Bob Schmittou of New Eyes Optical in Wyandotte, MI. Shajani of Lynn Valley Optometry says that over 14 years, his $1,000 PRIO computer vision tester has generated at least a million dollars in sales by determining the correct added power for digital devices. He's now using the autofluorescence feature of the Optomap and an iPad attachment to show how blue light affects the macula.
DARE TO DISCOUNT
You don't want to be known as a high-volume discounter, but offering breaks can help you sell more eyewear. Paula Hornbeck of Eye Candy in Delafield, WI, says that when a customer can't decide among two or three pairs, mentioning Eye Candy's 20 percent discount on the more expensive pairs will often inspire the customer to buy the extras. Think about extending the discount period from same-day to months or even a year after the exam to help people budget and plan for further purchases. Ask vendors for discounts you can pass along. Including a lab discount, Charlotte Eye Ear Nose and Throat Associates in North Carolina can offer 50 percent off on second-pair sales, says James Russell.
Each patient receives a personalized vision evaluation.
They leave
with a plan of lifestyle-driven suggestions that can improve their vision and overall well-being."
DR. ALTAZ SHAJANI
Think Bundles
Back to Robert Bell's point at the start of this article: Nothing gives an eyewear buyer sticker shock faster than an optician jotting down figures as she adds in lens upgrades and coatings. At Oakland Vision Center in Oakland, CA, lenses and frames are package-priced together, so "opticians can spend the time engaging with the patient rather than engaging with the calculator," says Dr. Tanya Gill. (This also becomes easier if you streamline your frames selection into a limited number of price points, as our columnist John Marvin suggests. "Each price point should represent a value step that your staff can explain," he wrote last month. "This way, you don't have a customer confused because one frame is $145 and one next to it is $155.")
"I think it's really important for customers to know they have options," says Margot Lanham of Ulla Eyewear in Madison, WI. "Of course we are the professionals, but people do not like to be told what to do." So, she says, it's important to provide lens and frame combinations "in a concise but thorough manner that allows the two of you to make the best choice together. I also have every customer try on at least one pair of sunglasses during the sales process. It's usually opens doors for a conversation about proper sunglass protection and many times yields a sale."

You can make it simple for contact lens patients, too. Dr. Cynthia Sayers of EyeShop Optical in Lewis Center, OH, says, "We figure the year's supply cost minus insurance and rebates and give that figure to the patient." They add that shipping is free with the annual supply, and that people who purchase a year's worth of contacts also get 30 percent off non-prescription sunglasses.
Encourage customers
to treat themselves to that extra pair." Hearing they save 20 percent off the more expensive eyewear often helps them decide to buy several pairs."
paula hornbeck
Inspire Eyewear Wardrobes
When we asked this month's Smooth Seller — Tamra Asmuth of One Hip Chic in Rochester, NY — her greatest sales achievement so far, she reported she has sold more than 40 pairs of glasses to one person in that customer's current prescription. What was the secret? Two words: "Eyeglass wardrobe."
When Asmuth blurted out the magic words to a client, they "struck a chord with her and from then on, she began purchasing a pair of glasses for each outfit, mood and event." After that learning experience, says Asmuth, "I talk to each of my customers about building their eyeglass wardrobe. Let's face it, we all have different facets to our personalities: intellectual, quirky, sophisticated, fun-loving, etc. And we each have certain roles to play in our lives —parent, wedding guest, lawyer, yoga lover, artist. So it makes sense to have a variety of frames to address each facet and each role we play, doesn't it?"
Asmuth has even sold thousand-dollar reading glasses to customers seeking premium performance and style. Says Asmuth: "These customers could easily go to a drugstore and purchase readers in their spherical prescription — heck, in some cases they've been encouraged to do so by the doctor." But to educate such customers about the differences in lens quality is important, she says, as is "the value of putting on a striking pair of glasses during an important business meeting."
"In both cases — in all cases — eyeglasses tell a story before the wearer opens their mouth," Asmuth adds. "Eyeglasses are a large part of the first impression, and we all know what they say about first impressions. I stress to my customers how important it is to tell the right story — to make the right impression."
Hear What the Industry Thinks About the Ultimate Lens Package by Essilor
Eye care professionals, patients, and Essilor sales consultants shared their feedback on the Ultimate Lens Package. Watch to see why they believe the innovation behind the lens can make the difference for your practice and for your patients. For more information on the Ultimate Lens Package, contact an Essilor Sales Consultant or click here.
---