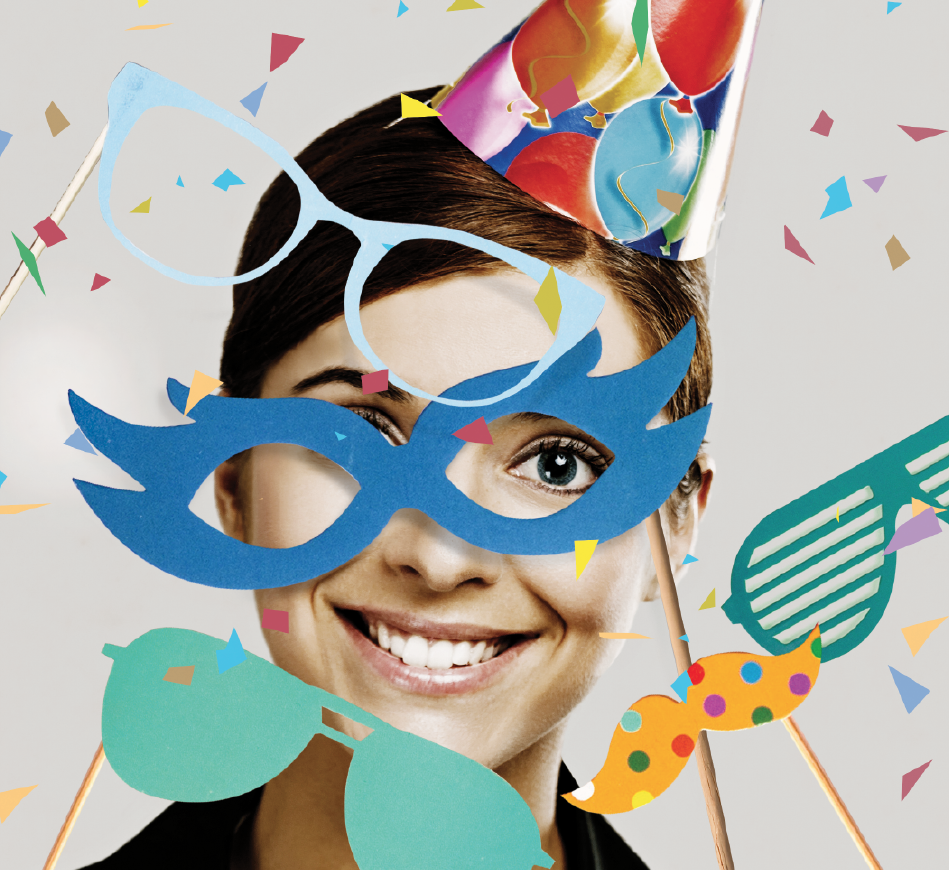 PARTY TIME
Raise Your Glasses to EVENTS THAT BUILD BUSINESS ... and HAVE More Fun With Your Clients
You may think you're in the vision care business — but face it: You're an entertainer, a raconteur and the host with the most. Or at least you should be.
In 2015, we're two decades into the experience economy. People expect a good time, all the time. Having fun helps you attract and retain business, and it also makes work far more enjoyable for you and your staff.
Reporting by Margie Monin Dombrowski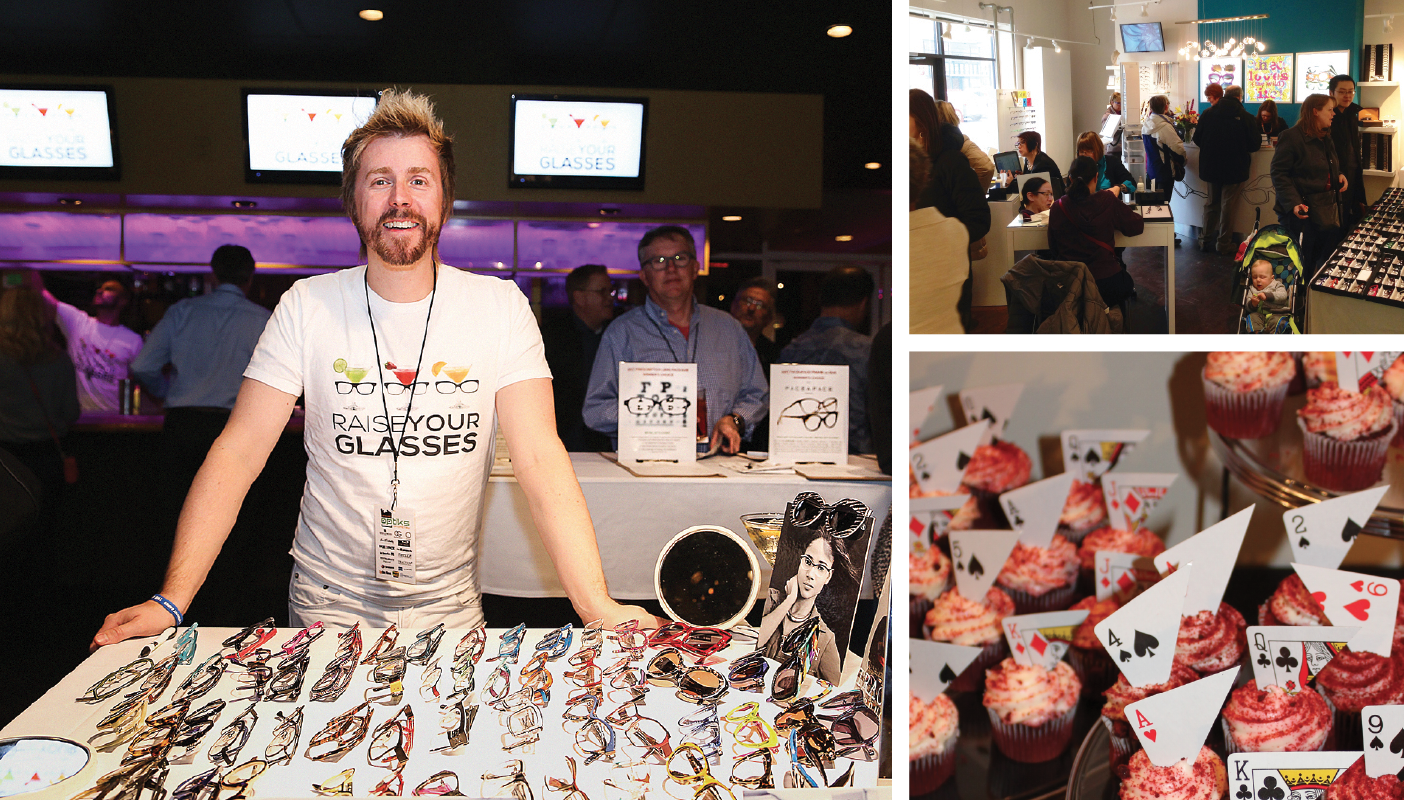 Have fun and sell more eyewear. Clockwise from left, Urban Optiks Optometry's "Raise Your Glasses" gala; a bustling grand reopening day at Ulla Eyewear; Alice in Wonderland-themed cupcakes at Unique Optique.
To get into the party mode, consider: How can you turn your vision care shop into a destination? Think about cool new frames to try on, food and drink, great music, comfy places to sit, interesting art, eye exams without an appointment (and with new technology that will "wow" your patients) ... hey, these are things you really ought to offer all (or most) of the time, right?
But some occasions — think grand openings, business anniversaries and trunk shows for your best brands — are reasons to go even bigger on hospitality. Read on for ideas for your next event, whether it's a neighborhood "First Friday" gathering or a 50th Anniversary blowout.
CHEERS TO SEVEN YEARS / Urban Optiks Optometry, San Diego, CA
Take a baker's dozen high-end frame and lens vendors. Add a cocktail party. Shake and stir things up with a fundraiser for Optometry Cares. The results were a seventh anniversary celebration for Urban Optiks Optometry in San Diego, CA, that everyone is eager to repeat next year.
The original idea was a mainstream trunk show/customer appreciation party, says Dr. Gary D. Klein. But as planning progressed, he and his team decided to expand the event into more of a trunk show expo and night on the town. There was a serious side to the fun, too, as the event aimed to increase eye health awareness, raise funds for eyecare for low-income people, and "raise glasses" by collecting donations of gently used eyewear.
The February soiree was dubbed "Raise Your Glasses," a double entendré that reflected both the vibe and the venue: Martinis Above Fourth Table + Stage, a frequent partner with Urban Optiks for cross-promotions and community events. A fun logo of martini glasses adorned with eyewear appeared in all publicity for the event, as well as on signage and staff T-shirts the night of the party.
Urban Optiks hired an event planner to manage publicity, spread word of the event through social media and find media sponsors. The event was featured in three local magazines and got extra buzz when the American Optometry Association Foundation announced the event to its Optometry Cares donor base.
A clever, colorful logo gives your event a unifying image, both before the party and during the fun.
About 200 people joined the fun. Martinis Above Fourth donated its space and offered hors d'oeuvres created by chef Sergio Barrios to Urban Optiks at cost. Each person attending got a complimentary drink ticket to get the party started. A custom drink special called "Eye Can See Clearly Cosmo" — vodka, triple sec, lime juice and white cranberry juice with a lemon twist — headlined the libations menu, with $5 from the purchase price of each going to Optometry Cares.
Guests received shopping guides so they could keep track of styles that piqued their interest. They browsed thousands of frames lined up on tables covered in white tablecloths and decorated with single Gerber daisies in bud vases. The event spurred the sale of about 100 frames, with some bought that night and others later by people who had identified favorites in the shopping guide. (Vendors included Anne & Valentin, Booth & Bruce, Claire Goldsmith, Face a Face, Gold & Wood, ic! Berlin, l.a. Eyeworks, Matsuda, Oliver Goldsmith, Shamir, Tom Davies, Traction Productions and Zeiss.)
Attendees could bid in a silent auction and buy chances on prizes including gift certificates to local restaurants, theater tickets, frames and lens packages from participating vendors, and an iPad Mini. (Dr. Joe Mallinger from the Optometry Cares board of directors announced the results.) Guests also received swag bags containing goodies from frame and lens reps, as well as promotional items from Urban Optiks like flash drives with their logo on it. All told, the evening raised more than $7,000 for Optometry Cares.
Klein says they got great feedback from the vendors, who said they'd "never seen anything quite like this before, being able to pull all of these resources together and make it such a fun event. Now we want to do it annually. Next year we want to call it 'Raise Your Glasses 2.0.'"
---
'WONDERLAND' FOR A DAY/ Unique Optique, Frederick, MD
With easy decorating tie-ins, Alice in Wonderland proved a good theme for an event to showcase kids' eyewear at Unique Optique in Frederick, MD.
Fun is the key ingredient for any kid-centric event, and a familiar theme can make everything from food to activities easier to plan. For a back-to-school trunk show, Dr. Maria Higgins of Unique Optique in Frederick, MD, took her shop down a profitable rabbit hole with an Alice in Wonderland motif.
"We wanted to spark some interest in our kids' line and have a trunk show that focused on that," Higgins says. A theme based on "Through the Looking Glass" promised "surreal, fun, colorful" material that would resonate with kids and their parents, Higgins says.
To spread word of the event, the business used a Facebook event page as well as online calendars from local business and tourism websites. To draw party-goers and foot traffic on event day, the staff drew cheeky signs pointing in different directions that said "Go this way," "Wrong way" or "Not that way" on the sidewalk right outside the business.
Inside, playing cards were hung from the ceiling, while quotes from the book were posted throughout the office. The snack table was decorated with "eat me" and "drink me" signs. Guests were treated to a chessboard of mini peanut-butter-and-jelly sandwiches on white or wheat bread, cupcakes topped with flags made of playing cards, and fruit juice. And of course, Higgins was there to greet everyone, dressed up as Alice.
Gift bags with crayons and copies of Lewis Carroll's book were doled out, and a coloring contest and "Pin the Smile on the Cheshire Cat" kept the kids entertained. "The kid who pinned the smile closest to the Cheshire cat won a pair of glasses, which our frame rep and lens rep each donated," Higgins says. "They really loved 'Pin the Smile on the Cheshire Cat.' They thought it was the best thing."
The event was fun, and Higgins says it helped establish relationships with Unique Optique's clients. "It doesn't always translate to people buying something that particular day, but they'll often come back," she says.
---
GRAND (RE)OPENING / Ulla Eyewear, Madison, WI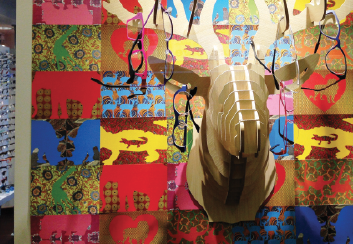 Ulla tied the inaugural window displays in its new space to Theo's "Into the Wild" advertising campaign.
After 15 years at one location in the Hilldale Shopping Center in Madison, WI, Ulla Eyewear moved to new digs nearby with an open layout and more modern aesthetic. To celebrate, the business paired its grand reopening with a Theo trunk show.
"Theo is really funky, colorful, playful and has unique shapes," says Margot Lanham. "It just fits who we are as a brand and they're one of our best sellers." In fact, branding is always key to the shop's events: "I look at what the brand represents and try to tailor the event to that," Lanham adds. "Certain events attract certain clientele, so you want to be bringing in the right people."
Taking a cue from Theo's "Into the Wild" advertising campaign, the new store's window featured a paper deer bust with eyewear dangling from its antlers. Colorful Theo postcards were fashioned into a collage and made a colorful backdrop.
Guests ate hearty appetizers of bruschetta, meats and cheeses.The drink menu changed as the day went on: mimosas in the morning, followed by lemonade with berries and mint, and finally champagne later in the day.
Ulla Eyewear's frames are usually displayed on the walls with the floor left open, but for the trunk show, two desks were moved away so staff could work more closely with customers. A 10-foot-long runner table highlighted Theo's product in the center of the store so customers could walk around the featured frames.
Prepping staff on what to expect and how to handle anything unexpected is vital. Always get up-to-date price lists ready before a big event, Lanham says. "This makes it a lot smoother for the customer and so we're not fumbling around trying to figure out pricing."
In addition to advertising in three regional magazines and sending e-mail blasts and postcard invitations to its client base, Ulla Eyewear uses Instagram and Facebook to build excitement for events. Drawings for jewelry, spa packages and tickets to a country music festival were good lures for the grand opening, too. About 100 guests, or double the normal Saturday traffic, checked out the event, and other people in the busy retail area saw an eyecare destination worth their attention, even if they couldn't stop in that day.
---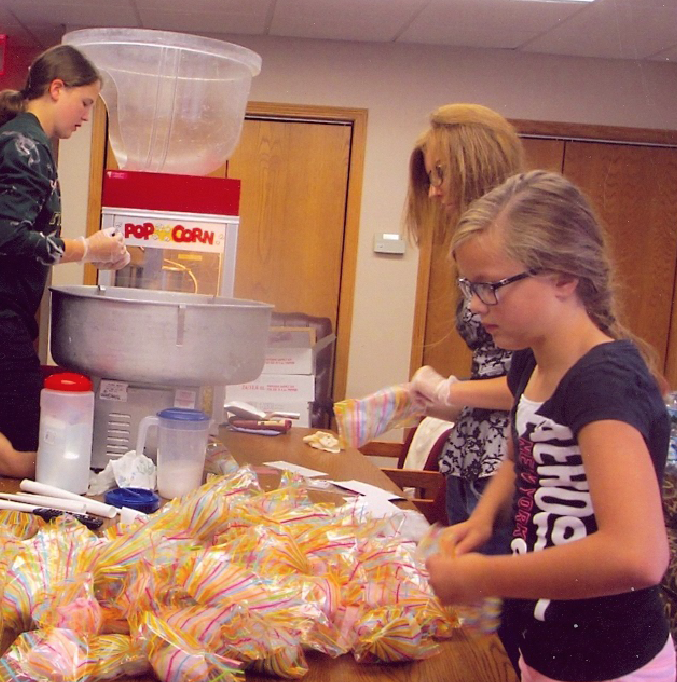 FUN FOR EVERYONE / Authier Miller Pape Eyecare Consultants, Norfolk, NE
Silly hats and creative decor help set the stage for fun at an annual children's festival.
Changing up party themes and events keeps things interesting for your customers — and for you. At Authier Miller Pape Eyecare Consultants in Norfolk, NE, they've hosted everything from a pampering session for women to a three-day children's festival, and they're always on the lookout for good ideas that will excite clients and staff.
For the "Girls' Night Out," AMP Eyecare transformed the store's eyewear boutique into a glamorous and girly space with "blingy" furnishings: a mirrored dispensing table, high-back chairs, an infinity mirror and frames displayed in a curio cabinet. As always, the optical area featured products that aren't available elsewhere in town or even in the state of Nebraska, says Sandy Authier, boutique manager and owner.
Other spaces were set up for massages, manicures and local business owners selling scrapbooking supplies, jewelry, home decor, clothing and scarves. To keep the mood light, male doctors and employees dressed in suits and ties helped as servers, strolling up and down the hallways and into the frame room with finger foods and goodies.
The result was a low-pressure social event in an atmosphere that actually made it easier to sell multiple frames to guests. An accompanying girlfriend's advice and approval often gives women a green light to buy — and the fact the event also served as a fundraiser for Relay for Life meant that any purchases made supported a good cause (and one important to the business' staff, since several had lost loved ones to cancer).
Girls' Night Out has drawn up to 160 guests, but since it hasn't grown beyond that, AMP Eyecare staff are currently brainstorming ideas for future events. "People always want something new and different," Authier says.
On the other hand, the three-day children's festival will probably continue every summer, since the event is perfectly timed right before the school year starts. To maximize its impact, the practice adjusts schedules "so our doctors only see children those three days," Authier says.
The festival is always a hit with parents and kids. Beyond checking all-important back-to-school eye exams off their to-do list, families get to see the latest kids' frame selections and enjoy popcorn, face painting, and a photo booth with props and T-shirts. "I think that's where you build your client base," Authier says: Start with kids, bring in their parents, and repeat the cycle as the children grow up and start families of their own.
---
MARKING MILESTONES / LOOK+SEE EYE CARE, MINNEAPOLIS, MN
Polka music (top photo) is an Oktoberfest must; Look + See's first-ever customer was guest of honor.
Big anniversaries are always cause for celebration, so when Look + See Eye Care in Minneapolis, MN, reached its 10-year milestone last fall, a low-key Oktoberfest-themed party was just the thing to thank customers and enjoy their company.
Look + See has created a strong brand with its owl logo, so invitations for the event found the owl decked out in lederhosen and a feathered hat. Recipients were encouraged to bring a guest, with a $100 discount for any purchases made that day providing further enticement. Barton Perreira was selected as the day's featured vendor because of its popularity with customers and strong selection of quality frames for both sexes.
The practice's first-ever customer was the party's guest of honor. He received a free frame of his choice and a poster board with his photo on it as a thank you for his loyalty. Other guests got free T-shirts and pint glasses decorated with the event logo.
The party took place outdoors beneath a tent, creating a festive atmosphere and making it easy for passersby to join in. (The business's location alongside a popular riverfront trail didn't hurt either.) Dr. Sarah Jerome's husband manned the grill, and her niece and nephew served guests brats, sauerkraut and German pretzels. Naturally, there was polka music, plus beer from a local German-style brewery
Enlisting extra hands from your family makes events less of a burden on staff, so they can concentrate on sales and recording orders. Hiring a food truck can work well, too. "We made it a family affair to keep the costs down," Jerome says. "In the past we've put a lot of emphasis on the food and the beverage. People don't always partake in that and they just want to be there for the event, so the largest portion of the budget shouldn't be dedicated to that."
Jerome's key suggestions: have a manager on hand to act as "cruise director" and experienced opticians doing frame selection to help things run efficiently. Separating frame and lens selection keeps things flowing best. Rent a photo booth so guests can have fun and see how frames look on their faces.
Look + See sold about 30 pairs for an estimated $16,000 in sales during the day — but Jerome says her event wasn't all about the bottom line. Connecting with patients on a more personal level in a relaxed setting is what really makes it worthwhile. "I'm always surprised that people want to hang out at an eye clinic on a Saturday afternoon so we try to make it fun," Dr. Jerome says.
---
AN APPETITE FOR FUN (AND SALES)

Food and drink can help drive event traffic and get people in the mood to shop. And while a party isn't a party unless you serve some sort of refreshments, what you offer is totally up to you.

Want to minimize prep time and clean up AND have more fun with your guests? Invite a food truck to serve customers outside your shop. Or take your trunk show to a local winery.

Planning an upscale event with luxury eyewear? Be sure to give people memorable, filling hors d'oeuvres. For Urban Optiks' inaugural "Raise Your Glasses" trunk show expo and fundraising event in San Diego, the food included "everything from coconut shrimp with a sweet cilantro sauce, caprese bruschetta, salmon carpaccio, stuffed piquillo peppers with goat cheese, mini Asian crab cakes and Hawaiian pulled pork sliders, to name a few," says Dr. Gary Klein.

For low-key in-store events or even everyday perks, consider barter deals with other local businesses. TGIF? Trade an eye exam or frame for a craft beer tasting. Monday morning blues? Soften the blow by bartering for bagels, cupcakes or a fresh fruit basket.

Whether onsite or off, optically themed food can be a fun addition to any trunk show, open house or party. For food (and decorating!) ideas galore, head to Optical Vision Resources' Pinterest page at invmag.us/5156. You'll find nutritious recipes, many provided by Ellen Troyer of Biosyntrix, in Optical Vision Resources' recipes archive at invmag.us/5157.

One last note: Be sure to inquire about any regulations — whether citywide, or for your shopping center or medical park — for serving food and drink (especially alcohol) at your business.
12 MORE GREAT IDEAS
Here are a dozen other ways you get the party started. Share more online at invmag.us/party-ideas.
1
Think athletically. "Our office did a frame show that involved everyone's favorite sports teams. It was a blast," says Janice Harris, Envision Eye Care, Marion, VA.
2
Think intellectually. "For a Ladies' Night Out event in our community, we had a trunk show and brought in a local author to sign and sell her latest book," says Paula Hornbeck of Eye Candy, Delafield, WI. "The women loved it!"
3
Give your highlighted brand the spotlight. At trunk shows at Consumer Optical in Schenectady, NY, "We take all of our frames off our boards and only allow the frames of our rep on the board," says Nicole Miele.
4
Make 'em guess. Opti-Care is in an Eldersburg, MD, shopping plaza that has an open house each July. "Last year we did a guess the number of contact lens blister packs in the bowl, and gave $100 to the winner," says Dr. Michael Davis. Entrants had to check Opti-Care's Facebook page for the correct answer answer after the event, so the contest drove traffic to the office and its Facebook site.
5
Start one month ahead with weekly reminders, says Steve Whitaker of Whitaker EyeWorks, Wayne, PA. Other keys: "Live music. Colorful frames. Spring is best."
6
"Free champagne always works," says Josh Bladh of Dr. Taylor Bladh, Diamond Bar, CA.
7
Wine is never a bad choice, either. "We had an open house featuring Coach frames and a wine and cheese theme," says Bob Schmittou of New Eyes Optical, Wyandotte, MI.
8
Offer private styling consultations with your visiting frame company's representative. "Works well with exclusive lines!" reports Linda Haas of MyOptics in Denver, CO.
9
Try a themed trunk show. Dr. Ted McElroy of Vision Source-Tifton, Tifton, GA, says such shows get patients excited about coming in. And be consistent: "It is very important to have the event happen every year at the same time."
10
Team up with the neighbors. When Glass Optical held its grand opening last year in the on-the-rise Oak Cliff area of Dallas, TX, it did so with its ultra-cool neighbor Spinster Records.
11
Pick up the phone. If you really want your VIP customers to be at your special event, you've got to call them. "The single best call-to-action for a patient or customer is a personal phone call from their optician," says Stephanie Haenes of Art of Optiks in Wayzata, MN. "We do the calls in conjunction with emails and postcards, but time and time again the customer will point to the call as the reason they stopped in."
12
"If possible, have the special event over a two-day period, not just one day" to minimize schedule conflicts and increase attendance, suggests Dr. Scott Keating of Vision Trends in Dover, OH.
Hear What the Industry Thinks About the Ultimate Lens Package by Essilor
Eye care professionals, patients, and Essilor sales consultants shared their feedback on the Ultimate Lens Package. Watch to see why they believe the innovation behind the lens can make the difference for your practice and for your patients. For more information on the Ultimate Lens Package, contact an Essilor Sales Consultant or click here.
---