INDIE heroes
EYECARE PROS SHARE THE INDEPENDENT BUSINESSES THAT INSPIRE THEM MOST
For INVISION readers, every day is independents' day. Your vision care business isn't just a job. Helping people see better and look better is your passion. But you're also up against crazy competition. Mass merchandisers and online e-tailers want your customers. Everyone is busy, and most people just want to get stuff done. We all feel the lure of the chains sometimes, and it's oh-so-easy to literally click off our shopping list online.
But most people feel another pull, too: the desire to have experiences, both familiar and new, we can't get anywhere else, and especially not online. In your hometown, you may crave the familiar: the gooey sea-salt chocolate chip cookie at the corner bakery, a sun-dappled chair in the local bookstore, or a TGIF pint on the patio at the local craft brewery. When you travel, you're eager to check out new sights, sounds and tastes — what the French call terroir, loosely translated, Wikipedia tells us, as "sense of place."
Seth Godin says, "Heinz ketchup has no terroir. It always tastes like everywhere and nowhere and the same. A Dijon mustard from a small producer in France, though, you can taste where it came from. Foodies seek out this distinction in handcrafted chocolate or wine or just about anything where the land and environment are thought to matter." He adds that "we can extend the idea to you, to your work, to the thing you're building ..."
It may sound silly to think of eyecare and eyewear in terms of local flavor, but that's exactly what you want to do. The displays in your windows, the music on your sound system, the magazines and refreshments in your reception area ... and most important of all, how you treat people: All these little details add up to a vibe that belongs to your business alone.
Let brashly innovative independent businesses around you serve as your models in your effort to build and sustain that vibe. Thinking "indie" means learning (and sometimes stealing) from the best while making something that's uniquely your own — and something that will keep your customers coming back for service and selection they just can't get anywhere else.
---
INDIE INSPIRATION:
FOOD, COFFEE AND MORE
Nourish your business with tasty ideas from local eateries

Bryan Finley (right) of Island Opticians with Maurizio Cimonella of Amici Market in Palm Beach, FL
Food, drink and community are inextricably linked. As Martin Lindstrom wrote in our If I Owned article last November, "If customers prefer shopping for everything online, why did the number of fresh farmers markets increase by 17 percent last year? Do we really enjoy shopping for potatoes in the rain?" Food and beverage businesses are fertile ground, not just for great taste sensations, but for camaraderie and cross-promotion opportunities.
If customers prefer shopping online, why did the number of farmers markets increase by 17 percent?"
Bryan Finley of Island Opticians loves AMICI MARKET, a small gourmet grocery with a full kitchen, food counter and wine cellar near his shop in Palm Beach, FL. "It's is my favorite place to grab dinner or a drink when I don't want to 'go out.' They have a great selection of unique food and drinks, they'll find or make whatever you want, and the customer service is impeccable. It's similar to our business model: providing unique eyewear and great service to our clients, and always finding ways to say 'Yes!' rather than 'No.'"
As an example, Finley adds, Amici has a few house wines it serves for an all-you-can-eat-and-drink wine and pizza special. But if a customer wants another wine instead? "No problem! They'll open up whatever you'd like, as long as it's not a bottle of Dom," he says. "They're very accommodating, which is something we try to be in our business, too. I know a lot of these things aren't special, and there are plenty of other businesses that operate the same way. But there are lots of businesses with too many policies and rules prohibiting good business practices."

Mani Niall has new glasses, thanks to optician Jeni Coxe's initiative.
Many INVISION readers look to their favorite local coffee shops, not just for pick-me-up beverages, but for ideas. "I'm inspired by a local coffee shop called Subculture Coffee," says J.M. Chapman of Eyes on Linton in Delray Beach, FL. "They've created an awesome atmosphere, not only aesthetically but a genuine sense of community." Leanne Murabito of The Artful Eye in East Hampstead, NH, is a fan of BeanTowne, a local coffee shop that doubles as a great place to hang out. The business' motto? "BeanTowne exists to be an example of the world on its very best day."
TAKEAWAYS
Barbara's Canine Cafe. Pamper people and their pets. Hold a "Yappy Hour."
Shady Dog Records. Create an atmosphere where people can "nerd out" on what they love.
Amici Market. Find ways to say "yes" instead of "no."
BeanTowne. Their motto? "BeanTowne exists to be a model of the world on its very best day."
Farewell Books. Feature local artists on your walls.
Huffman's Barber Shop. If you've got a talent, like the ability to do 'the Hambone,' never hide it.
Furnish Me Vintage. Specialize in the obscure and rare.
Foodie Fiction. Offer a high-end experience (gourmet food) in a low-end location (food truck).
"I love Foodie Fiction," says Angie Patteson, owner of Sunset Eye Care in Johnson City, TN, of a local food truck offering creative mobile fare. "My part of the country has been slow to catch on to the food truck craze, but I am so glad we have a few. The cuisine is first class with new menu items weekly. Part of the thrill is finding where the truck is each day and racing to get lunch before they run out of food!"
Sometimes you want to go where everyone knows your name. For Wendy Salle of Salle Opticians in Atlanta, GA, that's La Petite Maison, a French restaurant. Owner Stephanie Jaouen makes sure every regular is personally welcomed — always with a smile — and made to feel important. "It goes back to the 10 commandments of customer service that I have pinned in our office," says Salle. "A customer is not dependent on us; we are dependent on them. A customer is not an interruption of our work. He is the reason for it."
Pets like pampering, too. "I love Barbara's Canine Cafe," says optician Kayte Doggett of Drs. Thomas, House and Associates in Charlotte, NC. "They sell top-notch dog supplies as well and doggie pastries and homemade dog treats which make the building smell wonderful. They know my pup Coconut by name and have Yappy Hour if you want to socialize your dog. They also have margaritas. Cool place."
When it's time to say "thanks" or "we're sorry," appealing to the sweet tooth can convey what words sometimes can't. DeltaVision in Lansing, MI, turns to Fabiano's, a family-owned candy shop, to (literally) treat customer-service issues, says Jennifer Payment.
Dr. Taylor Bladh of Diamond Bar, CA, was impressed with the way a local chiropractor, Dr. John Holland, brings in homemade treats for his patients each Friday, so Dr. Bladh's wife started making homemade cookies to do the same thing at the optometrist's office. "She hasn't missed a week in the last three years," reports Josh Bladh. The Bladh office also noticed how Holland carefully explains what he does to patients, so Dr. Bladh has started doing more of that. "People just want to be respected," Josh Bladh says.
Brooklyn, NY, eyewear stylist Duane Littles echoes the R-E-S-P-E-C-T line and says he gets it at Eden Day Spa, a Manhattan retreat where many services come with a complimentary meal. "They really go out of their way to make sure that you leave there completely relaxed," he says. "I do the same for my clients: provide them with experiences that make them feel at home."
Best of all, supporting fellow independent businesses can lead to new clients. Jeni Coxe, an optician at Oakland Vision Center in Oakland, CA, likes nearby Sweet Bar Bakery and noticed that owner Mani Niall was wearing dull glasses that were a bit too big for his face. She gave him her card "and encouraged him to come to the office so we could get him an exam and a great new look," she wrote on the practice blog. Eventually, he did, and Coxe styled him in a fabulous green l.a. Eyeworks frame. "Now Mani's look is as eye-catching as the mouth-watering treats he serves."
STAR-MAKING MACHINERY
Eyewear shop's green screen helps build ties to local businesses
Eye Candy Optical is a rock 'n' roll-themed eyewear shop in the Cleveland suburb of Westlake, OH. Last year, they launched "The Green Screen Project," a photo booth on steroids where customers can show off their new glasses against the background of their choice.
The shop's Instagram feed and Facebook page are full of people wearing their new specs on Broadway, at Graceland or cruising in the Bahamas, for example. But Eye Candy Optical also photographs fellow local business owners and includes a shout-out for the company in cheekily written social media posts. Here's an example for a local chimney sweep: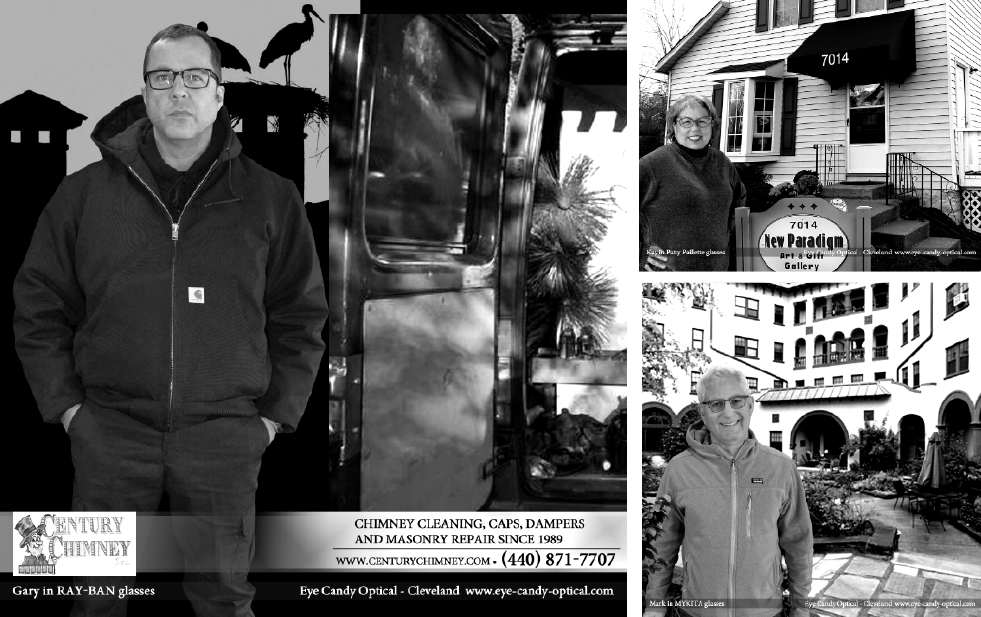 Ohio's Eye Candy Optical is happy to help fellow indies share their new eyewear via its green screen.
"Gary in his new Ray-Ban glasses is a member of one of the world's oldest profession….. no, not that one! From ancient Rome to medieval Amsterdam to Modern Day Cleveland, Gary knows how to keep your chimney clean."
And then there was this post for a clothing, art and gift shop owner:
"Kay, our friend at New Paradigm Art and Gift Gallery, looks fabulous in her new Patty Paillette glasses. Check out Kay's cool shop of repurposed clothing in Brecksville. Eye Candy meets Haute Couture!"
And here's one for a local architect:
"Mark beams with pride over his newest Fremont Architecture project in his new Mykita glasses. Eye Candy makes other optical stores go back to the drawing board! Be who you want to be at Eye Candy Optical."
Other featured customers have included a jeweler, hairdresser, pizza parlor owner and graphic designer. "I guess the big question is 'What's in
it for us?'" says co-owner Steve Nelson. "Word of mouth is key and trusted people in the local community who see a lot of faces are great and very credible spokespeople for Eye Candy. Believe us — you want everyone from your FedEx driver to the young gal at the local coffee shop wearing your specs. These people see a lot of people every day and everybody talks with them."
---
INDIE INSPIRATION:
VINTAGE AMBIENCE
What's old will never be new, and that's perfectly fine with these businesses
Retro eyewear's enduring popularity means vintage and antique shops are natural allies for ECPs — and great sources of inspiration, not to mention fabulous furnishings and accents. And independent book, record and clothing stores frequently mix contemporary and classic looks, just the way you do.
I'd like to take a note from Farewell Books and Las Cruxes and hold more in-store events and feature loccal artists."
"My favorite indie business in Austin is FAREWELL BOOKS," says Tiffany Satterly of Optique in Austin, TX. "It has a nice curated selection of novels, art books, zines and first editions. They also have readings and art shows every month. The bookstore shares its space with a very cool boutique called Las Cruxes. I'd like to take a note from Farewell Books and Las Cruxes and hold more in-store events and feature local artists on our walls."
Charles Eubanks of Modern Optics in St. Petersburg, FL, is a fan of Furnish Me Vintage, a retro furniture store St. Petersburg, FL, which boasts a huge showroom of beautiful, hard-to-find furniture. "They found their niche and stuck with it, and that's my philosophy also," he says.

Tiffany Satterly of Optique in Austin, TX, finds her indie bliss at Farewell Books.
Dr. Courtney Dryer of 4 Eyes Optometry in Charlotte, NC, likes to visit The Depot at Gibson Mill an antiques mall in nearby Concord where she finds window display items and inspiration. Geneva, IL, is a popular destination for Chicago-area antique lovers, and Julia Burggraf has found many gems from those neighboring shops for Third Street Eyecare, the business she owns with her husband Dr. Randall Burggraf.
TAKEAWAYS
Myrtle. Turn your customers into stars.
Glebe Radio & Appliances. Be available to customers in need — even on major holidays.
Moscot. Associate with the coolest people in your community.
Adds Dr. Maria Higgins of Unique Optique in Frederick, MD, "Country Shabby Chic is a local craft class business that does classes based on what is hot on Pinterest right now. The owner, Christina, has so much energy and is so determined to succeed that it is contagious. She designs our window displays every month."
Record stores can be another great source of design ideas, as well as cool tunes. Steve Whitaker is partial to Shady Dog Records, in Berwyn, PA. Not only does he discover new music "to create a good vibe in my stores," but he collects and frames interesting LP covers, showcasing some on the walls of his Whitaker Eye Works location in Wayne, PA. Rock 'n' roll memorabilia is also a key decor element at Eyes & Optics in Summerlin, NV, where owner Dr. Edward Malik displays vintage rock art posters, including one from Pink Floyd's 1977-1978 world tour.
And there's nothing like an old-school barbershop to remind you what real service is like — and why people don't just go there to get their hair cut. Lou Fullagar, creator of Luxury Eyewear Forum, is a customer of Huffman's Barber Shop in Greensboro, NC, where if you're lucky, you might get to hear Randy Hicks playing "hambone" like he does in this video.
---
INDIE INSPIRATION:
FLAUNT YOUR PERSONALITY
Learn from retailers who express themselves best through their stores

Julia Gogosha, photographed as part of a salute to women entrepreneurs in Los Angeles, shared an image from the fashion shoot with her Instagram followers.
Seeing the way a different industry uses combinations like that is really useful."
MYRTLE, an independent Los Angeles clothing boutique that carries the wares of women designers from around the world, recently decided to salute six entrepreneurial women from its own backyard in its spring/summer 2015 lookbook shot by L.A. photographer Megan McIsaac. Julia Gogosha of Gogosha Optique was one of the subjects — and the results showcase her style, including fabulous eyewear, of course.
Thanking the shop on her Instagram account, Gogosha noted how she patronizes the boutique and how Myrtle's owner is, in turn, a customer of hers. "You can see Whitney in her personal selection of frames from @gogoshaoptique any day of the week on @shopmyrtle's Instagram. Be sure to follow her for daily cuteness and inspiration."
TAKEAWAYS
La Petite Maison. Greet every customer by name.
Warby Parker. Don't be afraid to be a little weird. Have employees give weekly happiness ratings.
Chiropractor Dr. John Holland. Homemade cookies. Yum!
Tuesday Scarves.
Be bold, even playful,
with colors and texture in your store decor.
Nate Ogura of Eyes on Fremont in Seattle, WA, points to his cousin Rian Robison's business, TUESDAY SCARVES, as an inspiration for how he displays frames of various colors and textures. Noting how eyewear makers have been playing with combinations "like faux wood fronts with shiny colorful temples, or matte colorful temples with classic warm tortoise fronts," Ogura says Robison's creative merchandising — both in her small storefront and online — highlights the same sort of adventurous combinations, like faux fur with plaids. "Seeing the way a different industry uses combinations like that is really useful," he adds.
Tadpoles, a high-end children's clothing store in Delafield, WI, offers a good cross-promotional fit for the new Eye Candy Kids shop. A child-sized doll wearing a seasonal outfit from Tadpoles and matching eyewear from Eye Candy Kids gets plenty of attention and helps promote both businesses, says Paula Hornbeck, who owns Eye Candy Kids and Eye Candy.
Melanie Humphrey of Sunglass Panache in Aspen, CO, is a fan of En Jay Boutique, a neighboring shop women's clothing in the Snowmass Village Mall whose savvy buying and pricing skills she follows. And since vision care isn't a sit-down job, Margot Lanham of Ulla Eyewear in Madison, WI, was happy to find Cornblooms, "an independently owned shoe store specializing in comfortable and fashionable shoes. Being on my feet all day working in optical retail, I need something that will stand the test of time … but it better be cute, too!"
THE MAN WHO LOVED INDEPENDENT RETAILERS
The late George Whalin shares his strategy for indie success
I would start by carefully selecting merchandise that's not available in other local stores." — GEORGE WHALIN
George Whalin was an interesting guy. In the 1960s and '70s, he managed the original Guitar Center (later Whalin's Sound City) on Hollywood's Sunset Boulevard, slinging musical gear to rock stars and garage bands alike. Whalin later became a noted consultant and wrote a book, Retail Superstars: Inside The 25 Best Independent Stores in America.
He died in 2012, but the year before, INDESIGN magazine (INVISION's sister magazine for high-end jewelry retailers) asked Whalin to share the secrets of what makes an amazing independent shop. Here's some of what he wrote:
"I would start by carefully selecting merchandise that's not available in other local stores. I only want merchandise from designers and suppliers that adhere to a very limited distribution policy by selecting one retailer in a marketplace.
"I would also look for merchandise from designers and companies that have a compelling story to tell. This may include the history of their business, materials used to make the products, or even how the designer or founder had a unique vision for the business. Compelling stories help build a stronger connection to the store and our commitment to quality.
"Next, my store must be visually dynamic. Shoppers love interesting looking stores. The floor plan must utilize innovative, unusual design and creative merchandising.
"The third tool to distinguish my store is marketing. I will use my database that contains such customer information as contact information, purchasing history, relevant dates including birthdays and wedding anniversaries, and anything else that will help me better serve the needs of customers.
"I want a vibrant website that can be updated or changed regularly to show the newest merchandise, fashion trends, facts about the store, and monthly calendars highlighting upcoming special events. I will actively make use of social media and build an online community.
"The fourth way to distinguish my store is to hire the best, most capable and likeable sales associates. Then I provide constant product training along with ongoing coaching on how to develop long-term customer relationships. They will learn to be highly customer focused, first-class salespeople.
"Finally, it is important to play an active role in the community by contributing to charities and participating in popular local events. Encourage your staff to participate as well. Retailers must do more than simply run their businesses. The most successful retailers I know are good citizens and do all they can to give back and develop a relationship with people in their communities."
---
INDIE INSPIRATION:
TRUE SERVICE HEROES
One appliance retailer who always goes the extra mile — even on Thanksgiving

Independent friends since 1978: Kate Giroux with Dabney Wharton at Glebe Radio & Appliances.
Over the years, we have shared lots of client stories."
For Kate Giroux of MacPherson Opticians in Arlington, VA, there's only one person she will ever buy an appliance from. "I've been in the same strip shopping center as Dabney Wharton's business, Glebe Radio & Appliances, since 1978," Giroux says. "Over the years, we have shared lots of client stories: the great, the good, the bad and the ugly. I have purchased every one of my appliances from him since we first met in '78. In fact, I just finished building a new home — every appliance is from Dabney because I know that if any issue arose, he'd be there pronto. I shop with Dabney because I know his knowledge of his industry is incomparable and his guidance is sound."
TAKEAWAYS
Country Shabby Chic.
Hold classes to create raving fans.
Eden Day Spa. Complimentary meal with your treatment.
To prove how dedicated Wharton is to customer service, Giroux tells a story of a Glebe customer whose oven died early one Thanksgiving morning. "In a panic, the woman found Dabney's home phone number in the phone book — yes, a phone book — and called him to see if he could help. Without hesitation, Dabney left his family, went to his store and delivered a new oven to his customer within 60 minutes of her call. Now that's customer service! Worth noting: Dabney is the chef for his family's Thanksgiving dinner!"
Concludes Giroux: "Dabney and I have weathered the rise of the big-box retailers together and enjoy the fact that we independents can deliver the service, knowledge and commitment to our customers that the big-box retailers just cannot deliver."
LEARN FROM 'THE ENEMY' ...
Hate them or not, you can still learn from WARBY PARKER
Want to raise hackles on an optical-related social media site? It only takes two words, and they start with "W" and "P." The mere mention of the online eyewear purveyor draws cruel taunts. (Some sample jabs from an online thread: "I just vomited in my mouth!" "Marketing is everything, even if you are selling crap." "Just because he has a degree from Wharton, does not make him a master of business.")
But Fast Company recently named Warby Parker its most innovative retailer, and the company is opening more bricks-and-mortar locations. According to the Fast Company feature by Max Chafkin, its physical stores are averaging about $3,000 per square foot, "a figure that's in the same breath as Tiffany's estimated $3,043." Maybe it's time to study what Warby is doing well and put your own spin on it. Here are some ideas:
Be weird. "Smile New Orleans" reads the giant black script letters on the new Warby Parker Frame Studio in the city's Magazine Street shopping district. No, it's not a dental office. It's an attitude.
Make myths. The company takes its name from two Jack Kerouac characters, Warby Pepper and Zagg Parker. Every new employee gets a copy of Kerouac's Dharma Bums on their first day "as part of our standard secret initiation rites," WP's website reports.
Give back. The "do good, do well" ethos was baked into Warby's business model from the start. Co-CEO Neil Blumenthal came to WP from VisionSpring, which blends entrepreneurial and charitable activities, and Warby has been a certified B Corporation since 2011, meaning it considers environmental and social good on an equal footing with profitability.
Stay loose. Warby is famous for rigorous micromanagement of messaging, but the company encourages fun, too, from the job interview ("When was the last time you wore a costume?" is one oddball question) to weekly happiness ratings from all employees.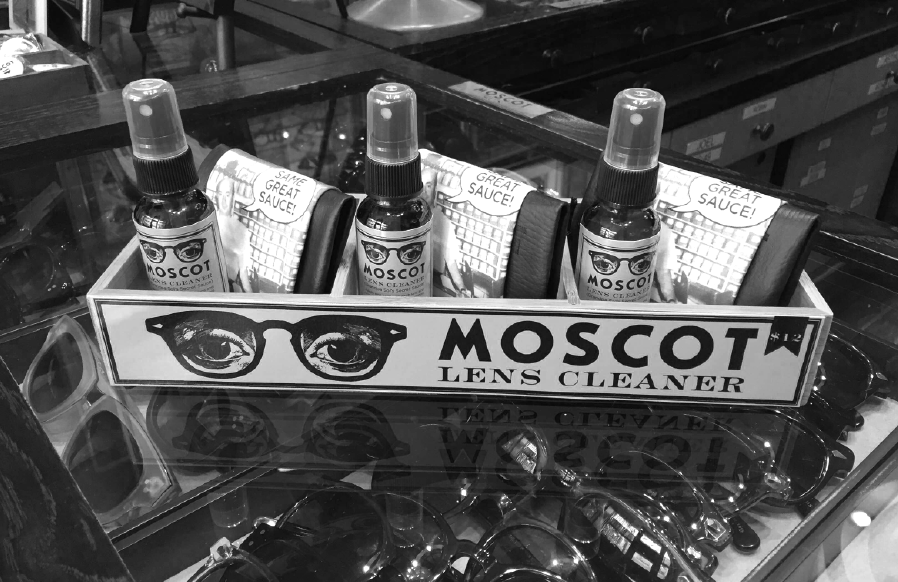 … AND FROM AN INDIE EYEWEAR LEGEND
Discover the 'secret sauce' behind the success of MOSCOT
"Extra! Extra! The Moscot family secret, is not so secret!" began a press release this spring from the New York-based eyewear company announcing the return of Sol's Secret Sauce to honor Sol Moscot, "who concocted the superior lens cleaner while working behind the counter at Moscot's Orchard Street Shop back in the day."
Of course, "secret sauce" is also shorthand for the mysterious mix of ingredients in a business's recipe for success. As the family business marks its 100th anniversary this year, here's some of what goes into Moscot's proprietary panache:
History as a brand. Founder Hyman Moscot started selling glasses from a pushcart on the Lower East Side, and the story lives on in the company's logo. "Living History" was the theme for a campaign celebrating fellow longtime business colleagues on the Lower East Side including Niki Russ Federman of bagel-and-lox favorite Russ & Daughters and Billy Leroy of Billy's Antiques and Props. (Read more about the campaign here.)
Keep in touch. "Sol was known for hand-writing personalized thank you letters to customers, and personalized notes about their glasses," says company spokeswoman Catherine DeGeer. He also wrote notes to thank people for referrals.
Make a scene. Moscot throws cool parties, featuring musical guests including Aussie rock band the Griswolds and Tariq Trotter, a.k.a. Black Thought of The Roots. It also releases super-exclusive limited lines like the 20-frame collection recently showcased via Dover Street Market. (Moscot also does shop-in-shops at the ultracool Dover Street Markets in London and Tokyo's Ginza.)
Embrace e-commerce. Moscot sells its eyewear online, as well as gift certificates, T-shirts (yep, there's even one of Hyman) ... and even Sol's Secret Sauce, complete with a printed chamois and a vegan faux leather pouch. The legend lives on.
Hear What the Industry Thinks About the Ultimate Lens Package by Essilor
Eye care professionals, patients, and Essilor sales consultants shared their feedback on the Ultimate Lens Package. Watch to see why they believe the innovation behind the lens can make the difference for your practice and for your patients. For more information on the Ultimate Lens Package, contact an Essilor Sales Consultant or click here.
---