FULL-TIME PASSION,
PART-TIME HOURS
DOCS who work reduced schedules gain time
for family, hobbies — even other business gigs
Want to have it all ... and work part time? It may sound like a "get rich quick" scheme, but part-time optometry careers have become a reality for more and more doctors.
"Part time is definitely becoming more of an industry trend because optometry is such a flexible profession," says Dr. Barbara Horn, an American Optometric Association trustee and owner of ExpertEyes in Washington, MI. It's "very doable," she adds, especially if yours is a dual-income family.
Interest in part-time work defies demographics, though Horn says baby boomers, retiring doctors and younger women graduates seem especially keen on flexible hours. Part-time jobs can also be attractive to people who want to live in different places before settling down, or who want to experience work in a variety of settings before committing to a career path.
No matter what your goal, group practices are more convenient for part-time work. Horn says, "If you own your practice, you have the ability to set your hours. But if you're working as a solo practitioner, you have to work more hours to cover your overhead."
INVISION interviewed six ODs who have chosen to work fewer hours. Read on to see why they made that decision — and how the choice is working out for them. Then check our list of tips on how to make a part-time optometry career work for you.
---
DR. MICHELLE MARCINIAK
VA MEDICAL CENTER, CHICAGO, IL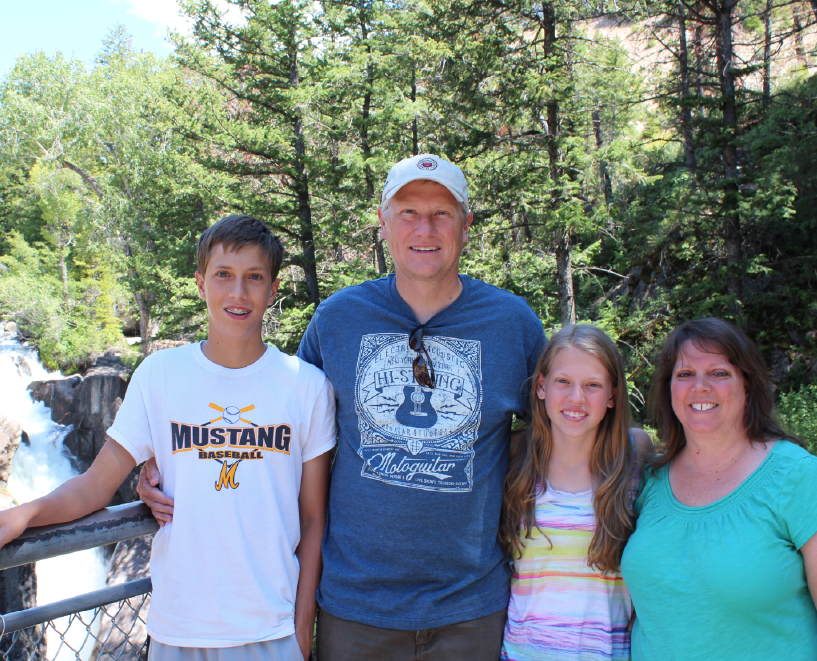 Dr. Michelle Marciniak on a road trip with her family at Shell Falls in the Big Horn Mountains of Wyoming.
After the birth of her second child in 2002, Dr. Michelle Marciniak decided to spend more time at home. On Mondays and Tuesdays, she works 12-hour days as director of student externships at the Jesse Brown VA Medical Center in Chicago. Every other Saturday and one Thursday a month, she is an optometrist at a private practice, Choice Eye Care in Lisle, IL, where she helps patients manage diseases such as glaucoma and diabetic retinopathy.
Marciniak used to work four 10-hour days at the VA hospital. "But I wanted to be home with my kids and to spend more time with them," she says, and optometry has allowed her to have that balance. Now that her two children are a sophomore in high school and an eighth-grader, "I think eventually I'll pick up more hours. It would have to be the right situation. I would like to find something where my late afternoons are free."
For now, she leaves home at 5 a.m. on Mondays and Tuesdays and returns at 8 p.m. On Wednesdays, she buys groceries and runs other errands. "I also like to go to my children's games," she says. "I have been fortunate that I can make enough money to be comfortable and to enjoy life."
"I love what I do but family and life are more important," she adds. "Life is short. I don't want to say I've missed something because I was working."
---
DR. CHARLES KLEIN
CONTINENTAL VISION EUPHOROPIA, FOREST HILLS, NY

Basking in the sun! Dr. Charles Klein enjoys a margarita in San Miguel de Allende in Mexico.
Some optometrists don't want to retire completely, but they do want to reduce their hours. "Our identity is based on the fact that we're optometrists, so we don't want to give that up completely," says Dr. Charles Klein, who continues to work at 70. "The income doesn't hurt either!"
Klein found an inventive way to balance his reduced schedule and escape New York winters. After 30 years of running his own practice, Euphoropia, in Forest Hills, NY, Klein transitioned to part time in 2005. He now spends 11 weeks each winter living with his wife in San Miguel de Allende in Mexico.
"It's the perfect level of time for us," he says. He comes back to New York for a week of work after five weeks away, then returns to San Miguel for another five weeks. This, he believes, is a reasonable amount of time for patients to wait for appointments. "Patients thank me for coming back the interim week, and say they're glad to see me!" he says. "My idea is to be reasonably accessible to my patients." In between visits, he keeps in touch with his patients by email and phone.
Of course, Klein has someone running the optical business in his absence. Until 10 years ago, he was in solo practice, so he had to deal with bill-paying and managing employees. He merged with Continental Vision a block from his office, closed his business and became their part-time optometrist. "In joining forces, I brought them patients, and they provided me with a business structure. We fed each other's needs," he says.
Spring through fall, Klein works Tuesdays and Thursdays and every third Saturday. He lives in Manhattan and has a second home in Litchfield Hills, CT. "We have a nice portable lifestyle," he says. "It took 10 years for me to get to this point, and now I see no reason to retire completely. My idea is to keep working as long as my health allows and as long as I continue to enjoy my work."
---
DR. CHRISTINE NICHOLSON
TOTAL EYE CARE CENTER, LEVITTOWN, PA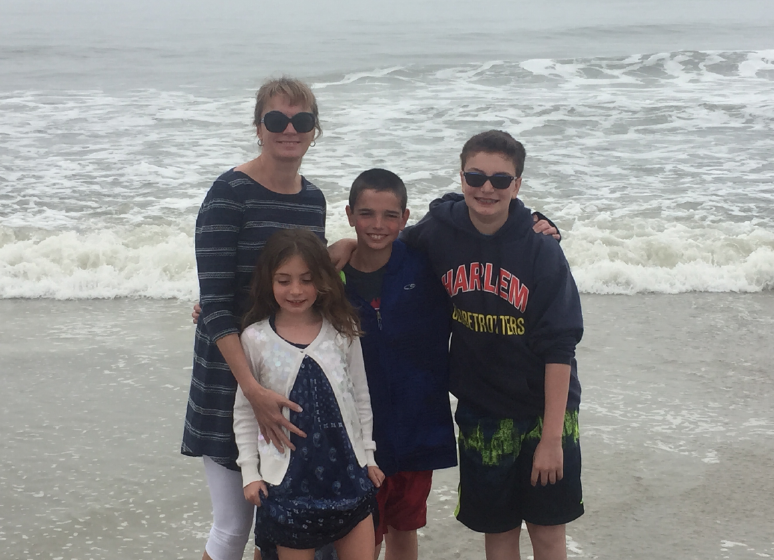 Dr. Christine Nicholson with her three children on a Mother's Day visit to Ocean City, NJ.
Sixteen years ago, Dr. Christine Nicholson began as a full-time optometrist at Total Eye Care Center in Levittown, PA. When she got married and had her first child, she cut her work schedule to three days a week.
"By the time I had my third child I had tapered down my hours even more," she says. Now, she works Wednesday through Friday and every other Tuesday. On her days off she gets groceries and does laundry, jogs and drives her kids to practices and games.
Total Eye Care has three offices, two MDs and three ODs. Nicholson is married to an optometrist, Dr. Brian Cohen, who opened his own practice, Yardley Eye Care in Yardley, PA, last year. Cohen works six days a week — two at a surgery center and four at his practice — including Saturdays.
"It's definitely tough while he's building his practice," Nicholson says, "but me being part time makes it a little easier. I don't foresee going back to full-time practice — not while the kids still need me."
---
DR. JENNIFER STEWART
NORWALK EYE CARE, NORWALK, CT

Dr. Jennifer Stewart takes part in a bike race in Lake Placid, NY
Long days — but fewer of them — suit Dr. Jennifer Stewart, a partner with Dr. Mark Feder at Norwalk Eye Care in Norwalk, CT. "I see a lot of patients and yet I have time to do other things," she says.
Stewart joined the practice in 2008 and became a partner in 2010. Until 2013, she worked three days a week; now, it's three or four days, depending on the week, plus occasional half-Saturdays.
This reduced schedule suits her lifestyle. She has a 2-year-old son, trains for triathlons and does consulting and writing work on the side. She gives an annual speech at her alma mater, Marist College in Poughkeepsie, NY, and students sometimes shadow her.
"I love the flexibility of optometry and especially of private practice to be able to do all this," Stewart says. "A lot of my friends, now that they have families, are having a great time working part time in patient care. They spend the rest of the time on their hobbies, with their families and developing the business portion of their practices."
---
DR. MATTHEW GELLER
CEO, Covalentcareers.com OD, Southern California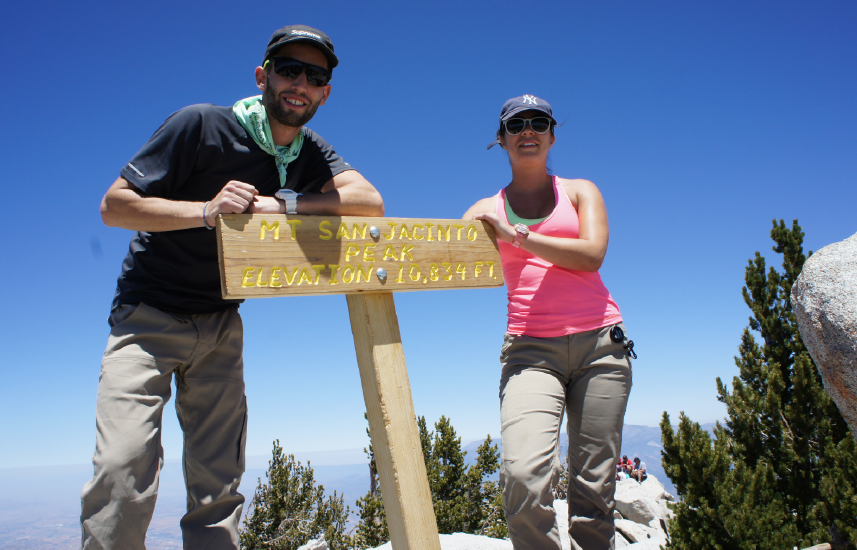 Enjoying the outdoors: Dr. Matt Geller regularly hikes up Mount San Jacinto in California.
It was serendipitous for Dr. Matthew Geller, who co-founded job-matching website covalentcareers.com, that he was the first pilot employee and Dr. John Fleming was the first pilot employer. Now Geller works as a part-time optometrist for Fleming's California practices: Casa De
Oro Eyecare in Spring Valley and Lakeside Eyecare in Lakeside.
After graduating from optometry school in 2013, Geller moved to San Diego. "I went into optometry because I thought it provided a good blend of being able to help people and entrepreneurialism," he says.
Five days a week, he works out of his home office as CEO of covalentcareers.com and newgradoptometry.com. On Thursdays and Fridays, he sees patients at the practices. When he has downtime, he gives lectures and enjoys the beach, hiking, camping and biking. "I have lots of free time," he says. "It's just sporadic!"
Geller says covalentcareers.com is his most exciting project to date. He co-founded it with three others in 2014. Officially launched in May, the site helps eyecare employers find employees and employees look for jobs.
"This stuff is my passion," Geller adds. "I love creating brands and building Web platforms that make people's lives easier."
---
DR. JEFF HAYDEN
JEFF HAYDEN VISION CARE CENTER, BRIGHTON, MI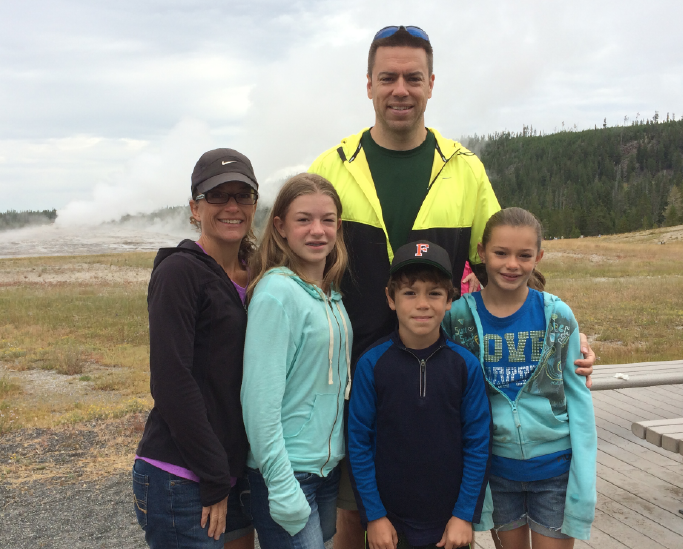 Two ODs in the family: the Haydens at Yellowstone National Park
Four years ago, Dr. Mark Cook floated the idea of working part time to his business partner, Dr. Jeff Hayden. "It started more as a necessity because we didn't have the patient demand and often there were days when we were both just sitting there," Hayden says.
They decided to both work Mondays, alternate the rest of the week and work every other Saturday. Even though Cook has since retired and Hayden now has a new business partner, Dr. Jamison Barnes, the schedule remains the same. On his days off, Hayden works out, meets eyecare reps, visits the bank and pays bills. He stays in touch with his office manager by phone and email.
He is married to an optometrist, Marla, who works four days a week at Riverfront Optical in Flint, MI, and they have three children ages 13, 11 and 9. "I try to stay in shape and I run triathlons with my wife," he says. He also likes to take his kids to school, coach their teams and ferry them to practices.
Dividing his time "is working really well," Hayden says. "I like my job, but I also like spending time with my family. I don't want to run the practice on my own. It works because I can balance my work."
---
READY TO GO PART TIME?
Whether you're fresh out of school, easing toward retirement or somewhere in between, you need to have a plan if you want to work part time.
Here are some things to consider:
Hold out for the right rate. Can you afford to work part time? If you're working contracted, day-rate gigs, how much do you need to earn? Sylvester Nguyen, an optometry student at Nova Southeastern University, interviewed Dr. Richard Hom about the realities of working contracted part-time gigs instead of a full-time job with benefits. One tip: In order for a part-time job to be "worth it," the daily rate must be at least 25 percent more than a full-time rate. Read the full article at invmag.us/6155.
Know your number. The book The Number by Lee Eisenberg teaches you to calculate the total sum — your "number" — that you must save for a comfortable retirement. Whether you are retiring or considering a move to part time, having a firm grasp of your number is important to making sound financial decisions for your future. Remember: eventually you probably won't have — or even want — the option of even working part time. Will your nest egg be large enough to carry you through your retirement years?
Cut back gradually. If you're working 50 hours a week now and want to work 25 next year, how can you make that happen? Can you take on a partner? Schedule exams three days a week instead of five, or maybe mornings only? Office staff can do many things in your absence, including frame selections and pick-ups, adjustments, repairs and contact lens orders.
Enjoy yourself. As a part-timer, you may lack certain benefits and have a reduced income, but you've gained time. Make a plan for your "empty hours," whether it's getting in shape, mentoring others, traveling or spending time with friends and family.
Hear What the Industry Thinks About the Ultimate Lens Package by Essilor
Eye care professionals, patients, and Essilor sales consultants shared their feedback on the Ultimate Lens Package. Watch to see why they believe the innovation behind the lens can make the difference for your practice and for your patients. For more information on the Ultimate Lens Package, contact an Essilor Sales Consultant or click here.
---