TIMELESS ACCESSORY IS BACK ... AND LOOKS BETTER THAN EVER
The sun-clip is back, but not as the plastic-slip-pocketed accessory you might remember. The modern clip-on is alluring in design, not to mention practical and versatile. Sun clips now come in an array of shapes and sizes, to better fit customers' desires. The end result? A serious surge in clip-on sales, according to Arnold De' Burdo of CustomEyes, who produces made-to-order clips for some of the most elite labels in optics, including Barton Perreira, Lafont, Matsuda, Morgenthal Frederics and Oliver Peoples. Our round-up includes bespoke fashion designs and high-tech patented technologies, all created for your customers' comfort and pleasure — this summer and for many seasons to come. — CLODAGH NORTON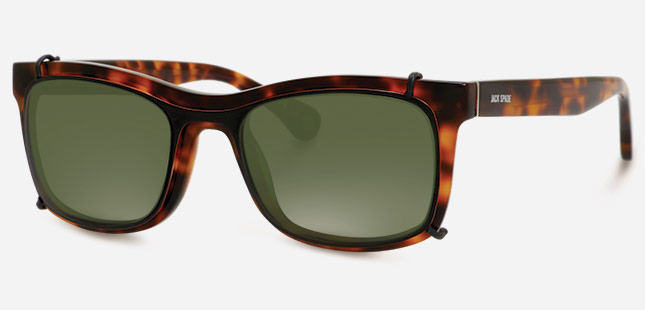 JACK SPADE
The Walters optical frame comes with a four-pronged sunglass clip-on with green lenses. This acetate frame has a saddle bridge and flex hinges with metal cap details at the hinge in Jack Spade's signature orange. The brand's logo is displayed inside both temple tips and outside the left temple. In black and vintage blonde havana.

MSRP: $215

(973) 952-2800 | | safilo.com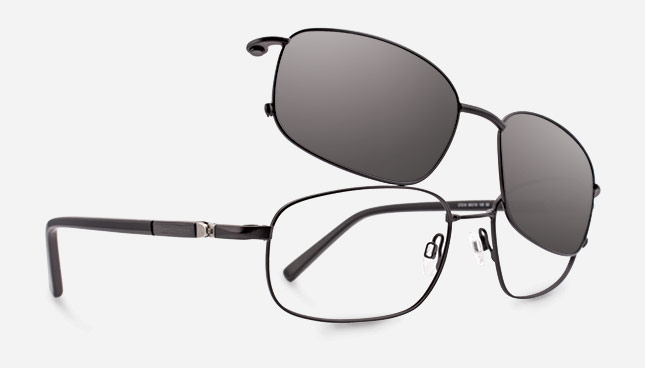 ASPEX EYEWEAR
EasyTwist model CT218 for men (pictured) has a memory metal bridge, plastic temples and 360-degree hinges. For women, EasyClip model EC320 is a stainless steel frame with a magnetic sun clip-on featuring polarized lenses. All styles feature lenses with UV filtering and protection, plus enhanced clarity and glare reduction.

MSRP: $94.99

(800) 277-3979 | aspexeyewear.com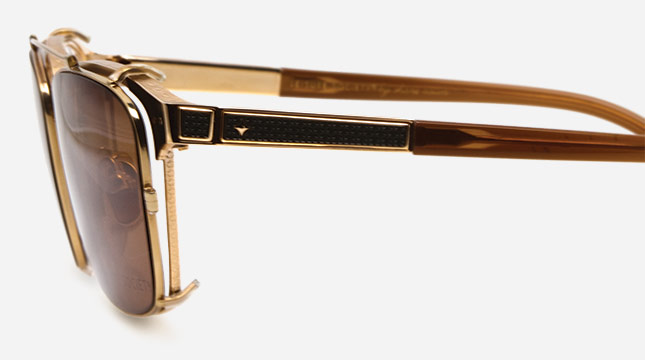 LEISURE SOCIETY
CustomEyes created this line of new custom clips for Leisure Society by Shane Baum, available for all models in its luxury eyewear collection. Pictured here on model Vanderbilt, each clip offers Polarized CR39 lenses with 100 percent UVA/UVB protection.

MSRP: Clip from $250

(949) 645-8783 | Leisure-society.com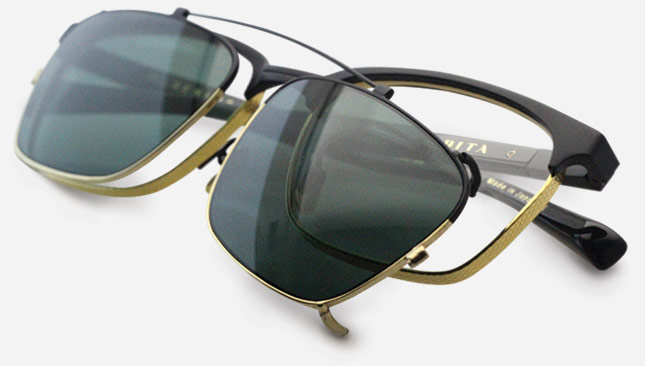 CUSTOMEYES for DITA
Senator from Dita dresses up with a custom clip-on design by Arnold De' Burdo, who says the bespoke clip was created to order using 24K gold and a matte onyx powder coat.

MSRP: Price upon request

(818) 502-0204 | customeyesla.com

CHEMISTRIE
Chemistrie's patented magnetic lens-layering technology is seen here with model Harrison — a classic semi-rimless for men, available in black, tortoise or stripe. The lightweight polarized clip-on lenses, custom-made and with base curves matched to fit any frame, come in 24 colors. Other customization options include three magnet colors, five titanium bridge colors and 12 Swarovski crystal colors.

MSRP: $129

(888) 321-3939 | eyenavision.com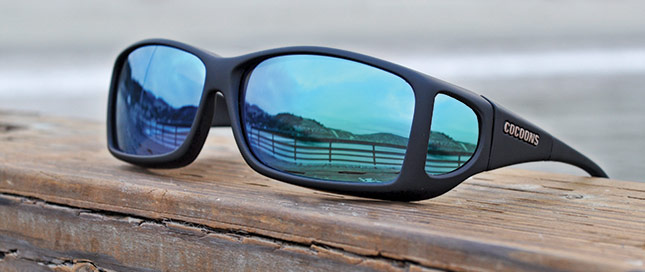 LIVE EYEWEAR
An alternative to a clip, the fit-over is easy to wear and easy on the pocket. Live Eyewear's Cocoons feature amber Polaré polarized lenses with a green mirror coat that blocks glare while enhancing the high-contrast nature of the amber lens tint. Model C422R is especially popular with outdoor sports enthusiasts. For women, new editions of the Vistana fit-overs add a bit of glamour.

MSRP: $49.95 and up

(800) 834-2563 | liveeyewear.com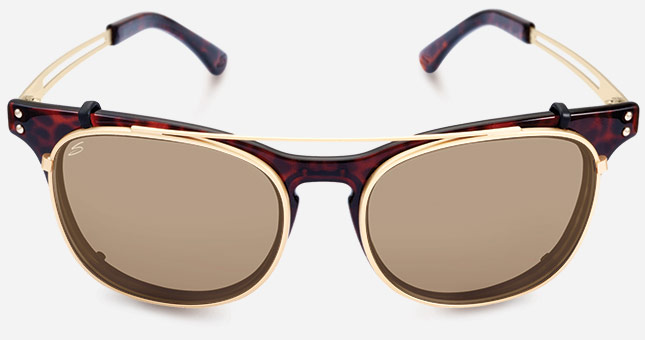 SERENGETI EYEWEAR
Innovative design and advanced materials stand out in the Genus II Collection, featuring models such as Enzo. This clip, designed to feature the user's chosen lens tint, attaches easily and securely. Created as an integrated design element — rather than a mere add-on — the result is visually interesting and user-friendly. With a prescription-friendly four-base design, frames in the collection can be easily fitted with clear Rx lenses.

MSRP: $$269.99

(800) 221-9035 | | serengeti-eyewear.com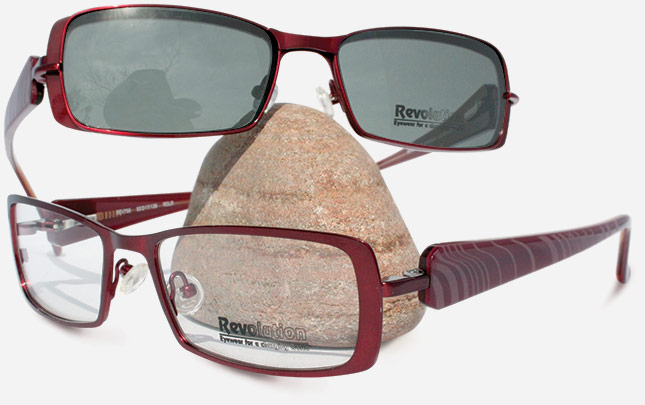 REVOLUTION EYEWEAR
Revolution Eyewear continues to raise the bar for magnetic clip-ons. This sleek lightweight design — the REV755 — comes in cocoa red, tan, dark plum, matte black and (pictured) "red lust". In addition, all Revolution magnetic clip-on sets can be special-ordered for 3D-viewing as well as for specific sports.

MSRP: $149.95

(800) 986-0010 | revolutioneyewear.com
DESIGNER INSIGHTS
ARNOLD DE' BURDO
CustomEyes
Is it true that there is a big increase in sun-clip sales?

There is a massive increase. I don't think clips are a fad. They are a perfect additionto prescription eyeglasses. Others create clips, but we are pushing the envelope of creativity, specializing in metal coloring and design and bespoke orders.
What are the features of your custom clips?

One of my favorite features of our clips is our coloring capability. From solid metal colors to gradient, neon colors to glow-in-the-dark, we offer three distinct designs to complement all eyewear. Our clients' requests range from standard lens colors, mirrors and of course custom tinting. Our clients range from nationally recognized optical chains and manufacturers to the optometry office around the block.
How did you come to specialize in these clips?

My love for clips goes back to the '80s when I purchased my first pair of Oliver Peoples 506 model with a matching clip while working as an optician at Tuckerman Optical in Chicago. Jewelry design helped jump-start my interest in custom-making clips in the '90s. CustomEyes is a fusion of jewelry and eyewear.
How does the customizing service work?

By filling out our order form, opticians indicate their desired style, metal color and lens preference. All orders go through a meticulous inspection process. My passion for the art of eyewear goes into every order.
Hear What the Industry Thinks About the Ultimate Lens Package by Essilor
Eye care professionals, patients, and Essilor sales consultants shared their feedback on the Ultimate Lens Package. Watch to see why they believe the innovation behind the lens can make the difference for your practice and for your patients. For more information on the Ultimate Lens Package, contact an Essilor Sales Consultant or click here.
---