Suggested eyewear for the woman who was born to lead.
DRESS FOR SUCCESS means wearing clothes that make the right impression about your professional aspirations. For eyewear that works with the same looks, businesswomen will be looking for astute guidance, and designs that tick all the boxes. A careful selection of both spectacles and sunglasses is a must for this smart, well-groomed customer. Suggest different shapes, designs and colors to complement a variety of work staples, ranging from timeless class to seasonal fashion-oriented statement. For a 24-hour executive lifestyle, recommend versatile eyewear built for comfort, ease of wear and durability. Be sure to point out flattering details that enhance your executive customer's facial features, and then guide your customer toward well-balanced tones for a look that provides both confidence and a sense of ease. Finally, suggest one unexpected and adventuresome fashion piece to complete the wardrobe! — CLODAGH NORTON
WHY IT WORKS: An alluring statement look is a lifestyle essential. An oversized, strong feminine design complements many female face shapes . This is a perfect style to recommend for that unexpected weekend away; a design that makes an impact with beautiful, on-trend colors and a modern twist.

PRODUCT DETAILS:
Ria by Oliver Peoples. A stepped acetate design with complementary neutral colors that add a hint of distinct flair to a glamorous lens shape.

MSRP: $335

oliverpeoples.com
WHY IT WORKS: The cat's eye is part of an ongoing fashion trend. It's a perennial favorite with the fashion pack, but it is also smart and sophisticated. This would be an interesting addition to an executive's eyewear collection for special events and functions. Don't forget to suggest it!

PRODUCT DETAILS:
The creative Ebony by Face à Face, a smooth acetate design, available in a range of brights and pretty neutrals.

MSRP: $540

faceaface-paris.com
WHY IT WORKS: A woman in a position of power will want her optical frame to look and feel good through a long working day. Propose a confident, timeless design and a natural color palette. Recommend classic shapes and colors such as tortoise that flatter skin tones and achieve an easy professional look.

PRODUCT DETAILS:
Ronnie by Barton Perreira in matte rose gold, traditional color palettes offer a professional look when worn with work attire.

MSRP: $480

bartonperreira.com
WHY IT WORKS: A pop of color on the face can lift features and bring out the personality behind the glasses. As an alternative to a classic design, for events and work-related socializing, recommend a shape and tone that is distinctive and smart, yet still in line with the latest trends.

PRODUCT DETAILS:
GU 2383 from Guess, produced by Viva Group

MSRP: $156

vivagroup.com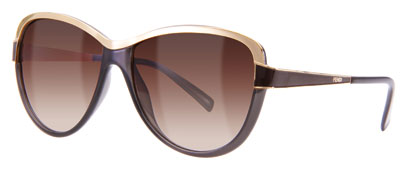 WHY IT WORKS: Women want their sunglasses to accessorize a work wardrobe throughout the day, workdays and weekends! Choose a flattering acetate for instant glamour

PRODUCT DETAILS:
Fendi FS5331 from Marchon, classic elegance at its best

MSRP: $346

marchon.com
Hear What the Industry Thinks About the Ultimate Lens Package by Essilor
Eye care professionals, patients, and Essilor sales consultants shared their feedback on the Ultimate Lens Package. Watch to see why they believe the innovation behind the lens can make the difference for your practice and for your patients. For more information on the Ultimate Lens Package, contact an Essilor Sales Consultant or click here.
---