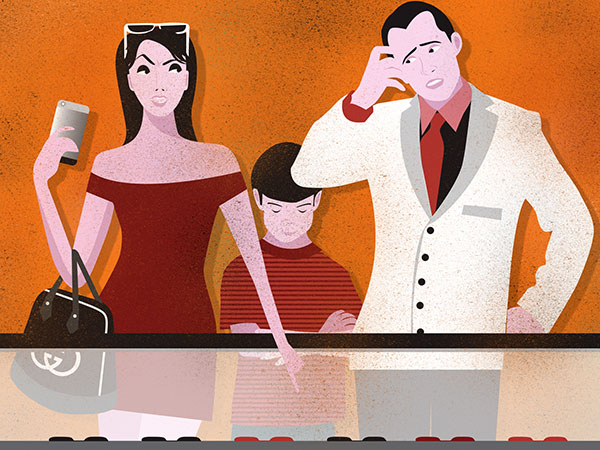 Here's what readers are saying so far.
In our latest Real Deal scenario, Forbes Optometry in Pittsburgh, PA, has donated "coupons" to school nurses in local elementary and middle schools, with the instruction to provide them to visually impaired children otherwise unable to afford eyecare.
But the mother of one boy who received a coupon is unimpressed by the selection of basic frames on offer. She'd prefer a designer brand — and she's offended that anyone might think her family is needy.
Now she's sent a foul email to the doctors accusing an employee, Richie, of talking down to her and judging her son, and put up a similar comment on their website. The school nurse has called, asking the doctors to make a formal statement about the program, as several parents have gotten word and are demanding answers.
The situation raises several questions:
How should the office address this woman's embarrassment and anger?

Is there anything the office can do to prevent mix-ups like this in the future?

Should the nurses have free license to select deserving students? What are the alternatives?
We'd love to hear what you think. Check out the full scenario and send us your own response here.
Below is a selection of responses we've received so far.
Robert M.

MEDINA, MN
The first thing they should do is to send a letter of apology to the mom. Accept all resposibility and place no blame on the school or the nurses. Then they should set up a protocol for the administrtion of this community service. The free clinics I am involved with use an honor system for those seeking free services that states they have no insuraunce and are unable to afford care and product. They sign this form. They should then write up an outline of what will be provided and delivered. This will release the clinic and the school nurses from the selection process. What a wonderful service the clinic provides to their community! We should all look at this as a model for providing eyecare to the underserved!
Rick R.

Girard, PA
I think it's obvious this woman's son didn't deserve the service in the first place. I'm not so sure the office needs to make amends for someone who didn't need the service, at least financially. If you ask me it was the nurses fault for supplying the service to this person. She should have known who the most needy and deserving would be in the school. I don't think there are too many, if any, alternatives other than the nurse making sure she's more aware the next time.
John M.

Columbus, OH
I'd have a pretty strong conversation with that nurse!!!
Don A.

Matthews, NC
First and foremost, an immediate sincere apology is required. A clear explanation must be provided stating that patients receiving charitable products from a selected section have the option of upgrading for an additional cost. Then have a training time for all staff for clarification — a learning opportunity.
Brian

North hollywood, CA
It should be the nurses' job to "screen" the patients referred to the optos. The doctors, since they're donating their time and money, are the ones who establish the screening criteria for the nurses, whether they be visual need, ability to pay, language barrier, parental involvement or lack thereof, etc. I don't think the optical staff did anything wrong; it seems like an overreaction by the parent, whose ego was insulted or feelings were hurt.
We have a similar program and get parental calls wanting premium lenses or branded frames. Some in our practice want to limit what's available to them since the program is to help "needy" families. And the staff here tends to say no to requests for pricey upgrades. If the parent insists, we will give them their prescription and say that they can go anywhere to get their kids glasses.
Cindy H.

Hixson, TN
We've had a similar program in place for a long time. Our solution was to have the teacher suggest to the social worker or school nurse which students might need our help. The teachers have more knowledge of the child's home life and situations and they are generally aware of genuine visual deficiencies in the classroom setting. Hopefully these generous doctors and opticians won't stop helping the less fortunate because of this debacle.
That being said, we've had a few that were ungrateful and demanding even in their dire circumstances. One can only do so much for those people. And we tend to say, "no good deed goes unpunished."
Lori B.

Santa Rosa, CA
This sounds like an unfortunate misunderstanding. Sound like the school nurse if the party in this scenario that "pre-judged" the little boy's financial status. Seems like when you try to do something nice, sometimes it doesn't turn out the way it is designed. I think it would be important for the school nurse to meet with a parent before handing out a "coupon" for a free eye exam and glasses. This may avoid some embarassing situations in the future.
Ric D.

Atlanta, GA
The nurse set this up for failure; it was not the optician's fault. What was the prequalifier for the program?