Illustration by Samantha Squires
This month is all about the kids, with CHILDREN'S EYE HEALTH AND SAFETY MONTH and CHILDREN'S VISION AND LEARNING MONTH both on the schedule. An estimated one in four children has an undiagnosed vision problem, a good reason to emphasize the importance of annual back-to-school eye exams for all students, especially the 2 million U.S. children who start kindergarten this fall. (For older kids, see this month's Best of the Best feature on ways to work with student athletes.) Learn more about Children's Vision and Learning Month at covd.org and Children's Eye Health and Safety Month at preventblindness.org.
This article originally appeared in the July-August 2015 edition of INVISION.
---
Tonight marks the
START OF THE PERSEID METEOR SHOWERS
, a summer highlight for amateur astronomers. If you want to see 100 falling stars per hour in a single night without a telescope, your vision must be pristine. Remind any star buff clients that it's time to come in for an eyewear tune-up a few days before this big event.
There's nothing more heartening to the seasoned retailer than to see two best-friend shoppers armed with credit cards and on a mission to enjoy themselves. Encourage such reckless abandon with a
BEST FRIENDS DAY
promotion, a special discount or gift for anyone who comes in with a pal. Encourage friends who stop by to post their favorite frame-find selfies on Instagram or Facebook.
Today is
BAD POETRY DAY
. And for those of you whose reaction to that announcement was: "Hey, I thought all poetry was bad," all we can say is ... "Philistines!" Personally, INVISION thinks that a bad poetry contest is one of the most entertaining events you can hold in your store. Invite customers to submit their most dismal odes, couplets, quatrains, sonnets or haikus on the theme of eyes and sight. Offer a great-looking prize from inventory for the winner.
On
MEN'S GROOMING DAY
, print up gift cards for a local men's spa, upscale hairdresser or clothing shop to hand out offering a discount on a selection of your men's frames.
On
NATIONAL SENIOR CITIZENS DAY
, send an email (or card) wishing your senior clients a happy, healthy day. Pleasantries done, emphasize how critical it is for everyone 65 and up to stay current with their fast-changing visual needs and the importance of contacting an eyecare professional the instant they notice any change in their eyesight. Close with printable coupons for special deals on checkups and a selection of frames popular with older customers.
Invite friendly pooches into your store on National Dog Day.
If you don't normally allow dogs in the store (your misguided frame purchases aside), make an exception today on
NATIONAL DOG DAY
. Invite owners to bring in their best friends, hold a dog fashion show, and raise money for the local no-kill shelter.
---
B U S I N E S S A N N I V E R S A R I E S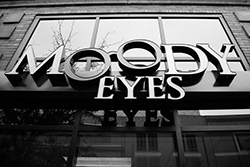 HAPPY 10TH ANNIVERSARY TO MOODY EYES
INDIANAPOLIS, IN
Moody Eyes started Aug. 22, 2005, and now has two locations. Dr. Penn Moody has worked in many settings, from an inner city clinic to a Lasik center. His current business blends the best of all, and Moody Eyes will celebrate in August and September with special events featuring food, live music, drawings and donations to the community.
Does your business have an upcoming milestone? Email us at This email address is being protected from spambots. You need JavaScript enabled to view it..
M O R E E V E N T S
AUG. 6 is National Fresh Breath Day. Remember: "Bad breath means sales death."
AUG. 10is National S'mores Day. A chance for a fun after-work activity. (Who doesn't love s'mores?)
AUG. 12 is Vinyl Record Day. Display some Buddy Holly, John Lennon and Elvis Costello LP covers and eyewear in your window. (Remove the albums first!)
AUG. 15 is National Relaxation Day. You deserve a break. Try doing a whole lot of nothing for once.
AUG. 18 is Serendipity Day. A good day to do things a little differently.
AUG. 31 marks the start of tennis's U.S. Open championship. Promote tennis sunwear in today's email bulletin.
C E L E B R I T Y B I R T H D A Y
AUG. 7. Now nearing 20 years on Hollywood's A-list, this actress's star has never shone brighter. Theron's a style chameleon, alternating tough-chick attitude with red-carpet glamour, with astute eyewear choices to match.
Hear What the Industry Thinks About the Ultimate Lens Package by Essilor
Eye care professionals, patients, and Essilor sales consultants shared their feedback on the Ultimate Lens Package. Watch to see why they believe the innovation behind the lens can make the difference for your practice and for your patients. For more information on the Ultimate Lens Package, contact an Essilor Sales Consultant or click here.
---