Today is
PLAN A SOLO VACATION DAY
. And, yep, we want you to go somewhere completely alone for a couple days. Leave your spouse at home. Get your sister to take the kids. Spending time alone in a place where you can truly relax can help you find new directions in your business, relationships and your whole life. Beyond that, solo vacations are fun. We're not asking you to go today. Just make a plan to go.
Today is
NATIONAL SALESPERSON DAY
. And though you already show your appreciation to your top sellers every month with their big, fat paychecks, today is another chance. Take your sales staff to lunch or dinner, on you. To mark the occasion, hand out copies of your favorite sales book — Zig Ziglar, Jeffrey Gitomer, Daniel Pink, Dale Carnegie, whoever — and tell them: "This book has always inspired me. I'm giving it to you with my thanks and the hope it will inspire you as well."
Julius Caesar never saw it coming. Trusted, popular Brutus was a member of his inner circle. Is there someone on your team who has the potential to do damage to your business? On
BRUTUS DAY
(aka
THE IDES OF MARCH
), remember the three Ts when it comes to underperformers: Tolerate, Train or Terminate.
BUSINESS CONTINUITY AWARENESS WEEK
launches today. And in this era of global warming (or "global weirding," if you prefer), don't forget that you are always at the mercy of Mother Nature. No one knows what may happen — hurricanes, floods, wildfires, earthquakes. Put precautions in place to ensure your business can survive. A good place to start is the Insurance Institute for Business & Home's Open for Business program. The free toolkit provides small to mid-sized business owners with ideas for a comprehensive business continuity plan.
More than 36 million Americans claim Irish ancestry — about nine times the population of Ireland. And
ST. PATRICK'S DAY
is a day that those millions (and many millions more) want to acknowledge. Since going "full leprechaun" is not an option for most people (at least anyone who is gainfully employed), the stylish way to celebrate is with a few well-chosen accessories: green shoes, green tie (or scarf) and green eyewear.
Are you ready for a really big show? You better be, because
VISION EXPO EAST OPENS TODAY
. (Well, at least the education program does. The fun part, the shopping, begins tomorrow.) Our advice? Stuff your calendar and plan your meetings with military precision, with an emphasis on meeting new vendors whose products interest you. Avoid the same-old, same-old. (That applies doubly to your after-show fun. Try something new — you're in "the greatest city in the world," after all.)
Get those rubber gloves on. It's
NATIONAL CLEANING WEEK
and as good a time as any to engage in that annual rite of spring cleaning your store. To generate sales from the prevailing mood of renewal and cleanliness, offer customers a "Spring Cleaning Special" — free cleaning and tuneups for their eyewear, plus discounts on cleaning cloths and fluid for lenses of all types.
---
B U S I N E S S A N N I V E R S A R I E S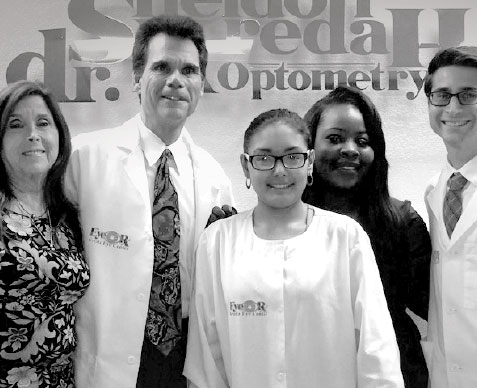 Happy 36th Anniversary To Kreda Eye Center
Lauderhill, FL
Kreda Eye Center opened in March 1979. Dr. Sheldon Kreda says one secret to his practice's longevity is a strong emphasis on medical eyecare. Another key to the practice's success is a huge eyewear selection, with more than 2,000 frames in inventory at most times. To mark its 36th anniversary, Kreda Eye Center will publicize the event on social media.
Does your business have an upcoming milestone? Email us at This email address is being protected from spambots. You need JavaScript enabled to view it..
M O R E E V E N T S
March 4 is the beginning of Save Your Vision Week. (How about a week of daily tips on healthy habits to protect your vision combined with discounts on eye checkups?)
March 6 is Dentists Day. And March 30 is Doctors Day. (Doctors and dentists are great customers and sources of referrals. And each of these days are great opportunities to reach out to these health professionals with your thanks: a card, a phone call or flowers.)
March 17 marks the start of college basketball's March Madness. (Will your office pool be won yet again by the person who picks teams because their "uniforms are cute"?)
March 21 is Memory Day. (Take an hour today to work on techniques to remember and match names and faces.)
This article originally appeared in the February 2015 edition of INVISION.