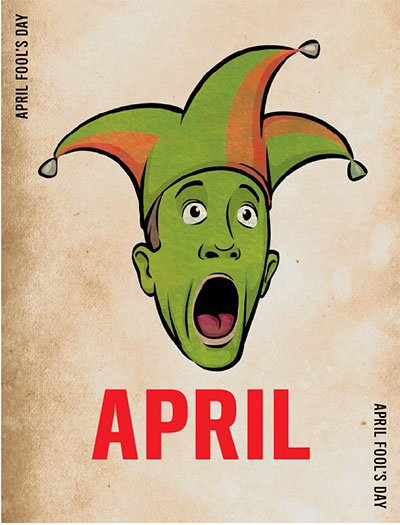 1 It's
APRIL FOOL'S DAY
, bosses, so let's be careful out there. Before sitting down, check your seat. Before shaking hands, check the other person's palm. And before drinking coffee, check the sugar jar. (Chances are it's filled with salt.) Now that you're safe from pranks, let's have some fun: Announce to your staff that due to an article on "size prejudice" you read in the
Psychology Today
, you are instituting a new customer-service policy: each customer must be served by the staff member whose height is closest to theirs.
It is
HOSPITAL ADMITTING CLERKS DAY
. Connected to one of these important people in your community? Send flowers or a card today. Not because they could be an important source of business for you. But because it's their day, and it's a nice thing to do.
WORLD HEALTH DAY
is a perfect opportunity to reach out to your clients with a message that says "How are you doing?" as well as "Here's how you could be doing a little better!"
Ugh,
TAX DEADLINE DAY
. America's greatest writer, Mark Twain, best captured our feelings about this day when he wrote: "What is the difference between a taxidermist and a tax collector? The taxidermist takes only your skin." But it doesn't have to be ALL bad news today. Some of your customers are getting a hefty refund check and want to spend their windfall on something good. For them, advertise a special "Tax Deadline Day" price on eyewear, Lasik or Ortho-K.
The sponsors of
NATIONAL KARAOKE WEEK
claim the benefits of singing along to synthetic tunes in public are improved self-esteem, stress release and — when done with fellow team members — tighter bonding. So try a karaoke outing this week. Remember, in all workplace karaoke situations, unless there's an enthusiastic volunteer, boss goes first. Our suggestion? The sight of you stepping up to the mic and singing Britney Spears' "Oops! ... I Did It Again" will be a memory your team will cherish forever. (Just don't be angry with us if it goes very,
very
wrong.)
EARTH DAY
is one of the year's biggest opportunities to "do well by doing good." So take the afternoon off from your business and get out there and pick up some trash or plant some trees. Tuck a few business cards into your overalls, just in case the subject of eyecare
happens
to come up while you're digging.
Eyecare pros were observing
TAKE OUR SONS AND DAUGHTERS TO WORK DAY
long before it became a nationwide event. If you weren't one of them, show the tykes what Mom and Dad do for a living and relish thoughts of the schoolyard conversations that will take place tomorrow: "My dad has this eye-puffer machine in his office that can blow out your eye — PWOOF! So you better not make me mad!"
---
B U S I N E S S A N N I V E R S A R I E S
HAPPY 103RD ANNIVERSARY TO MAGAY & BARRON EYE CENTER
WORCESTER, MA
With his wife Eddi, James Magay runs the optical shop his grandfather Skip started with his best buddy Ralph Barron on April 1, 1912. Magay & Barron Eye Center has served hundreds of thousands of customers over the past 103 years, blending old-fashioned service with the latest lenses and eyewear. They'll celebrate the anniversary by going to Vision Expo and stocking up on all the latest frames and technology — and maybe (definitely!) take in a show.
Does your business have an upcoming milestone? Email us at This email address is being protected from spambots. You need JavaScript enabled to view it..
M O R E E V E N T S
April 1 is One-Cent Day. Have anything you want to sell for a penny? Do it today.
April 6 is Plan Your Epitaph Day. Depressing, yes. But also a useful perspective-shifter.
April 10 is Golfer's Day. Highlight golf eyewear on your social media feeds.
April 16 is High-Five Day.
April 22 is Administrative Professionals Day and Jelly Bean Day.
April 25 is International Astronomy Day. Astronomers are a great niche market for whom perfect vision is essential. Do you have optimized eyewear or accessories for them?
April 30 is Honesty Day. But isn't every day Honesty Day?
This article originally appeared in the March 2015 edition of INVISION.
SPONSORED VIDEO: VISION SOURCE
Optometric Practice in a Small Town
Practicing in a small town gives you the diversity and opportunities to practice full-scope optometry. See how one OD found professional and personal fulfillment in a small town.