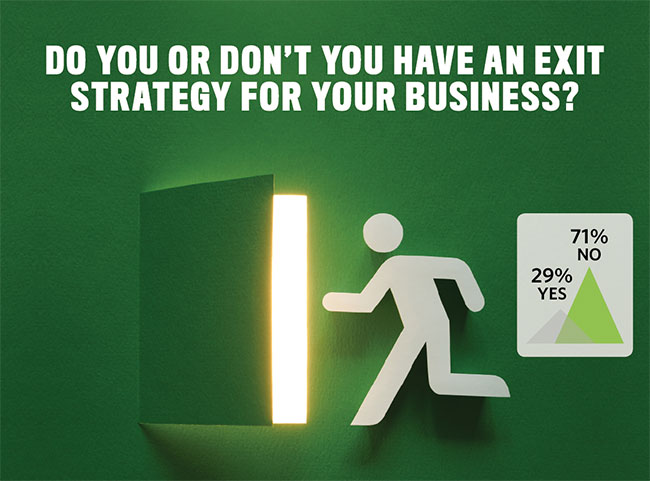 This article originally appeared in the March 2015 edition of INVISION.
YES, I DO
➤ With revenue losses from online companies, vertically integrated ophthalmic entities and VSPs, I will exit, stage right, by being gently and respectfully removed from my exam room after the EMT removes the ophthalmoscope from my not-so-cold dead hands. Dr. Robert Smith, Smith Optometry, St. Louis, MO
➤ In 20 years, find a partner and in three to five years (after training and accommodating staff with new partner), retire. Diana Sims, Buena Vista Optical, Chicago, IL
➤ I plan to slowly sell off shares of my corporation over a period of five to 10 years to the new, young owner (person TBA). Dr. Tanya Gill, Oakland Vision Center, Oakland, CA
➤ Because I own the business, I can gradually work less as my husband nears retirement. I plan to continue to own the business, let my employees do most of the day-to-day running of the business and keep myself involved as much as I like. I can therefore "retire" without actually selling the business and can keep it as an income source. Paula Hornbeck, Eye Candy and Eye Candy Kids, Delafield, WI
➤ Will work the business until I cease to have fun and then sell it to my key employee. Kate Giroux, MacPherson Opticians, Arlington, VA
➤ I plan to be a sunglasses distributor for clothing boutiques. Will Taylor, Eye 2 Eye Contact, Detroit, MI
---
NO, I DON'T
➤ I'm just getting started! Nikki Griffin, EyeStyles Optical & Boutique, Oakdale, MN
➤ I will be part of the practice as long as this community continues to support us. The best way to transition is to do what I began a few years ago: In an effort to work more "on" the practice and less "in" the practice, I brought in an associate and cut back to four days of patient care and one day of administrative care. If you treat the associate as a partner and pay them like a partner, they truly are a partner with your business philosophy and patient care. Dr. Ted McElroy, Vision Source Tifton, Tifton, GA
➤ I have a kid in college, so it can't be on my radar. Steve Whitaker, Whitaker Eye Works, Wayne, PA
➤ Too soon to think about it! Mary Canfield, Orlando Eyecare, Orlando, FL
➤ Figure I will do this 'til I die. Claudia Hecht, Sterling Optical, Newburgh, NY
Hear What the Industry Thinks About the Ultimate Lens Package by Essilor
Eye care professionals, patients, and Essilor sales consultants shared their feedback on the Ultimate Lens Package. Watch to see why they believe the innovation behind the lens can make the difference for your practice and for your patients. For more information on the Ultimate Lens Package, contact an Essilor Sales Consultant or click here.
---