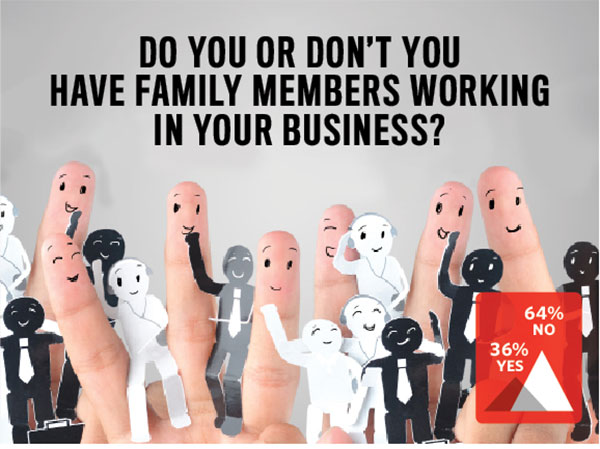 This article originally appeared in the April 2015 edition of INVISION.
YES, I DO
➤ My mother helps me screen patients and helps with frame selection. It works well because she has 30 years of healthcare experience and understands what the patient experience should be like. Dr. Courtney Dryer, 4 Eyes Optometry, Charlotte, NC
➤Hubby is the doc, wife is the business manager, teens cut the grass, and the younger children pitch in with office work. We have different talents, but are all working for the same goal. We are a family business. Dr. Richard Pascucci, Towpath Vision Care, Utica, NY
➤My mom helps with filing and organizational/back office stuff. We work great together. One time I did have to ask her to stop sharing embarrassing childhood stories with my staff, but it's been smooth sailing since. Dr. Sarah Jerome, Look + See Eye Care, Minneapolis, MN
➤My son-in-law helps me in areas where I am weak, such as social media, and has a great eye for style and customer service. Fred Meserall, Frederic Meserall Vision & Hearing, Haddonfield, NJ
➤My wife works with me part of the time. We met when I hired her, discovered that her strengths were my weaknesses and vice versa, and so we make a great team. Bryan Finley, Island Opticians, Palm Beach, FL
➤My husband and I own our business, and our daughter occasionally works at the store. The key is to leave the personal relationship at the door. Stephanie Haenes, Art of Optiks, Wayzata, MN
NO, I DON'T
➤A husband-and-wife optometrist team own the practices I work in. They are never in the same office on the same day and that works well for them (and us). Kristen Atkins, Clinton Family Eye Care, Clinton, NJ
➤I never think it is a good idea to work with family members. Too many personal issues could arise, and I would not want to be put in an awkward situation where I felt I needed to defend a family member. Toni Herron, Henry Ford OptimEyes, Westland, MI
➤My staff (all unrelated to me) have become a family. I choose not to have a family member at my practice mostly because I don't want my staff to feel like they have two bosses. Dr. Tanya Gill, Oakland Vision Center, Oakland, CA
➤I do not have family members, but my business partner has four of his family members. There is a feeling of us-and-them at times, but we try to remain fair to all employees. Nicole Miele, Consumer Optical, Schenectady, NY
➤They work for different optical companies. Cara Rita, VisionPoint, Cedar Lake, IN
Hear What the Industry Thinks About the Ultimate Lens Package by Essilor
Eye care professionals, patients, and Essilor sales consultants shared their feedback on the Ultimate Lens Package. Watch to see why they believe the innovation behind the lens can make the difference for your practice and for your patients. For more information on the Ultimate Lens Package, contact an Essilor Sales Consultant or click here.
---