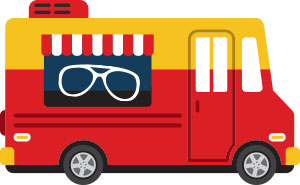 If people aren't coming to your store because they're too busy with summertime fun, why not bring your store to them at a beach, pool or other fun spot? Mary-Kate and Ashley Olsen have taken their ice-cream-truck-turned-boutique to high-traffic locations in New York City with spectacular success. One-up them by taking your sunglasses to people at the time and place where they need it most. Check with your local authorities to see if a permit is required.
This article originally appeared in the May 2015 edition of INVISION.
Hear What the Industry Thinks About the Ultimate Lens Package by Essilor
Eye care professionals, patients, and Essilor sales consultants shared their feedback on the Ultimate Lens Package. Watch to see why they believe the innovation behind the lens can make the difference for your practice and for your patients. For more information on the Ultimate Lens Package, contact an Essilor Sales Consultant or click here.
---