Spring brings a wardrobe of looks, from tomboy chic to feminine flair
BY CLODAGH NORTON
Published in the March/April 2014 issue
HAVE GOT IT ALL this year. They can steal from the boys or go all out for the nostalgic feminine mood in eyewear design ... or both. Super-sweet modified almond shapes and cat's-eye frames come in lively tones, and a return to the stylish feel of zyl suggests the love for pretty, elaborate '50s and '60s influences will continue into 2014. But if the feminine trend is not your clients' thing, help them get hip with the geek-chic classics more commonly associated with the men's collections. These cool and canny styles are deeper, slightly oversized, and instantly accessorize to the max.
VERA WANG

Oversized in beautiful zyl, Vera Wang model V334 comes in size 52-19-140. Available colors, inspired by the designer's runway collections, include taupe sheer, black, tortoise and fandango.

MSRP: $230

(800) 627-2898 | kenmarkoptical.com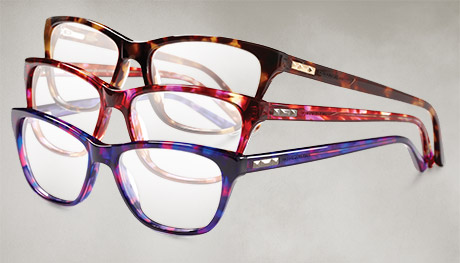 BCBGMAXAZRIA
From powerful statement-makers to classic styles, the French designer's eyewear features directional silhouettes and a vibrant color palette for 2014. The iconic stud-bar hardware punctuates the look and further aligns the collection with the brand's portfolio of lifestyle products.

MSRP: From $190

(800) 645-3733 | cvoptical.com
SERAPHIN EYEWEAR
Cheerful slices of color bring classic neutrals to life with Yvonne, a smart, seductive frame with a triple-laminate acetate design in a flattering angular shape. Glossy layers of color are fused for a seamless design, perfect for the chic style maven who has it all together. Colorways featured are tortoise with sky blue, Havana and purple, Havana and white or black/white and red.

MSRP: $260

(888) 560-1060 | seraphineyewear.com
EASYCLIP
The EC325 is a plastic frame with removable magnetic polarized sun clip-on. Available in red, black or purple, it's an easy-to wear shape with state-of-the-art magnetic EasyClip technology.

MSRP: $250

(800) 277-3979 | aspexeyewear.com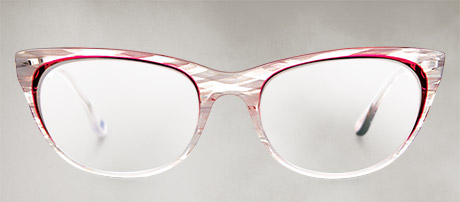 COPPE & SID
The artisan label's Victoria-SEZ model front features two different acetates, one nesting inside the other. Hues of Havana, wood and horn patterns are lightened by an internal ray of transparent or brilliant color, offering surprising combinations. Each product features the brand's signature lapis lazuli insert in the temple.

MSRP: From $320

(305) 227-2666 | coppeandsid.co.uk
WOOW COLLECTION BY FACE A FACE PARIS
The Hurry Up 1/4017 is a neo-retro oversized look in vibrant two-tone colors with fun typographic temple tip inserts. (Others in the collection bear the phrases "Take Care," "Who's Who" and "Rock Me.") Choose from tortoise, black, light violet, Bordeaux gray, gradient violet blue or red.

MSRP: $305

(888) 388-3223 | wooweyewear.com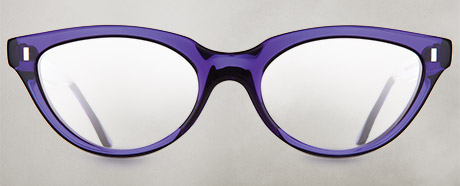 CUTLER AND GROSS
Model 1013 is a best-selling cat's-eye frame from iconic London-based Cutler and Gross. With thick acetate and an angular bridge that flatters all face shapes, statement colors and combos for this design include ink (pictured), matte dark turtle, graduated brown blue and gray pink.

MSRP: $495

(212) 431-4440 | cutlerandgross.com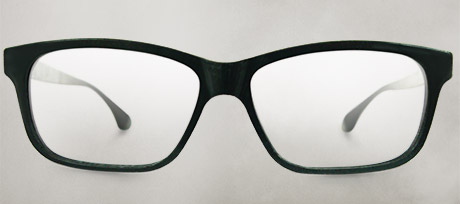 CLAIRE GOLDSMITH
Abbott is elegant, sophisticated and beautifully understated. The clean lines provide a nice contrast to other frames in the CG collection. Colors include subtle amber honey, black tea, silver jade or the delightful-sounding "liquorice paradise."

MSRP: $454

(215) 297-4444 | clairegoldsmith.com
DESIGNER INSIGHTS
CLAIRE GOLDSMITH
How did your great-grandfather's eyewear influence your own collection?

[You need to provide] the showstoppers that inspire, excite and satisfy your more confident customer, and the classics that are interesting enough to stand the test of time and trends, yet simple enough in their shaping and fit that they will suit any age.
What do women want in 2014?

I can't speak for all women, but I can speak for our customers and retailers. I've always felt that the Europeans were more confident with color than the Americans, but I have definitely seen a shift in attitude. I feel year on year, women are getting more and more confident with wearing eyewear; it is a reflection of their style and attitude, rather than just a medical necessity.
What are your signature features in the CG/ Legacy collection?

Our temple design is definitely a signature feature to CG eyewear. Beautiful beveled temples run through the whole collection, giving a sense of completion to the frame. I love seeing someone wearing a CG frame from the front and when they turn to the side and I see the beveled temple, it confirms it's one of mine!