Red wine in moderation can be good for you. And blue light, too, can be good for your eyes in small daylight doses. But electronic screens and energy-efficient lighting mean we're all getting a lot more blue light exposure than ever before.
While the long-term consequences of blue light exposure are not yet known, experts believe it can suppress melatonin secretion, which can lead to sleep disruptions, obesity and depression in all ages and ADHD symptoms in children. Macular degeneration may also be hastened. But there's good news in the rise of lenses, coatings and clip-ons that block harmful blue light while allowing nearly all beneficial light to pass through.
BluTech lenses from Eye Solutions Technologies use an ocular lens pigment that mirror natural protection in the eye to block UV and to filter blue light.
New on the market, eClips Custom Clip Ons with BluTech lenses are an accessory that attach to the frame. "Coatings on lenses can filter some damaging blue light but not all of it," says eClips founder David Salk. "Many people like BluTech technology but they are turned off by the residual color of BluTech lenses."
Lenses continue to evolve — Luzerne Optical introduced an almost clear TheraBlue lens in August — but digital devices aren't going away. With blue light exposure on the rise as a public health issue, now's the time to talk with patients about how they can protect their vision and overall health. — CAROL GILHAWLEY
This article originally appeared in the September 2015 edition of INVISION.
---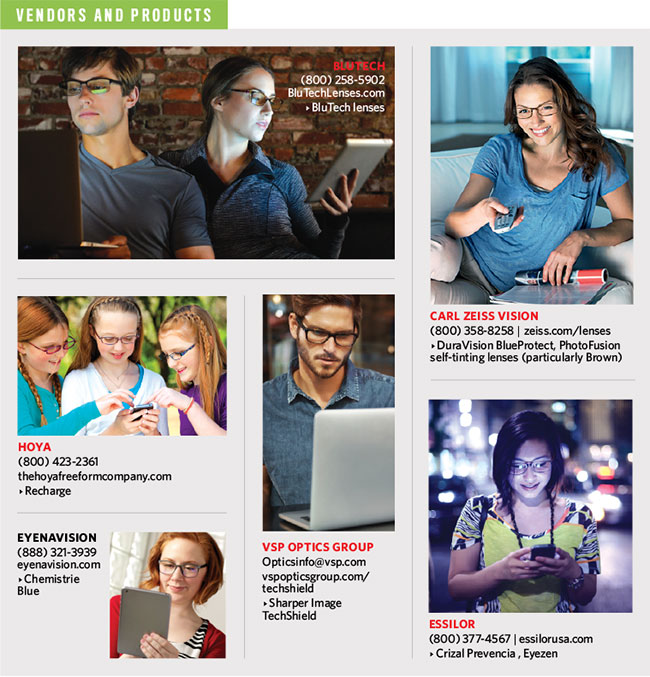 ---
Smart Ways to Sell More
Blue Light Filtering Lenses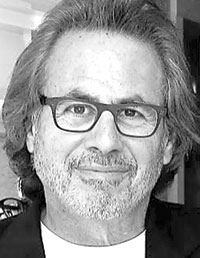 David Salk
Focal Point Opticians & eClips Custom Clip Ons, Berkeley, CA
➤ We really need to wake up and embarrass our patients into adopting blue light products for protection. (But) first, I suggest you do some research. Learn from people selling coatings and the BluTech people. I believe it really doesn't make sense for people to use coatings, which are a partial solution to the problem, when BluTech lenses are available. Tell patients about these products that protect their eyes and their children's eyes.
---
Dr. Gary Morgan
Eye Tech Optical, Peoria, AZ
➤ With our world being illuminated more and more by blue light, the optometric community has a responsibility to not only educate our patients about the effects of blue light, but also to recommend solutions that will protect their vision and overall health. You can prescribe products such as the Sharper Image TechShield, which offers protection by both absorbing and deflecting incoming blue light.
---
Dr. Heidi Pham-Murphy
Visions Optometry Eyecare & Eyewear, Sacramento, CA
➤ BluTech lenses are used to protect the people of all ages in our practice. Patients are reporting more relaxed eyes and improved sleep patterns. I have had a few patients tell me that after they started wearing the lens for computer work, they started dreaming again, something they don't remember doing in years. I've used the BluTech indoor lens for patients who drive at night and have glare from headlights.
Hear What the Industry Thinks About the Ultimate Lens Package by Essilor
Eye care professionals, patients, and Essilor sales consultants shared their feedback on the Ultimate Lens Package. Watch to see why they believe the innovation behind the lens can make the difference for your practice and for your patients. For more information on the Ultimate Lens Package, contact an Essilor Sales Consultant or click here.
---