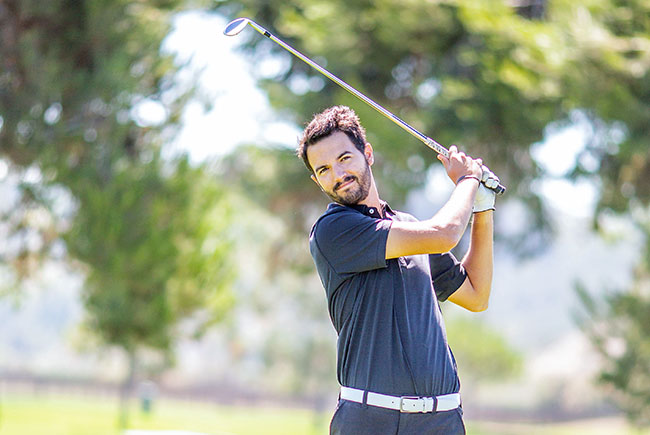 Jeremy Poincenot won the world championship amongst blind golfers at age 20.
BLIND GOLF CHAMP IS
VISION HERO
Jeremy Poincenot is a new Vision Hero for the Vision of Children Foundation, which supports research to cure genetic eye disorders and restore children's sight. Poincenot, who lost his central vision at age 19 to Leber's hereditary optic neuropathy, bounced back through playing in the U.S. Blind Golf Association and actually winning the sport's world championship at age 20. Watch a short inspirational clip at invmag.us/11154 and get more information on the foundation's work at visionofchildren.org.
This article originally appeared in the November-December 2015 edition of INVISION.
---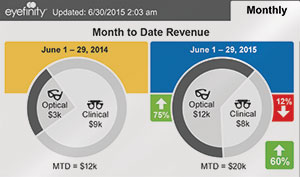 NEW DASHBOARD TRACKS REVENUE
Eyefinity
has teamed with the Gateway Professional Network to include a business insights dashboard that works with OfficeMate 12 practice management software. It's a basic version of The Edge, an analytics dashboard from Gateway. Now embedded in OfficeMate, the feature offers a quick look at seven key performance indicators including clinic and optical revenue, revenue per exam, capture rate and more. "Doctors need help to performance-manage their team," says Steve Baker, Eyefinity president. "I want people to be able to take a quick drink of water and see what's going on." Info:
officemate.net
.
---
AOA CAREER SITE SUPPORTS STAFF
The American Optometric Association
has a new member benefit, the Paraoptometric Career Ladder, a self-paced training program that streamlines training of new staff (or cross-training for veteran team members) in six different job areas. Optometrists and office managers can use it to assess staff abilities and identify areas for additional training. Info:
This email address is being protected from spambots. You need JavaScript enabled to view it.
---
NEW ENTRY FOR DAILIES TOTAL1
Alcon's
Dailies Total1 line of water gradient contact lenses now includes plus power lenses for hyperopic patients, available in the U.S. as of November. In a survey of patients wearing the lenses in Europe, more than 90 percent of participants agreed they can comfortably wear the lenses all day long and 80 percent preferred them to their previous lens. The new range includes plus powers from +0.50 to +6.00D (in 0.25D steps). Info: alcon.com
alcon.com
.
---
VISION EXPO EAST STAYS GOLDEN
International Vision Expo & Conference East
ranks 74 among U.S. trade shows on
Trade Show Executive
magazine's latest Gold 100, where it has had a place since the list's inception in 2007. The shows that make up the eighth annual Gold 100 account for about 1 percent of the roughly 11,000 exhibitions held every year in the U.S., says Darlene Gudea, president of Trade Show Executive Media Group. The shows held in 2014 that make up the Gold 100 totaled 46 million square feet. International Vision Expo East also received a Gold Grand Award for its OPTImum VIP Program, created for decision-makers, boutique buyers, doctors and staff from $1 million practices, Vision Monday Top 50 lists, ophthalmic professionals, lab owners/directors and top level management. The 2016 show is set for April 14-17 at the Javits Center in New York City. See the Gold 100 at
invmag.us/11155
. Info:
visionexpoeast.com
.
Hear What the Industry Thinks About the Ultimate Lens Package by Essilor
Eye care professionals, patients, and Essilor sales consultants shared their feedback on the Ultimate Lens Package. Watch to see why they believe the innovation behind the lens can make the difference for your practice and for your patients. For more information on the Ultimate Lens Package, contact an Essilor Sales Consultant or click here.
---