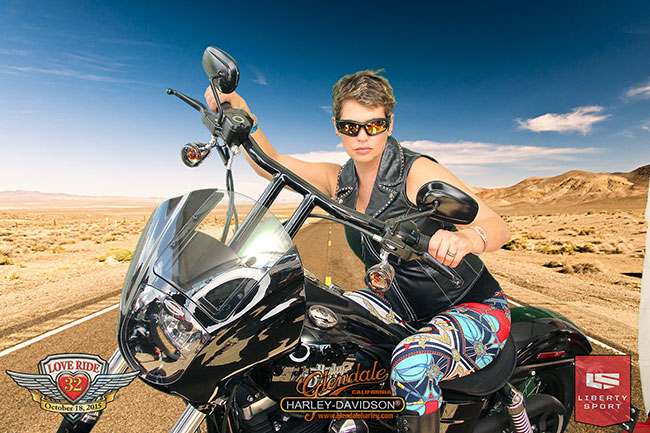 Liberty Sport provided eyewear from its Rider and Switch collections to celebrity riders including Kristy Swanson, best known for her role in the movie Buffy the Vampire Slayer.
LOVE RIDE ENDS IN STYLE
With grand marshal Jay Leno leading the ride and the Foo Fighters and Social Distortion playing on the main stage, the Love Ride Grand Finale marked the end of the road for the largest and longest running one-day motorcycle charitable event in the world, raising a final $1 million for the Wounded Warrior Project. Liberty Sport provided eyewear from its Rider and Switch collections to some of the veteran and celebrity riders at the event and its photo booth was a popular attraction, too. Info: libertysport.com.
This article originally appeared in the January 2016 edition of INVISION.
---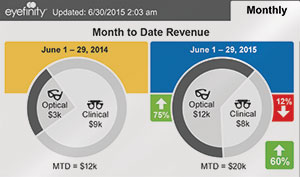 CARECREDIT GIVES $25K TO INFANTSEE
CareCredit's Caring Communities Program
has made a $25,000 grant to Optometry Cares-The AOA Foundation's InfantSEE program. The money will be used to expand awareness of the InfantSEE program among new parents through print advertising, brochures, signage and displays, and online efforts. InfantSEE aims to be sure that a trained optometrist examines infant eye development as early as six to 12 months of age. These early assessments help identify developing eye conditions and diseases, allowing for treatment and possible prevention of lifelong vision complications. More than 7,300 InfantSEE optometrists examine an estimated 10,000 infants annually for normal eye development and to intervene early if necessary — but with about 4 million babies arriving each year in the U.S., there's plenty of room for growth. Info:
infantsee.org
and
carecredit.com
.
---
FEWER HOOPS TO JUMP THROUGH
The National Association of Vision Care Plans
has unveiled a streamlined credentialing process to reduce the cost and effort required for eyecare professionals to manage credentialing with the vision care plans in which they participate. To start, 10 managed vision care plans have agreed to take part including AlwaysCare, Davis Vision, EyeMed, eyeQuest, MESVision, National Vision, Superior Vision, UnitedHealthcare/Spectera Eyecare Networks, Vision Benefits of America and VSP Vision Care. The association is partnering with Aperture Credentialing to manage administration of the credentialing process, specifically primary source verification. Providers who are due to re-credential with one of the participating vision plans will receive a letter from Aperture about how the new process works. Plans will keep the responsibility for individual provider reviews and decisions on network participation, but the new process will allow ECPs to provide their credentials only once for an aligned review by all of the participating plans. Any plan or organization that credentials eyecare professionals can opt in to the streamlined process. Info:
navcp.org
.
---
Sue Downes, left, and Ann E. Englert will be honored by the Optical Women's Association in April.
OWA NAMES STARS FOR 2016
The Optical Women's Association
has selected two leading lights to honor at events during Vision Expo East in New York City in April. Sue Downes (at left below), CEO at MyEyeDr, is the 2016 Pleiades award recipient for advancing women's leadership in the industry. From one office in 2001, she has led the growth of the brand to more than 200 locations across the Mid-Atlantic and Southeastern U.S. "In an industry dominated by men, Sue shines as a creative visionary on behalf of all women in the optical industry," says Suzanne Berardi-Gould, facilities manager for MyEyeDr. The 2016 Pyxis award for OWA advocacy will go to Ann E. Englert, the owner of Solutions Consulting, a concierge-style business dedicated to working with wholesalers, retailers and ECPs in the eyewear industry. An active OWA member since 2001, Englert has served on the organization's board and chaired multiple committees, including serving as president of the OWA. The women will be honored at two special events: the OWA Champagne Breakfast on April 14 and the OWA Annual Star Award Ceremony and Networking Event hosted by Marchon on April 16. Info:
opticalwomen.com
.
---
Hear What the Industry Thinks About the Ultimate Lens Package by Essilor
Eye care professionals, patients, and Essilor sales consultants shared their feedback on the Ultimate Lens Package. Watch to see why they believe the innovation behind the lens can make the difference for your practice and for your patients. For more information on the Ultimate Lens Package, contact an Essilor Sales Consultant or click here.
---