From classic to current, choices abound
in rimless and semi-rimless frames
For many eyeglass wearers, the fun is in the frames. But for other people, subtle rimless or semi-rimless looks are the preferred way to express personality. Thanks to Steve Jobs and Sarah Palin, rimless eyeglasses enjoyed a resurgence in popularity in the aughts (and the classic round-lensed look favored by Jobs remains hot). It's no surprise that Jobs and Palin chose this style; the transparent effect of rimless can help your customers who might have to win over shareholders or voters. The big news now is how rimless designs can provide as much panache as full frames. Temples are being used to great effect, and semi-rimless frames offer the best of both worlds. — MARISSA WALSH
ALL PRICES MSRP, EXCEPT WHERE NOTED.
This article originally appeared in the January 2016 edition of INVISION.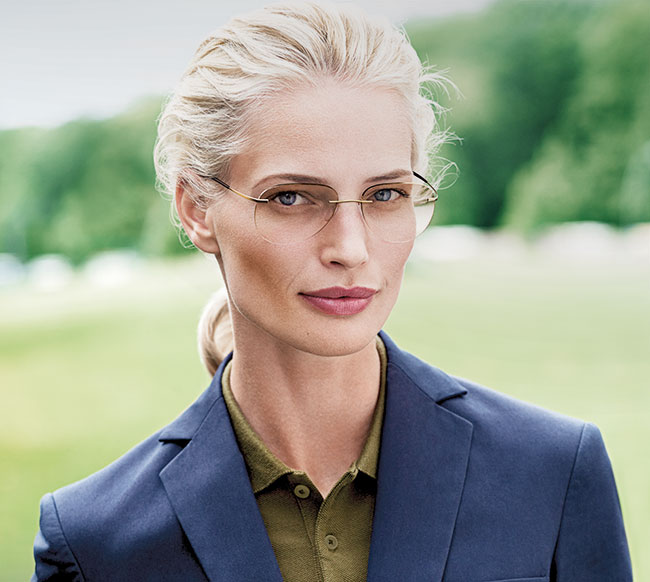 SILHOUETTE
The brand synonymous with rimless has launched some daring designs over the past few years, but the Titan Minimal Art Icon remains a favorite with its endless options for customization. The variation seen here (Icon chassis number 7581 in shiny gold) has lenses with a 20 percent brown tint, fade to clear.
(800) 223-0180 | silhouette.com
Price on request
---

HUGO BOSS
Tony Danza has nothing on guys who wear model 0739. These no-nonsense titanium semis, seen here in matte black, will make you feel like a boss, or just look like one.
(800) 631-1188 | safilo.com
$330
---
MODZ TITANIUM
The Empress has no rims. These ethereal frames from Modern Optical's affordable titanium collection come in a gorgeous silver and royal purple color combination; other pairings include black/coral and gold/burgundy.
(800) 323-2409 | modernoptical.com
$180
---

LUCKY
A winner in classic black, model Cruiser holds a full hand of fun features: metal inlay detail in blue, a "lucky you" plaque on the temples, plus Lucky's four-leaf clover logo. Also available in blue, brown and gunmetal.
(800) 423-3023 | remeyewear.com
$164 (wood)
---
ERMENEGILDO ZEGNA
From an Italian luxury brand that's new to the optical world comes model EZ5035 in shiny light ruthenium, wood and black gunmetal. It's the Richard Gere of rimless eyewear: silver, handsome, smooth, classic and rich.
(800) 345-8482 | marcolin.com
$425
---

FLEXON
The Free Form Series is Flexon's first line of rimless memory-metal eyewear. Crafted for the modern man, model E1090 (here in brushed light gold) has design-inspired features plus lightweight comfort, strength and flexibility.
(800) 645-1300 | marchon.com
$245
---
OGI EYEWEAR
If there had been an optical shop in the Emerald City, Dorothy may have emerged wearing model 9105 in this stunning green marble and sea foam color — perhaps with some new slippers to match. (Every heroine needs more than one pair of eyeglasses ... and shoes.)
(888) 560-1060 | ogieyewear.com
$230
SPONSORED VIDEO: VISION SOURCE
Optometric Practice in a Small Town
Practicing in a small town gives you the diversity and opportunities to practice full-scope optometry. See how one OD found professional and personal fulfillment in a small town.