YOU SHOOT, YOU SCORE!
We've come a long way since Kareem Abdul-Jabbar's famous basketball goggles. Today's athletes can choose sports eyewear made with the newest, lightest, safest materials—all designed to enhance performance and protect vision. The same applies to the field of safety glasses, as many of the features used to protect athletes on the field or in the rink also work on the job. And let's not forget the growing field of sports fashion— your busy customers multi-task their way through their days, they expect their eyewear to do the same. — Marissa Walsh
ALL PRICES MSRP, EXCEPT WHERE NOTED.
This article originally appeared in the June 2016 edition of INVISION.
VER SPORT
The Rx-able TROY from Ver Sport, a new sports eyewear collection designed in Spain, is constructed from TR-90 and features a patented quick twist temple system that allows the wearer to go from shock-absorbing wishbone temple tips to a secure head band strap in between halves.
(888) 399-7742 | planbeyewear.com
$199.95
---
CALLAWAY
For the guy with the "I'd Rather Be Playing Golf" bumper sticker and mug, these Callaway EXTREME 1 frames — crafted from titanium memory metal and offered in larger eye sizes (57-61) — work equally well on the course or off.
(800) 414-7656 | imagewear.com
$168
---

SMITH
Model VAGABOND walks the line between performance and fashion, allowing active people to wander through their busy lives in all-day comfort and style.
(888) 206-2995 | smithoptics.com
$159
---
OAKLEY
The modern CROSSLINK ZERO takes him from the gym to his standing desk to the office table tennis tournament in cool, no-slip comfort. Because he has better things to worry about.
(800) 403-7449 | oakley.com
$140
---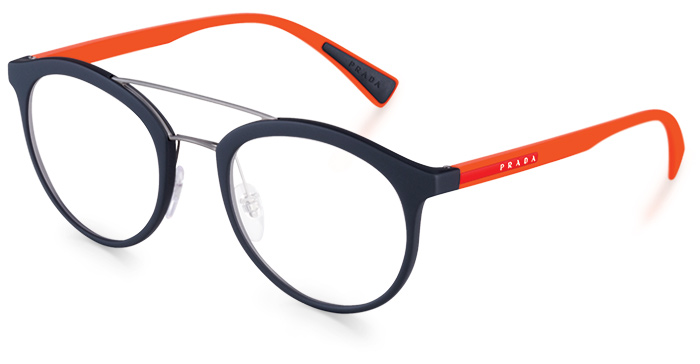 PRADA LINEA ROSSA
With a bright pop of color on the temples, sport meets style in model PS 01HV. Pair these with your "good" sneakers, not the ones you actually wear to work out.
(800) 422-2020 | luxottica.com
$240
---
WILEY X
These unisex safety glasses don't look like safety glasses. Model WX CONTOUR, part of the WorkSight line, does double-duty with ANSI Z87.1 safety-rated frames and removable side shields to provide on- and off-the-job vision protection in style.
(800) 776-7842 | wileyx.com
$129
---
LIBERTY SPORT
Designed for helmet sports like football, hockey, and lacrosse, HELMET SPEX is a colorful, Rx-able goggle that will appeal to young athletes. It meets or exceeds ASTM F803 impact resistance standards for several sports, which will appeal to parents.
(800) 444-5010 | libertysport.com
$209.95
---
SPONSORED VIDEO: VISION SOURCE
Optometric Practice in a Small Town
Practicing in a small town gives you the diversity and opportunities to practice full-scope optometry. See how one OD found professional and personal fulfillment in a small town.