Super-chic mirror lenses are still on the rise
It's been five years since Sarah Jessica Parker sparked a fashion frenzy with her gold-flash Mykita sunglasses in Sex & The City 2. But super lenses remain on the rise — and for spring/summer 2015, frame and lens will make a resounding statement together. Customers can treat themselves with boldly styled frame shapes complemented by sensational mirror-coated lenses. Today, every fabulous color flash is in vogue, from metallic to jazzy blue or a soft pink and lilac gradient. Available in all shapes and sizes and trending in children's sunwear, too, the lenses have a dual role. Mirrors offer excellent performance and reflective advantages, not to mention fierce eye-popping fashion appeal and swagger. — C L O D A G H N O R T O N
ALL PRICES MSRP, EXCEPT WHERE NOTED.
This article originally appeared in the January 2015 edition of INVISION.
---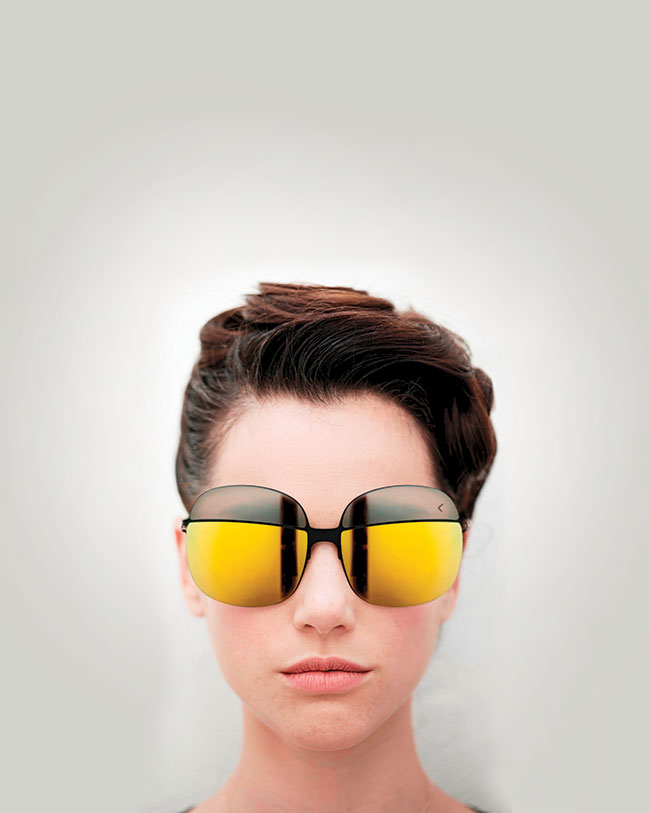 BLACKFIN
A startling dual color effect with huge mirrored lenses, Blackfin BF715 Magnetic is designed to offer perfect all-round vision. High-tech is part of the mix: The beta-titanium frame has screw-free Atom Zero flexi-joints and patented Swordfish temple-tips.
(877) 889-0399 | blackfin.eu
$418
---
ANDY WOLF
A custom designed triple layer acetate is only the start of it: model Reverence combines glitter particles exposed at the front of the frame with an uplifting purple mirror lens in a limited edition of 500 pieces.
(888) 716-2020 | andy-wolf.at
$486
---
---
MARC ECKO CUT & SEW
No mere retread, clubmaster-style classic The Librarian has a textured bridge and metal front accent trim reminiscent of tire tracks. In black and tortoise with a cool flash mirror lens coating.
(800) 645-3733 | cvoptical.com
$135
---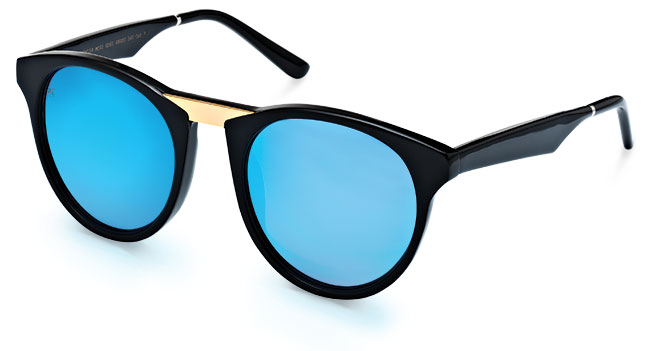 SMOKE & MIRRORS
Sexy and empowering, Black Betty is a leading statement in the hot new Smoke & Mirrors collection from a bright young design team hailing from New York City. This acetate/metal combo is handmade in France.
(212) MIR-RORS | smokexmirrors.com
$295
---
CHRISTIAN ROTH
The blues swing with Christian Roth's refined C for Carlos, a handmade frame with blue CR-39 scratch resistant mirror-coated lenses. The design is in honor of Carlos Venegas, owner of optical boutique Artsee Miami.
(305) 744-6385 | christian-roth.com
$490
---
BARTON PERREIRA
Aviators remain the perfect stylish accessory, and Lovitt takes this classic shape up a notch with a rose gold frame and pretty soft-hue desert lilac gradient mirrors.
(949) 305-5360 | bartonperreira.com
$410
---
GUCCI
Feminine model GG 3710/S strikes a dramatic contrast between a black front of ultralight Optyl and lenses in grey, gold mirror, blue or red flash. Transparent temples with subtly shaded metal cores complete the strong yet elegant design.
(973) 952-2800 | safilo.com
$345
---
NAUTICA
A lightweight plastic frame seen here in a fresh matte crystal, model N6188S injects the classic aviator with polarized lenses for enhanced color, reduced glare and visual clarity.
(800) 645-1300 | marchon.com
$126
Hear What the Industry Thinks About the Ultimate Lens Package by Essilor
Eye care professionals, patients, and Essilor sales consultants shared their feedback on the Ultimate Lens Package. Watch to see why they believe the innovation behind the lens can make the difference for your practice and for your patients. For more information on the Ultimate Lens Package, contact an Essilor Sales Consultant or click here.
---