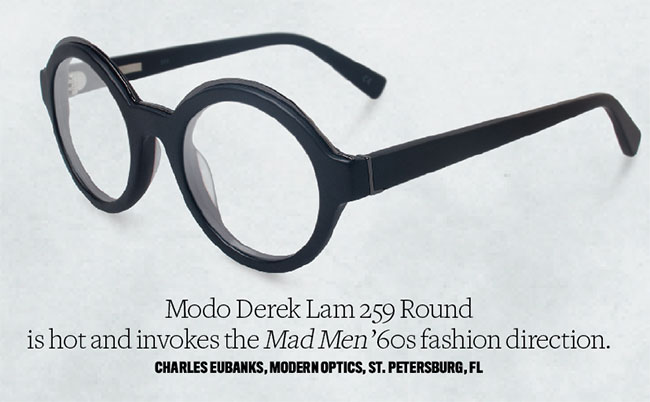 Model Derek Lam 259 in matte black from Modo is both retro and current. MSRP: $300
This article originally appeared in the May 2015 edition of INVISION.
---
ProDesign
, for lightweight cool styles.
WileyX
: Motorcycle season is just around the corner.
Leanne Murabito, The Artful Eye Optical Emporium, East Hampstead, NH
---
Kate Spade's
Blakely continues to be a mainstay for our practice, doing well with all face shapes and skin tones.
Oakley's
Tincup and Tincup 0.5 are proving to be a great match for men of all ages.
Dr. Blake Hutto, Family Vision Care, Alma, GA
---
Etnia Barcelona
has been hot for months.
Oakley
and
Maui Jim
are big spring sellers for us. Our No. 1 frame is Fleetwood from
Zeal
.
Melanie and John Humphrey, Sunglass Panache, Snowmass, CO
---
ABOUT HOT SELLERS
Each issue, INVISION surveys ECPs around the country about which vision products are selling best in their stores/practices. Then we calculate the results and share them with you to give you a gauge of front-line sales activity across the United States. To take part, go to
invisionmag.com/brainsquad
.
Penguin
in round and clear styles.
Costa
metals and aviators.
Jill Schnurer, Village Eyecare Co., Clarkston, MI
---
Tiffany
and
Burberry
for women. The brands are well known. For men,
Oakley
: always quality, loyal following, always ahead of the times with the engineering of the frame.
Cara Rita, VisionPoint, Cedar Lake, IN
---
We have been advertising on social media about
Oliver Peoples
, and perhaps that's paid off.
Dr. Tanya Gill, Oakland Vison Center, Oakland, CA
---
Tom Ford
: really nice quality for men.
Blackfin
: nice colors, lightweight, frames the eyes without dominating. In sunglasses,
Porsche
: funky lenses.
Steve Whitaker, Whitaker Eye Works, Wayne, PA
---
I sold
Coco Song
and the
Lafont
I ordered at VEE. People like fun, colorful frames lately.
Dorothy Reynolds, Optical Alternatives, Fairfield, CT
---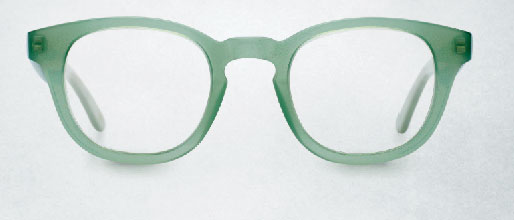 Cameroon in mint from Aframes helps raise funds for Vitamin A supplementation in Africa. MSRP: $200
Aframes! Patients love the story behind the eyewear line and the shapes are trendy with classic colors. Dr. Courtney Dryer, 4 Eyes Optometry, Charlotte, NC
---
Bebe Black
collection from Altair. Our demographic is drawn to this brand.
Diana Sims, Buena Vista Optical, Chicago, IL
---
Kate Spade
and
Riserva
(our private label in-house budget line). We must be hitting both ends of the curve and not having much up the middle.
Lilly Pulitzer
is always a go-to line in our practice.
Dr.Ted McElroy, Vision Source-Tifton, Tifton, GA
---
Eyewear:
Armani Exchange
, nice styling, reasonable price point. Sunwear:
Tory Burch
. Popular name, solid price point.
Dr. Ezra Cohen, Sunsation Eyewear, Brooklyn, NY
---
Ladies'
Reflections
R-754, Men's
Haggar
H-249,
SunTrends
ST 180 (smoking hot! all color mirror polarized!) and SunTrends ST 177 in gold, all from i-deal Optics.
Will Taylor, Eye 2 Eye Contact, Detroit, MI
---
JOIN THE BRAIN SQUAD!
➤ To share your hot sellers and see collected responses from our monthly surveys, owners and top managers of U.S.-based eyecare businesses are invited to join INVISION's Brain Squad at: invisionmag.com/brainsquad.


Hear What the Industry Thinks About the Ultimate Lens Package by Essilor
Eye care professionals, patients, and Essilor sales consultants shared their feedback on the Ultimate Lens Package. Watch to see why they believe the innovation behind the lens can make the difference for your practice and for your patients. For more information on the Ultimate Lens Package, contact an Essilor Sales Consultant or click here.
---