When you think of safety eyewear
, heavy goggles probably come to mind. But fashion is catching up with function, and your business can help workers — and local companies — give safety eyewear another look.
Lenses and frame are both important. The government requires that eye protection meet the American National Standard for Occupational and Educational Personal Eye and Face Protection Devices, known as the ANSI/ISEA Z87.1 Standard. A safety frame is designed to keep the lenses in place if there is an impact. The lens material is generally polycarbonate or a safety grade Trivex.
Lenses must be a certain minimum thickness depending on whether the glasses are impact rated. Frames must be able to retain a 2mm thick lens in both the high velocity and high mass impact tests under the Z87.1 standard. The lab that makes the lenses must also have its lenses tested per the standard, which you can see at safetyequipment.org.
ECPs who ask the right questions may find that nearly everyone can use safety eyewear to protect their eyes from injury at work or play. JP Sankpill, chairman of the committee that writes the Z87.1 standard and general manager of U.S. Safety, a digital lab that specializes in safety eyewear, says: "ECPs play an especially critical role in prescription safety eyewear, since they help the patient select the frame style and size that best fits them, and the lens and coatings that are best suited for the work they're doing." — CAROL GILHAWLEY
This article originally appeared in the May 2015 edition of INVISION.
---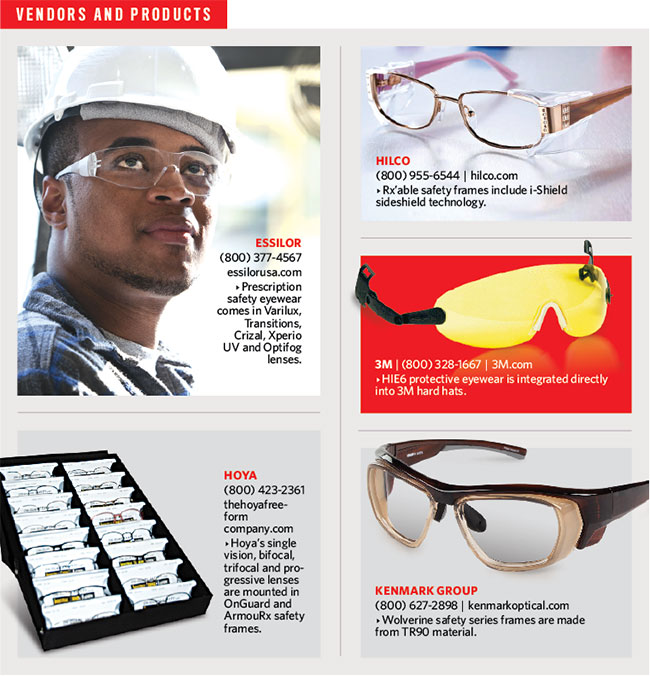 Smart Ways to Sell More
Safety Eyewear
DR. ZACH DIRKS
St. Peter Eyecare Center, St. Peter, MN
Belle Plaine Eyecare Center, Belle Plaine, Mn
➤ We've been putting Walman Optical's Perceive HD lens in safety frames. It's nice to have a no-line bifocal lens in safety materials that now more closely mimics dress eyewear lenses in quality and vision. Perceive HD is the first true digital safety lens and since we use mostly digital progressive lenses in dress wear, it was an easy choice for safety.
➤ Simply ask questions. If you tell people they can have great vision and protect their dress pair from damage, and show them that safety styles have come a long way, patients may decide to pick up a pair for safety use and they'll be willing to wear them because they're more fashionable. So often they put a shield over the top of their dress glasses, and those shields get lost or their dress glasses get beat up.
DR. MARY GREGORY
Uptown Eye Care, Monticello, Mn
➤ We have a nuclear plant and other industrial plants near us, and these accounts require their employees to have safety eyewear. We have a contract with an Essilor lab and we place their lenses in frames from Hudson, ArmouRx and OnGuard.
➤ We ask patients to bring in all their glasses. We always ask them what they do at work and what their hobbies are and educate based on their occupation. We show them how their need for a bifocal in their safety glasses is different from a regular pair. After the exam, we give separate Rx's: one for an everyday lens, another for a computer lens, a sunglass lens and a safety lens.
➤ We have about 40 safety frames they can choose from, but we find the look of the frame is not as critical to them as their dress eyewear because they're for part-time wear.
Hear What the Industry Thinks About the Ultimate Lens Package by Essilor
Eye care professionals, patients, and Essilor sales consultants shared their feedback on the Ultimate Lens Package. Watch to see why they believe the innovation behind the lens can make the difference for your practice and for your patients. For more information on the Ultimate Lens Package, contact an Essilor Sales Consultant or click here.
---