Two styles will launch in August.
Guess Eyewear has partnered with The Get In Touch Foundation to create a special edition sunglass and optical frame that will help support the non-profit organization's commitment to raising breast cancer awareness. Both styles will launch this August, according to the release. Guess will also make a monetary donation to the The Get In Touch Foundation, which will help educate people about the breast health initiative.
The release describes the frames like so:
"The modified rectangle shape of optical style GU 2601 (pictured) features a thin front profile handcrafted in acetate. The double laminated front is delivered in black with light pink revealed on the back, keeping in line with the Foundation's pink color palette. Metal temples in rose gold are embossed with the Heritage 4G logo pattern adding a textural look. The iconic Pink Ribbon in metal completes the design appearing on each temple tip in a soft rose gold embellished by stones."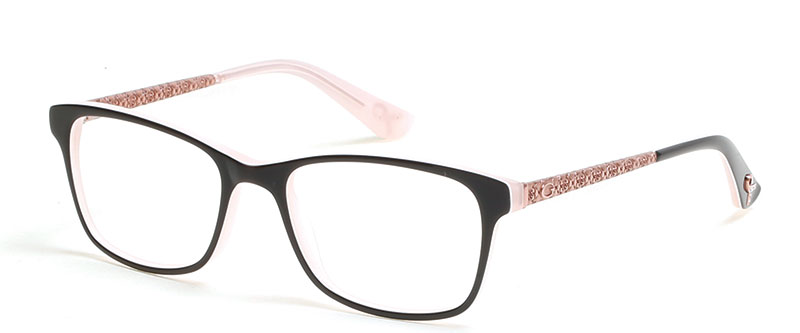 Hear What the Industry Thinks About the Ultimate Lens Package by Essilor
Eye care professionals, patients, and Essilor sales consultants shared their feedback on the Ultimate Lens Package. Watch to see why they believe the innovation behind the lens can make the difference for your practice and for your patients. For more information on the Ultimate Lens Package, contact an Essilor Sales Consultant or click here.
---