The most recent check was for nearly $204K.
Vision West Inc., an eyecare business and group purchasing organization, has presented a check for $203,939 to the California Optometric Association.
The presentation took place Feb. 10 at the COA House of Delegates meeting in San Francisco.
The check brings Vision West's total financial support for the to $12.4 million dollars since the relationship began in 1988.
The check was presented by Dr. Joseph C. Mallinger, Vision West president and CEO.
Mallinger stated: "Vision West is very appreciative of the ongoing support and relationship we have with the COA and we look forward to continuing as a COA Champion supporter for many more years to come. Supporting Organized Optometry and membership programs are at the core of our business model."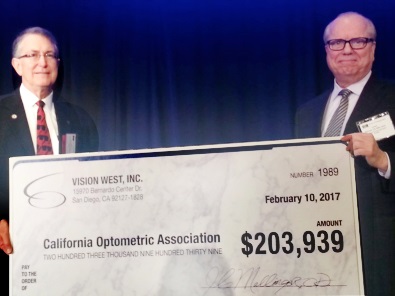 Shown here are Dr. Ronald G. Seger, COA secretary-treasurer, and Dr. Joseph C. Mallinger, president and CEO Vision West.
Hear What the Industry Thinks About the Ultimate Lens Package by Essilor
Eye care professionals, patients, and Essilor sales consultants shared their feedback on the Ultimate Lens Package. Watch to see why they believe the innovation behind the lens can make the difference for your practice and for your patients. For more information on the Ultimate Lens Package, contact an Essilor Sales Consultant or click here.
---