The firm is seeking to raise $1 million.
The founders of Los Angeles-based startup Lensabl say they're providing consumers direct access to the optical lab, at least virtually.
Lensabl has launched an online prescription lens replacement service that targets consumers directly.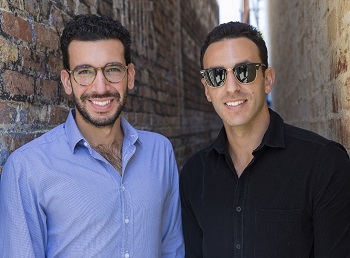 Lensabl co-founders Mike Rahimzadeh, left, and Andy Bilinsky.
"Our goal is to really simplify the lens replacement exercise," said Andy Bilinsky, who co-founded the firm with Mike Rahimzadeh.
The founders started out selling frames in 2013 in a model not unlike that of online eyewear giant Warby Parker. But customers started requesting the ability to order frames with the proper prescription lenses, and they soon realized they'd happened upon an industry pain point.
"We knew that a lot of customers faced this issue, and if we could partner with a lab in order to directly fill the orders, then we could realize big cost savings that we could pass along to the customers," Bilinsky said.
When they also learned that "no other brand agnostic lens replacement service existed online," Lensabl was born. The lens replacement service began in late 2016.
The process works like this: The customer selects his or her lenses, which can be clear, tinted or transitional and provides the prescription. Lensabl then sends a box with a prepaid shipping label. Finally, the lab creates the new lenses, fits them back into the frames and returns them. (Consumers can even swap out their Snap Spectacle lenses for clear or transitional prescription lenses.)
Prices range from $77 to about $400, including shipping. The company is committing 5 percent of each order to support the non-profit New Eyes for the Needy.
In May 2016 the company raised $300,000 in seed funding. Bilinsky said Lensabl is currently raising more money, with a goal of $1 million for the new round.
Bilinksy said the firm hopes this year to begin rolling out additional services, including online eye exams and a solution that would allow other online eyewear sellers to offer lens replacement.