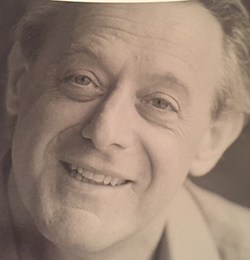 George Rich was the founder and longtime president of Starline Optical Corporation.
George Rich, founder and president of Starline Optical Corporation, which introduced Safilo eyewear in the United States, died at his home in New York City on August 5 at age 83. The cause was complications from Parkinson's disease and Aphasia.
Rich's success in business was matched only by his love for, and devotion to, his family. Rich was born in Budapest, Hungary in 1931. After many years as president of Starline, he served on the board of directors. He also became Eastern European chairman for the Joint Distribution Committee (JDC), an organization that was particularly meaningful for him. In 1949, after surviving the Holocaust and World War II in Budapest, Rich escaped from communist Hungary to Austria, where he lived in a displaced persons camp run by the JDC for three years.
In 1954 he immigrated to the United States, where he served in the United States Army at Camp Kilmer as an interpreter for Hungarian refugees.
Rich and his wife Martha, who predeceased him, were active in many Jewish charities, including serving as founding members and benefactors of the education division of the Museum of Jewish Heritage: A Living Memorial to the Holocaust in New York City, Metro-West of New Jersey and Eternal Flame of New Jersey.
Rich was instrumental in the erection of a Raoul Wallenberg statue in Parsippany, NJ. He credited Wallenberg with saving the lives of thousands of Hungarian Jews, including his own, in the last hours of the liquidation of the Budapest ghetto.
Despite the fact that his formal education was interrupted by the war, Rich was a self-educated man who read widely on history, politics and current events and was always interested in engaging his friends in lively political debate. As a young man, he studied classical piano, which left him with a life-long love of classical music and jazz. He was a fixture at Dizzy's Club Coca-Cola in Manhattan. He loved the United States and the freedom it gave him to be a loving father, a successful businessman, a valued member of the Jewish community and, as he would say, an all around "mensch." His values of integrity and hard work made him a mentor for his many colleagues.
Rich is survived by his four children: Michael, Diane, Monica and Irina, their spouses Kathleen, Robert and Rod; his six grandchildren, Jason and his wife Rachel, Danielle and her husband Seth, Daniel, Laura, Marc and Julia, and his great grandson, Jake.
In lieu of flowers, please send donations to Eternal Flame, eternalflame.org.
Hear What the Industry Thinks About the Ultimate Lens Package by Essilor
Eye care professionals, patients, and Essilor sales consultants shared their feedback on the Ultimate Lens Package. Watch to see why they believe the innovation behind the lens can make the difference for your practice and for your patients. For more information on the Ultimate Lens Package, contact an Essilor Sales Consultant or click here.
---