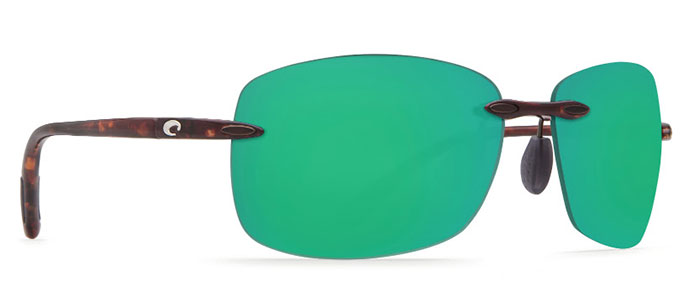 (Press Release) Costa is launching its new line of rimless sunglass styles available in customized Rx sun lenses.
At Vision Expo West in Las Vegas September 17–19, Costa will introduce each of the five new rimless offerings, allowing eye care practitioners and media to see firsthand the new styles, and learn more about Costa's growing Rx program.
Costa's new rimless Rx styles include: Austin, Ballast, Cayan, Destin and Galveston. An array of lens colors is available, such as gray, copper, sunrise, blue mirror, green mirror and silver mirror.
Each of the rimless Rx styles will be available in Costa's patented 580P color enhancing lens technology, in either Trivex or new polycarbonate material, and feature Costa's C-WALL oleophobic molecular bond, and backside anti-reflective UV protection.
Costa's 580 lens technology selectively filters out harsh yellow and harmful high-energy ultraviolet blue light. Filtering yellow light enhances reds, blues and greens, and produces better contrast and definition while reducing glare and eye fatigue. Absorbing high-energy blue light cuts haze, producing greater visual clarity and sharpness.
The brand has also evolved its Rx offerings to include a polycarbonate option in its 580P lens technology, and now includes backside anti-reflective coating and C-WALL on all Costa 580P Rx and 400 Rx lenses.
"We continue to invest heavily in our Rx program, providing a growing range of prescription sun lens options with the clearest 580 color enhancing lens technology available in the market," said Chas MacDonald, president of Costa. "We customize every Rx order in our state-of-the-art in-house optical lab in our Daytona Beach headquarters, and have an incredible quality control process to ensure our customers receive the best in premium performance sunglass technology."
Costa's Director of Rx Sales, Renato Cappuccitti, will also host an hour-long seminar on Fri., Sept. 18, from 4 – 5 p.m. PST in the Medical & Science Theatre at Vision Expo West for all trade show attendees. The seminar, entitled "Sunglasses and the Science of Light," will focus on how invisible and visible light waves are managed through sun lenses to enhance a patient's vision.
Costa Rx representatives will be on hand at Vision Expo West in booth 16106 to answer questions about the Rx program expansion and how ECPs can benefit from the technology advancements.
For more information on Costa's Rx offerings, call 1-800-447-3700, or visit b2b.costadelmar.com.