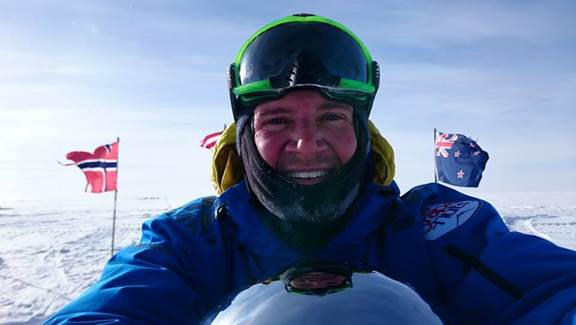 (Press Release) DENVER, CO – Rudy Project, an Italian manufacturer of sport performance equipment, is helping two-time cancer survivor and climber of the Seven Summits, Sean Swarner, tackle the boundaries of human limitation in 2016.
Swarner was diagnosed with two deadly and unrelated forms of cancer, once at the age of 13 and again at the age of 16. After a poor prognosis, he conquered all odds when he survived both of these brutal diseases and went on to become the first cancer survivor and first person with only one lung to crest the peak of Mt. Everest.
"Sean's story has the power to inspire anyone," says Paul Craig, president and co-founder of Rudy Project North America. "It doesn't matter who you are – once you hear what Sean has done, it's impossible not to go out and achieve that goal you've always had in the back of your mind. Rudy Project is honored to aid Sean with the most technically advanced gear while he continues to conquer the impossible."
After climbing Mt. Everest, Swarner went on to top the highest peaks in Africa, Europe, South America, Australia, Antarctica, and North America, thus completing the Seven Summits.
"Rudy Project Klonyx goggles were the most important piece of eyewear in Antarctica as I trekked to the South Pole," says Swarner. "Even with the extreme temperatures reaching 80 below zero, they helped keep my eyeballs from freezing, even though I had icicles hanging from my eyelashes!"
Swarner's first big feat of 2016 will come when he participates in the Empire State Building Run-Up on Feb. 2. He hopes to challenge the current nine-and-a-half minute record in climbing 86 floors. Additionally, he is writing seven e-books that detail his accomplishments, with the first set to launch on Feb. 2. It will be available on his website at seanswarner.com.
Swarner has no plans to slow down in the next few years, as he heads back to Mt. Kilimanjaro this summer and the North Pole in 2017.
SPONSORED VIDEO: VISION SOURCE
Optometric Practice in a Small Town
Practicing in a small town gives you the diversity and opportunities to practice full-scope optometry. See how one OD found professional and personal fulfillment in a small town.