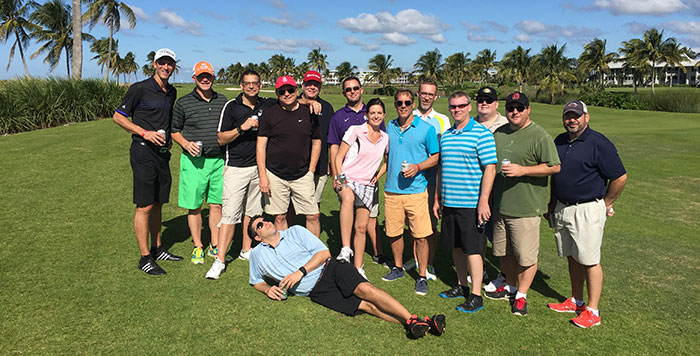 (Press Release) Kenmark, a designer and distributor of optical eyewear and sunglasses, recently honored its top territory managers at its sales meeting in Captiva Island, Florida.
The award winners were recognized for their outstanding sales efforts, consistent customer satisfaction and exceptional performances in 2015.
"We had a great time in Florida reflecting on our successes from 2015 and sharing our goals for 2016 through our excellent work sessions," says John Justice, Kenmark's senior VP of sales. "And of course the 80 degree and sunny weather on Saturday made for a much enjoyed play time on the beach and the golf course!"
Here's the list of winners:
Territory Manager of the Year: Carla White
Kenmark Top Ten Territory Managers: Jamie Bradford, Chuck Ford, Pat Gantt, Paul Goddard, Mark Lake, Heather Williams, Steve Mount, Steve Robb, Carla White and Cliff Woodward
Stock Order Award Winner: Jennifer Frazier
Keeper of the Key (Most New Accounts Winner): Delana Chipman
Rookie of the Year Winner: Jeff Ballen
Co-Regional Manager of the Year: Pat Gantt and Mark Lake
Hear What the Industry Thinks About the Ultimate Lens Package by Essilor
Eye care professionals, patients, and Essilor sales consultants shared their feedback on the Ultimate Lens Package. Watch to see why they believe the innovation behind the lens can make the difference for your practice and for your patients. For more information on the Ultimate Lens Package, contact an Essilor Sales Consultant or click here.
---