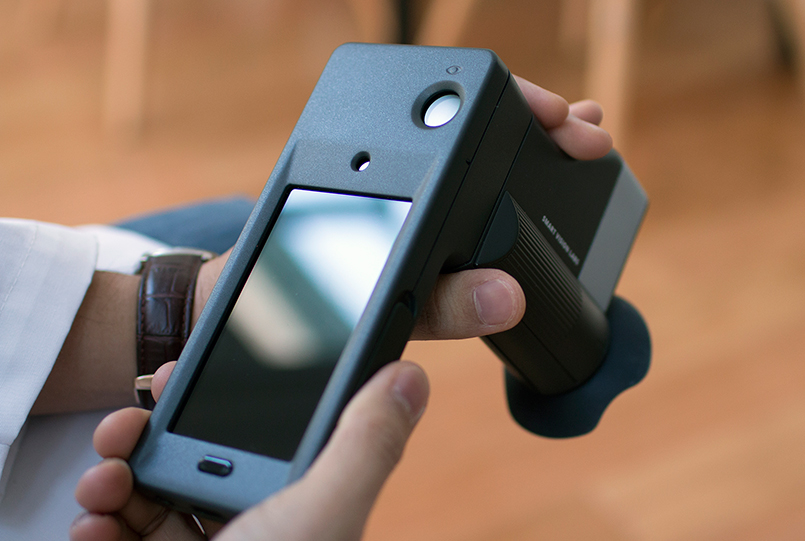 Smart Vision's SVOne Pro autorefractor
(Press Release) NEW YORK, NY – Smart Vision Labs, a maker of mobile autorefractors and other diagnostics, has announced two new additions to its product offerings.
The SVOne Enterprise is a fully automated self-guided objective refraction technology which combines mobile computation, precision optics and connectivity. The SVOne Pro is an upgraded version of the company's core technology with an increased range of power and several features that improve usability and accuracy.
"Smart Vision Labs is committed to providing eyecare providers with powerful yet portable diagnostic tools that extend the ability to provide convenient and comprehensive vision exams and screening in clinical and non-clinical settings," says CEO and co-founder Yaopeng Zhou.
The SVOne Enterprise, a Shack-Hartmann wavefront aberrometer, is a patient-directed vision testing station. Results from the voice-guided refraction examination are automatically uploaded to a secure, HIPAA-compliant cloud platform. Designed for use in retail locations, pharmacies, hospitals, workplaces, schools and other remote settings, the SVOne Enterprise offers eyecare providers a patient engagement and remote patient monitoring tool.
The SVOne Pro has the same core technology as the original SVOne autorefractor, but with increased range of power and improved usability. The new device features a new open view channel so the operator can see patients' eyes when aligning the SVOne Pro. When the pupil is detected, the SVOne Pro auto-triggers to automatically acquire wavefront data through its software.
The measurement parameters of both the SVOne Enterprise and SVOne Pro have been increased to cover the vision needs of 99 percent of the population. The sphere range is -14.00 to +14.00 D, and the cylinder range is -7.00 to +7.00 D.
"For our second-generation products, we really listened to feedback from our partners and underwent a major design overhaul," says Smart Vision Labs COO and co-founder Marc Albanese. "SVOne Enterprise and SVOne Pro mark a new frontier in vision care by providing professionals the most powerful refraction devices in a truly easy-to-use and portable format."
The SVOne Enterprise and SVOne Pro are designed to be powerful enough for clinical settings and portable enough for non-clinical settings. "Over 700 million people worldwide suffer from uncorrected refractive errors. The FDA Class 1 exempt devices weigh less than a pound each, and the price point makes it accessible to the average clinician," says Zhou. "We believe these innovative devices can drive more accessible vision care for everyone."
The smartphone-based aberrometer has been shown to measure refractive error comparable with subjective refraction and an office-based autorefractor under both cycloplegic and non-cycloplegic conditions in visually normal young adults.1
1 Ciuffreda KJ, Rosenfield M. Evaluation of the SVOne: a Handheld, Smartphone-Based Autorefractor. Optometry and Vision Science. 2015;92(12):1113-1139