(Press Release) Eyewear maker Fysh UK, produced by WestGroupe, has launched four new frames this spring.
Style F-3552 is one of the newest additions to the spring collection, featuring a deep, modified rectangle shape on a stainless steel frame with a flat metal brow bar. The laser-cut temple design resembles an array of tiny beads and adds a modern look. The frame is highlighted with a rich color palette that is available in orange black, turquoise black, cobalt and fuchsia.
The F-3553 is a full-rim, high-gloss, hand-crafted acetate frame that aims to strike a balance between soft and modern with a modified butterfly wing style. The 3D pressed pattern that goes along the brow bar and temples adds depth and a geometrical aspect. To enhance durability and fit, the frame features European nylon coated screws to keep the temples tight. It's available in teal, sand, purple and black.
The F-3554 is a vintage-inspired, handmade acetate model that recalls the styling of Audrey Hepburn. Taking a cue from the new Fysh Sun Links collection, it has a circular patterned metal inlay that wraps around the edges of the frame. Translucent, ombre coloring on both the front and temples provide depth to a funky color palette of cobalt teal, purple magenta, amber honey and brown slate.
The F-3555 is a full-rim, stainless steel frame with a butterfly wing eye shape and an acid etched lattice design on the front and temples. The vibrant two‑tone coloring comes in plum pumpkin, teal aqua, burgundy raspberry and cobalt white.
For more information, visit www.fyshuk.com or www.westgroupe.com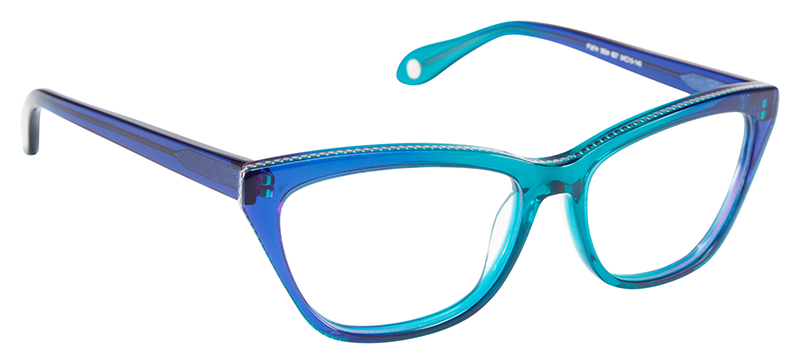 Fysh UK's new F-3554 frame
Hear What the Industry Thinks About the Ultimate Lens Package by Essilor
Eye care professionals, patients, and Essilor sales consultants shared their feedback on the Ultimate Lens Package. Watch to see why they believe the innovation behind the lens can make the difference for your practice and for your patients. For more information on the Ultimate Lens Package, contact an Essilor Sales Consultant or click here.
---